Wrestling team recruits Lady Dawgs for upcoming year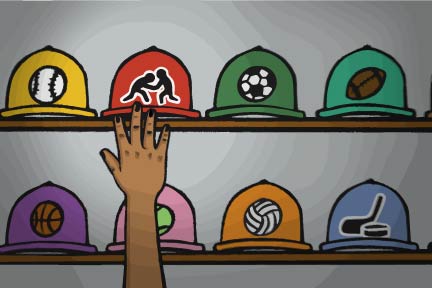 The gym floor echoes with a slam to the ground, sweat drips down a hot forehead, a rug-burn stings on ankles and forearms, but the 'Dawgs don't submit defeat; they will pick each other up and keep training and fighting their hardest until the end. One factor that sets the Bowie Girl's Wrestling Team from other skilled schools is their dedication to their sport.
Although the 90 degree weather makes one think it's summer, autumn is here, and so is wrestling season. With the Bowie Wrestling team's first competition of the year at Harker Heights High School, the girls are preparing for a strong season.
"Our girls should be one of the top-10 or better teams at state this year," Wrestling Coach Tyson Dobinsky said. "We finished last year 12th with five qualifiers for region and two qualifiers for state."
The girls team consists of eight members, but their quantity does not limit their quality. The team contains three senior female captains including Elayna McKinney, Olivia Moreno, and Ava Ford. As captains, the three women attempt to lead and teach the novice wrestlers to the best of their ability and impact the program for future years.
"I answer their questions and give them technique ideas," McKinney said.
Because wrestling can be a scary sport to jump right into as a novice, the captains help to create a safe environment for novices to learn and grow. According to first year wrestler Camilla Diaz, the team's assistance is what inspires her to do her best.
"We have a lot of former champions and it's insane. They're very talented and teach us a lot of things and I'm very excited to be a part of that," Diaz said. "You've gotta have support, and that's where they come in."
This assistance from the captains and coach is what pushes Diaz to work hard and compete at Harker Heights for the first competition of the year. Because of the team's low number of females, the coach and captains work to grow the sport, especially because many of the girls on the team are in their senior year. However, recruitment is easier said than done.
"Girls wrestling is the fastest growing sport for girls in the US," McKinney said. "It's becoming better and better for girls to join."
Second-year head coach Tyson Dobinsky believes that the lack of girls wrestling before high school is to blame for the lack of girl wrestlers.
"It's really hard to have them come in because there's no avenue for them in middle school," Dobinsky said.
An unexpected way the team has grown has not been through fliers or open-calls, but by word-of-mouth. Dobinsky reports about one or two new girls have come in for the past month.
"Somebody's telling them about it and so they come in, eyes wide open, ready to go," Dobinsky said.
"We try to find girls in our classes that could be good,"  McKinney said. "Usually it's just girls that have wrestlers in the family or has some prior experience in this area, but now more girls are starting to join."
With the arrival of newer female wrestlers, so comes strategies for a safer and more communicative team. Coach Dobinsky works to make the wrestling team a safe environment for boys and girls of all ages by using Tell the Truth Thursday (TTT), a club meeting on Thursdays during FIT, during this the team address conflicts about practice and things they want to change, and Dobinsky is able to give feedback and advice to newer students.
"Just know you will never disappoint us," Dobinsky said. "We always want you to succeed because we want you as a person to succeed."
This advice is what comes from a TTT meeting, and is what helps make the sport and the team safer and more inclusive; and ready for success.
"We've got to be tough, because that's the sport, a lot of people would think that this is a very bro-ish sport and not very safe and supportive or welcoming at all," Diaz said. "But I think it's the opposite."
Even though many important girls will be graduating and leaving Bowie in the upcoming year, the team believes that their hard work and dedication will continue the success of the program.
"Anything can be a breaking point for somebody, especially in this sport, it's nice to know that there are people that you can lean on," Diaz said. "That's what wrestling really is about."