Should Michael Jackson be dethroned as king of pop?
"King of Pop"
Most have heard the phrase before and it happens to be a title that Michael Jackson has held since the early 20th century. Rolling Stone UK decided that was going to change in August of 2022, when they dubbed Harry Styles the New "King of Pop," though many say that Styles hasn't even come close to the success that Michael Jackson had during his career. 
Most people are agitated and think that Jackson should hold the crown he acquired through his Thriller album in 1982 for the rest of time. The title shouldn't be retired it should be repurposed so every decade a new king of pop can be crowned just to keep people informed on who's dominating the pop industry in the most recent years.  
In August, Rolling Stone UK, put Harry Styles on the cover of their magazine with the caption "how has the new king of pop set the music world aflame." In response, Taj Jackson, Michael Jackson's nephew, voiced his strong feelings about Harry Styles being called "The New King Of Pop." Jackson expressed that Rolling stone doesn't own the title and Harry Styles didn't earn it compared to the decades of dedication and sacrifice his uncle went through.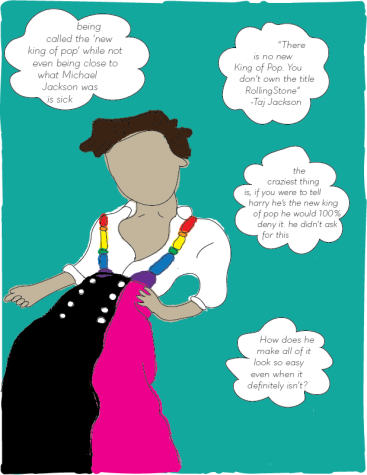 Jackson said he doesn't want to disrespect Styles but him saying has made many of Michael Jackson's fans attack Styles for something he didn't have any say in. Styles has been dominating the music industry since he was a member of One Direction. Which means it's not fair that Michael Jacksons' fans say that he's worked at his career since a young age and Styles hasn't. 
On the other hand, Michael Jackson's supporters say Styles hasn't been in the game long enough to earn the title saying Styles made it look to easy and that wasn't the case for Michael Jackson. Claims also say Michael Jackson broke racial barriers and his creativity revolutionized the modern music industry. 
In contrast, Styles has broken stereotypical gender norms through his fashion choices but also through his forward-thinking opinions on toxic masculinity. Styles has defied these gender norms time and time again by wearing "feminine" clothing while still maintaining the masculinity of being a straight man. Styles has also made it clear that he doesn't care about labels and is willing to be effortlessly fluid with his brand. 
Should Michael Jackson be "dethroned" as King of Pop? Most likely not, he'll always hold the title of the original King of Pop and the one who started to drastically transform the music industry. The title shouldn't be held to one person in particular for sure because Michael Jackson revolutionized music but it will always continue to morph after he's gone. So what's the point of sticking with a title that was based on change in the first place?