Soccer star kicks off his senior season
Bowie varsity soccer player spends the summer before senior year practicing in Europe
Walking off the field, shins covered in grass, senior Jackson Coggins finishes playing his final game in Europe before returning home to the U.S. 
When Coggins was young, his athletic journey started with a youth soccer program, where he fell in love with the sport. 
"This big spark started when I was around ten and got into select soccer. It just clicked for me," Coggins said. "I was just like 'I really like this sport, I want to get to the top.' And it led to me getting to Europe, so I mean it's pretty cool and I'm very proud. And very grateful for the opportunities I've gotten."
 During the summer of 2022, Coggins trained internationally in both Spain and Italy, with a program called Inspire Athletics. 
"It was an experience. It was a very, very great experience. I wanted to stay, I didn't want to leave, it was so nice," Coggins said. "All the fields were amazing and the trainers were top level. It's just not the same here in the US because in Europe, they have a huge passion for soccer. Like we have a passion for football, they have that same passion for soccer."
When Christopher Coggins, Jackson's father, put his child in a youth soccer program, he never could've imagined that he'd be sending his teenager to Spain to continue playing the game. 
"We had no real concerns about sending him," Christopher said. "We try to promote faith over fear in any situation. Traveling to play soccer is a unique opportunity to grow mentally, physically and spiritually."
Soccer, or football as it's known internationally, is one of the most dominant sports in Spain and Jackson attests to the passion that the Spaniards have for the game. 
"There are random people from the neighborhood coming out just to watch you train and they're so passionate about you," Jackson said. "They're yelling your name and screaming for you. It was just an experience I'll never forget."
The devotion to the sport that the international players and fans have, has led to more successful programs and teams. 
"
I knew when I was ten that I was going to dedicate myself to this sport and to getting to Europe. I wasn't taking no for an answer.
— Jackson Coggins, Senior
"You have people in Spain that are ten, eleven years old, but they already know how to juggle the ball and play as well as I do at seventeen," Jackson said. "It's starting to build up in the U.S but it's not the same level. It's way harder in Spain than it is here." 
Due to the talent that the Spanish programs have, Jackson and his teammates at Inspire Athletics had to train intensely to have a chance to win their tournaments.
"Our coaches demanded the quality that was expected. They didn't want us to just take it easy because we're already here in Spain," Jackson said. "I mean we were there for a professional tournament. So we had to win the tournament. We had to work harder in this training to get the job done there." 
Despite the intensity of the international training, Jackson learned to persevere through any pressure he felt. 
"I felt it a little bit but it's also like I brush it aside because if you let the pressure get too much and you think about it too much you're not going to be able to do the simple things your coaches chose you for," Jackson said. "My coaches chose me because of my skill level, so now I have to perform at that level. I'm not thinking about how I should be doing this, I'm just going to go out there and do it."
Though his summer in Europe had to come to an end, Jackson has hopes to return in the future. 
 "I loved being there. I loved Italy and Spain, the experiences I got there and the people I got to meet. I liked Bilbao and I want to go live there someday," Jackson said. "I want to do it again next summer, which I probably will. And I don't plan to stop in Spain and Italy, I want to go all the way."
After returning to the U.S. at the end of the summer, Jackson noticed lasting effects from his time training internationally, in both his skill level and his mindset. 
"It skyrocketed my confidence. I haven't been the same player since I got back. I don't feel like the same player," Jackson said. "I feel like every single time I've gone on the field now I just think about how I've played in Europe and it just made me full of confidence. It helps mentally and this game is all about the mental aspects. You have the mindset and you can play the game very, very well."
Not only has Jackson mentality towards the game improved his own performance, his confidence is translating into boosting the team's energy. 
"He's a really good person and does a lot for the team outside of school in terms of improving team morale," teammate Marcos Elizondo said. "He definitely deserves the opportunities he's gotten."
Jackson is channeling his reignited passion and confidence into making his senior season a successful one with the Bowie team. 
"My goals for senior season are to get far in the playoffs and win districts. And really, just to score a bunch of goals, I mean you can't do anything else," Jackson said. "We have a lot of seniors on the team this year and most of them want it, they want to go to the playoffs. So there's not a lot I have to do to build those goals up among the team."
Bowie head coach, Ryan Logan, emphasizes the same goals for the program and for Jackson individually. 
"I want the best for all my players, I would like as many of my players as possible to get All-District recognition. I would like Jackson to be nominated to the list and do well enough in school and club soccer to get a college offer to play soccer," Logan said. "I am expecting Bowie to have a good team this season and am excited to see what we can accomplish. We are bringing back eight of eleven starters and four players with All-District recognition."
Following his senior year, Jackson has goals to continue playing soccer in college, and ideally becoming a professional player. 
"I've gotten some offers from UDA, they work with three different colleges. One is in New Mexico and two are in the UK," Jackson said. "Right now they've sent me an offer but I'm not sure if I should take it or wait it out. Because I would like to play professional soccer if that's an option for me, but if not, I could always go to the UDA for the University of Chester."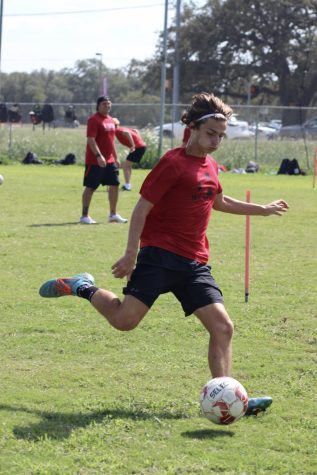 Achieving success in any field is time consuming, and Jackson is not without the bustling schedule of a student athlete.
"My social life is kind of figured out because I do have a lot of time with people, I bond with my teammates," Jackson said. "School-wise I try to do everything ahead. When I get an assignment, I try to do it then so I don't have too much homework. If I'm not going to soccer then I have that time to get my work done, and in between practices."
Jackson's motivation to continue his success in the sport is not deteriorating, and won't be any time soon. 
"I want it super badly. I understand the game and I'm always working on something," Jackson said. "I just really love playing soccer. It's just the thing I love to do, it's my passion. I don't want to get away from it. I feel like I'm being called to do it."
Jackson's passion and work ethic doesn't go unnoticed, and those who've worked with him can confirm his drive for success.
"Jackson is a hard working, team player who has integrity and who has been an asset to any team he has played on," Christopher said. "He is passionate, soccer and family are the current beneficiaries of his passion. The best is yet to come for this young man." 
Despite the adversities, Jackson urges young athletes to pursue their passions unwaveringly, emphasizing that athletic success is possible for anybody. 
"Just work hard. I give my all out on the field, even if it shouldn't matter. People will say things about how the off-season doesn't matter, but it does," Jackson said. "Every single time you run, give it 100% and every single time you touch a ball you have to touch it with the intention of improvement, with the idea of 'I want to get better'." 
As Jackson steps into the next stages of his career, he reminisces on his early steps and how far he has come. 
"You just see the joy in kids' faces when they play and I remember feeling that when I was a kid and now that kid gets to see me going to Spain and Italy," Jackson said. "I mean, that kid would be super happy to know that I got there, and I still want to go more."