Students creativity conquers competition at state challenge
Colored pencil in hand, senior Trinity Thompson adds the final touches to her self portrait. At the same time, senior Susan Leifker steps back and admires her oil painting of a childhood memory. The next morning both students will submit their work for the Visual Arts Scholastic Event in hopes of receiving an award.
The Visual Arts Scholastic Event, also known as VASE, is a statewide art competition in Texas. The competition is split into different categories depending on the participants' art skills.  Leifker describes how VASE submissions are categorized.
"There are different levels of competition based on the number of art classes you have taken rather than your grade level," Leifker said. "For instance I am in the highest category because I have taken a lot of art classes, whereas another senior could be in a lower category if this is their first year taking art, even though we are both in the same grade. I think that's a really good way to judge art, because age shouldn't convey skill."
Artistic ability does not come easily to everyone. Thompson remembers from an early age loving to express her artistic identity.
"I remember first learning from Ms. LeJuene, my former art teacher, about the awesomeness of portraiture and mixing certain colors to create undertones of the skin and finding ways to add texture within my piece," Thompson said. "This really sparked my love for visual art and portraiture."
Similarly, Leifker expressed a great joy when creating art from an early age.
"My mom has always been a good artist for as long as I can remember," Leifker said. "She used to take me to painting classes and drawing classes when I was in elementary school. Her art, and now some of mine, is hung up across the walls of our house."
Over the years Thompson has practiced her skills and has learned to appreciate different techniques.
"Over the years she seemed to get more into portraits and drawing artists with a social conscience or message like Kid Cudi and Kendrick Lamar," Thompson's mother Sonji said.
Behind every piece of art there is a story to tell.
"Most people submit artworks that they are already making for another purpose for VASE," Leifker said. "I was working on this piece for my AP Studio Art Portfolio. I thought this would be a good work to submit for VASE because the competition notoriously promotes portraits over more abstract art works, and I happen to like doing portraits more than any other subject."
Of course, artworks worthy of awards do not magically appear. Thompson spent about a week working on her art piece for VASE.
"I did a piece titled "Who Are You?" which was a portrait of me with a sort of green hue to it," Thompson said. "[To prepare for submission] I did some writing to explain my piece and made sure the artwork itself was in good condition to be sent off."
With past experiences with VASE, Leifker felt at ease with this year's online version of the VASE competition.
"Doing the competition itself was really simple. In past years we've had to interview with a judge in person, answering questions about techniques we've used when making the artworks, and going deep into the meaning behind the pieces," Leifker said. "This year everything was online, and the judges chose people to advance to state based on images of the works and of typed up answers, which I preferred. Then they received my piece in real life and judged it at the state level."
After submitting their pieces of art, the judges of the Visual Arts Scholastic Event look over and distribute awards.
"I got the state VASE Award, basically signifying my advancement to the VASE competition at the state level," Thompson. "I was really happy and excited to get this award. I honestly didn't think I would get it and it was a nice surprise."
Leifker also received her award after the VASE event.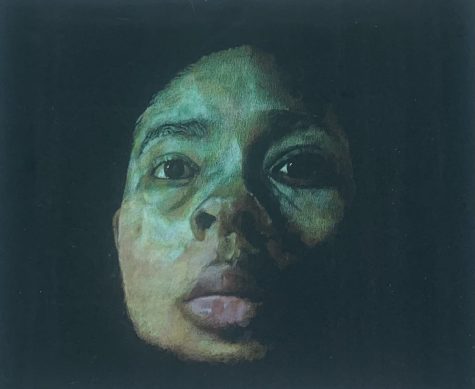 "I was told that there were around 31,000 art submissions this year, and then around 1,100 or so advanced to the state competition," Leifker said. "The award I received is called the Gold Seal, which was given to 150 students. The Gold Seal artworks then tour around the state and go to be featured in different places."
Leifker encouraged herself to keep drawing after she drew a realistic picture of a nose in seventh grade.
"I remember drawing a nose and that it actually looked like a nose, and I felt shocked and excited," Leifker said. "From there I went on to portraits and to where I am today. That video really was the catalyst for my pursuing art."
Over the years growth in artistic ability was evident in the work produced.
"I am proud of my growth," Thompson said. "There is a huge difference between my freshman year skill-set and my senior year skill-set. I want to continue to create pieces that I really enjoy creating and that I take my time on."
With the school year coming to an end, the two seniors prepare to incorporate their art with their new lives.
"Trinity has been interested in art since elementary school and has continued to enjoy art ever since. She's becoming better each year," Sonji Thompson said. "We are so proud of just how extremely talented she is and we hope she will continue to draw for many years to come."
Leifker hopes that art stays a prominent feature in her life to come.
"I'm thinking about majoring in Visual Communication," Leifker said. "Which is a design degree, because the college I'm planning to attend has a very interesting VisCom program which leads directly into jobs such as Disney animation and video game design, both of which I'd love to try out."
Saying goodbye to high school, Thompson and Leifker walk out with their VASE awards and their eyes set on the future.
"I created what I wanted to make, and I enjoyed expanding my oil painting skills," Leifker said. "Even if the first judges told me that my piece wasn't good enough to go to state, I would feel exactly the same about the work that I do now, because it was what I wanted to make, and that's what I feel matters."