Students stand up for abortion rights in organized walkout
Earlier this May, a United States Supreme Court draft opinion overturning Roe v. Wade was leaked. The 1973 decision in Roe v. Wade ruled that abortions up to a certain time in the pregnancy were legal based on the 14th Amendment right to privacy. In an instagram post, the LASA feminist club promoted a "walkout for abortion" scheduled for Thursday, May 12 at 1 p.m. This morning, Bowie followed suit with the popular meme account "bowieisadifferentbreed" promoting a walkout in the courtyard at the same time.
The walkout was partially planned by The Coalition Austin, a student-run group that has been organizing protests in Austin schools. They have provided various resources for students, such as some safety measures and student walkout recommendations.
"It was very last minute," senior Arwen Addison said. "I'm very passionate about this issue so I made four signs during lunch. I am here for women to have their own choice about their own body, and anyone with a uterus." 
The leaked draft opinion has sparked mass debate among both pro-choice and pro-life individuals regarding whether or not Roe v. Wade should be overturned. The walkout was 49 minutes long, representing the 49 years of the Roe v. Wade court decision being in action. News of the walkout being planned spread mainly through social media, with many students promoting it on their Instagram stories.
"I know that there are a lot of people out there who really do need the choice," sophomore Isabel Soto said. "I just love people coming together, especially for a specific issue whether it be abortion, or like climate change."
During the walkout, the students protesting were subject to loud music being blasted at them through speakers, trash being thrown at them, and chants against abortion by other students.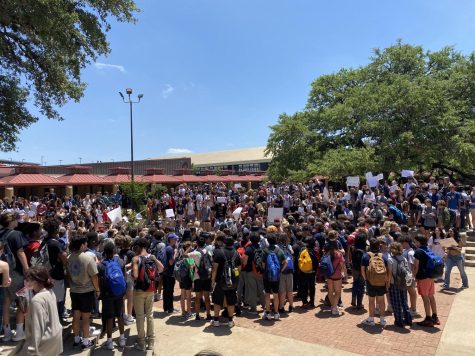 "A group of guys towards the end were pointing at all of the trash that got thrown at us and were like 'are y'all gonna pick that up'," junior Eli Clopper said. "It's not our responsibility to pick up the stuff you threw at us."
Students held various signs both for and against abortions. Senior Sarah Thomson stood alone holding a sign reading 'Abortion is not a right'.
"I just felt like no one else was probably gonna do what I was gonna do," Thomson said. "I feel in all honesty it's just sad, because in the way that people have been using abortions it's just another form of birth control. By getting an abortion they are avoiding the consequences."
During the walkout, many students held signs in protest. One sign read 'keeping abortions safe is keeping abortions legal'. According to the World Health Organization, around 45% of abortions are unsafe, 95% of them being in developing countries. 
"Keeping abortion legal and safe is just so important to me just because I've met people who have been in places where it was abortion or no alternative and they were not fit to raise a child," Clopper said. "People who are under the age of 18 shouldn't be forced to raise a child. We are still children and we are unable to raise another child."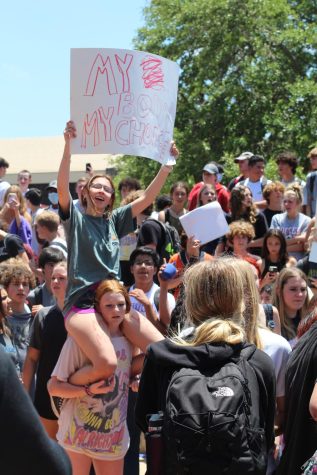 MY BODY: A pair of students share their homemade sign at the student protest. Students marched and protested for 49 minutes to symbolize the 49 years since Roe v Wade was made into law. Photo by Reagan Zuniga