Exchange student leaves mark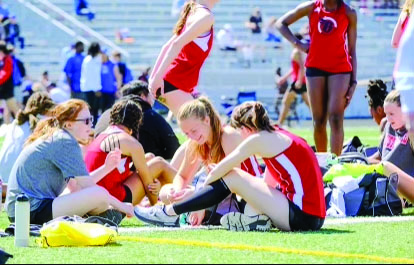 Breathing deep, junior sprinter Mara Saprautzki tenses her muscles, awaiting the loud crack that will commence the fierce rush of adrenaline that characterizes the 100-meter dash. A long way from her hometown in Germany, Saprautzki explodes forward as the blank shot rings through the air and echoes off the bleachers.
Pumping her arms and legs desperately, Saprautzki's onlooking teammates offer their support and roar their approval as she swiftly glides along the red synthetic rubber. Crossing the finish line with lungs screaming for oxygen, Saprautzki is swarmed by teammates.
A foreign exchange student from Germany, Saprautzki enrolled at Bowie for the 2021-22 school year as a junior. Saprautzki explains the difference in environment and importance of high school sports at Bowie in comparison to Germany.
"Our schools [in Germany] are more based on education and not that much on sports like it is here in the United States," Saprautzki said. "Bowie is focused so much on sporting events, and they get way more attention here than in Germany. I like that; it makes school more fun."
A multi-sport athlete, Saprautzki has been playing tennis for much of her childhood and readily joined the girls' tennis team at Bowie. Additionally, Saprautzki joined the Bowie girls' track team, a sporting event that is not widely offered in German high schools.
"I was really excited by the prospect of having someone from another country be my teammate," sophomore Olivia Christodoulides said. "When she first joined track she added another element to the sport and she was really interested in being involved, so I definitely was refreshed by her positive attitude and will to participate."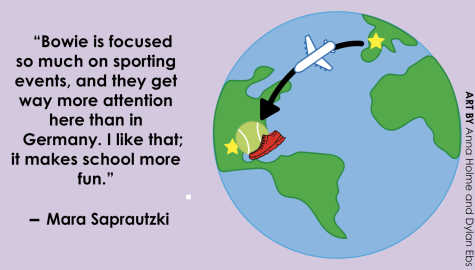 A German native, Saprautzki has contributed an additional, differing perspective and outlook on school sports to those running on the Bowie track team. Christodoulides describes the effect that Saprautzki has had on her peers.
"The dynamic of the team has changed for the better since Mara has joined," Christodoulides said. "She offered a unique outlook on track because it was her first year running, and she also shared stories from Germany, and the team enjoyed exchanging stories and learning from that."
Departing in the summer of 2022 to return to Germany for her final year of high school, Saprautzki is enduring the second semester as a two-sport athlete, participating in track and tennis simultaneously. The foreign exchange student details the difficulties in balancing both sports, while also maintaining grades and a social life.
"School is not as important for me in America because I am an exchange student and my grades do not transfer," Saprautzki said. "With that said, my organization does not allow me to fail any classes, and I want to do my best, but it still is not as stressful in terms of grades. My tennis and track schedule often conflict though. I used to have four tennis practices a week, but because of track, I only practice with the tennis team once a week, and I am forced to alternate between attending track meets and tennis tournaments."
With limited time at Bowie, Saprautzki looks to capitalize on her time in the United States and wishes to experience as much as possible before leaving in June. In this, she has set short term goals for herself.
"I wish that I was here when volleyball and basketball started their season, because then I would be able to participate in those seasons," Saprautzki said. "But I just want to get better at sports. And I think I'm getting better at running, which is really good. So, because of this, I'll probably be better at sports when I go back to Germany."
Originating in France, tennis has grown to be a widely played sport throughout Europe, and as a result, Saprautzki has played for much of her childhood. Now playing for the girls' team at Bowie, Saprautzki's tennis teammate, sophomore Ava Sprott, describes the excitement of having the privilege to interact with a foreign exchange student.
"It was really interesting when Mara signed up to be a part of the tennis team, because tennis is a very popular sport in Europe and she has been playing much of her childhood, so I was excited to see her play," Sprott said. "At first, she was really outgoing and intent on learning about others and their experiences as an American. Likewise, much of the team, including myself, were fascinated by the prospect of a foreign exchange student being our teammate, and we all wanted to learn about her."
Sprott furthers this conversation by mentioning the impact playing with Saprautzki has had on her and the rest of the tennis team.
"Having Saprautzki as a teammate and being able to practice and compete alongside somebody that has had the opportunity of experiencing the culture of vastly different countries has been very fun," Sprott said. "The fact that she is from Germany has really brought the team together. People are more willing to interact with one another and share stories. Her presence has made the tennis program much more like a family rather than a team."
Having interacted with many students and developing a more diversified culture in Bowie sports, Saprautzki has renewed student-athletes' interest in their sports.
"Saprautzki's presence has boosted the team's overall attitude towards track, as well as school," Christodoulides said. "When she joined track, the team was obviously very interested in her because she was from a different country, and that energized the team and increased their will to learn and adapt."