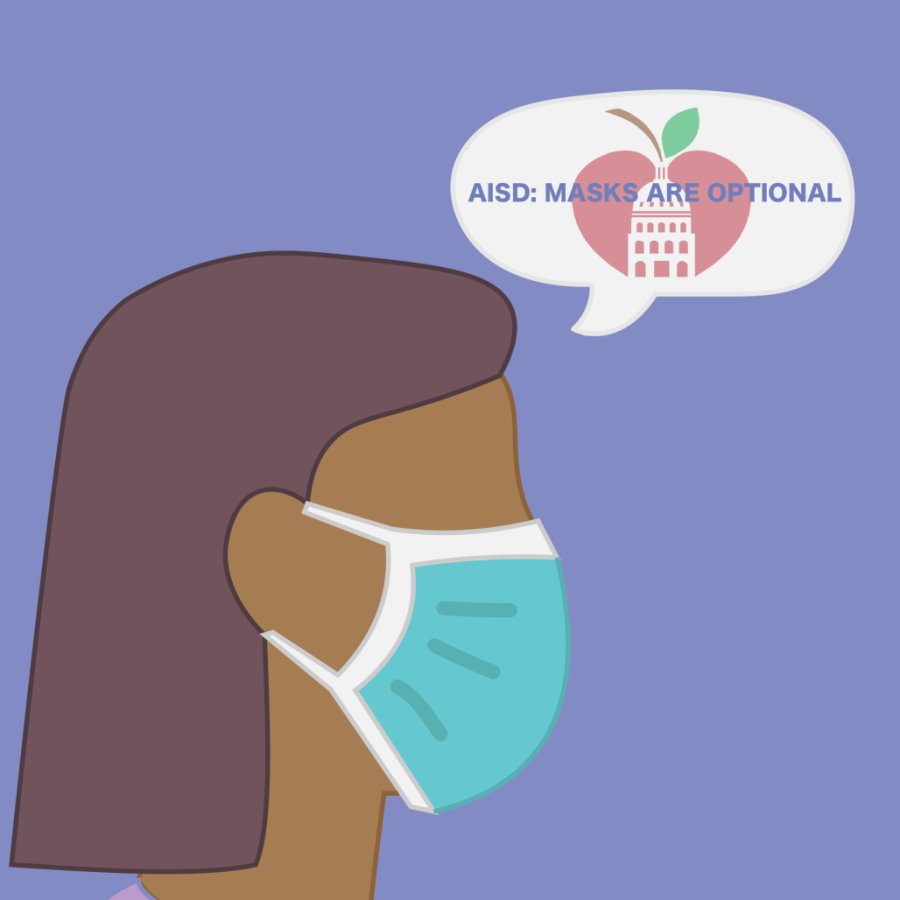 Mask-optional generates debate
Austin Independent School District (AISD) has made masks optional starting Monday, March 7.
March 3, 2022
My mask! My choice.
Two long years have gone by since schools shut down statewide. Now, on Mar. 2, 2022, AISD officials voted against the requirement of masks. On Monday, Mar. 7, students throughout Bowie will see the faces of their friends and peers for the first time in two years. This new option for students and teachers is the first step toward reviving our regular lives. This decision is long overdue.
As Austin has moved into stage three following the decrease in Omicron cases in February, our student body is more than ready to go without masks. I believe students have the right to decide for themselves. This choice allows all students and teachers to make the correct choice regarding their health and comfort. 
AISD is the last public district in Austin to make this very necessary step forward. Eanes ISD reverted to mask-optional following thanksgiving break in November and Dripping Springs ISD enabled this choice beginning in the 2021-2022 school year. As AISD was one of the final districts to make this monumental decision, I feel good about Bowie students finally getting the choice on whether or not to wear a mask. 
It has been two years of consistently wearing masks in public spaces, however, Texas's mandate on this was dissolved Mar. 10, 2021. For a year, students and teachers have been allowed the choice of wearing a mask in environments outside of school. Many choose to, and many do not, enhancing the importance of allowing the same choice within our schools. 
With the release of vaccines and boosters, most students chose to protect themselves. The Center for Disease Control (CDC) reported that over 16.7 million American children ages 12-17 have received at least one dose of the vaccine. Moreover, the vaccine has successfully lessened the severity of COVID-19 to similar symptoms as the common Flu. With the new mask mandate in our schools, it is more important than ever to get vaccinated. We cannot make this advancement at Bowie without the vaccination of our student body. 
In the first year of the epidemic, as well as during the rising of different variants, masks were important to the health and safety of Texans. However, with lowering case numbers, and after two years of the distorted life with COVID-19, it is time to make progress forward. Students and staff long for normality, a life without constant masks and mandates. So with the protection of COVID-19 vaccination and booster shots, I am confident that Bowie is ready to go mask-optional.
Leave a Comment
No Masks? No Thanks!
On Wednesday evening, AISD's school board held a meeting where they decided that starting Monday, Mar. 7, the mask mandate that has been in place since the start of the school year would be revoked for all schools. This means that for all students and staff, masks are now optional while on school property. The decision comes after extended pressure from AISD parents, many of whom have been protesting the mask mandate for months.
While everyone is excited at the prospect of not needing to wear a mask, the choice to make masks optional could pose dangerous consequences and prolong a pandemic that has killed millions across the world. Especially as many students will be traveling for spring break soon, AISD should continue to enforce a mask mandate for the foreseeable future, in order to protect vulnerable students and staff.
Masks are effective. This is an undeniable fact. According to the Centers for Disease Control (CDC), wearing a mask indoors lowers your odds of testing positive for COVID-19 from 56-83%, depending on the type of mask you wear, with KN95 and N95 masks being the most effective to wear. AISD cited a CDC tool called COVID-19 Community Levels as a reason why they chose to revoke the mandate, because it classifies Travis County as a low-risk area where masking is not explicitly recommended. Even though the CDC loosened their guidelines on when to use masks, this doesn't account for the high number of individuals students interact with at school on a day-to-day basis. The CDC specifically identified K-12 schools as a high community level, meaning schools are the most vulnerable to the virus.
Bowie alone has nearly 3,000 kids, so a single Bowie student is in close proximity with hundreds of people per day. AISD emphasized that there has been a 97% drop in overall district cases in the last six weeks and that the current case total represents 0.09% of the total student and staff population. It is important to remember that these numbers have been achieved as the Omicron variant wanes, but masks and other protective measures have still been required. 
Taking away masks would inevitably cause a spike in COVID-19 cases, not just at Bowie but in the AISD community as a whole. Doctor Stanley Weiss, Professor of Biostatistics and Epidemiology at Rutgers School of Public Health, stated in an interview with ABC News that "it's a limited number of cases, but if you look over time, the new outbreaks have been continuing to increase in schools." 
A spike in cases would mean that the COVID-19 pandemic, which is over two years old, would continue to harm our community. For immunocompromised students and families, this harm is much worse than a simple cold. Even if masks are inconvenient or slightly uncomfortable, it doesn't nullify the fact that they are a valuable tool in saving lives. Especially with spring break coming up, ending the mask mandate now will certainly have negative consequences.
Leave a Comment