Senior spreads smiles to students
Connor Zhang, known affectionately as Z-Man, helps Bulldawgs feel welcome through kind interactions
Walking through the halls, senior Connor Zhang visits the sweets sale during lunch. On the way, he stops to talk to people, wishing them a merry Christmas, and spreads joy to students around him. From asking how people are or just doing kind favors, Zhang has become well known around the school as Z-Man.
"Nothing really inspired me," Zhang said. "It's just I really want to get to know a lot of people."
Junior Hannah Schiller was at the Homecoming dance with her friends when she noticed Zhang approaching her group. With a smile on his face, Zhang complimented Schiller and her friends on their outfits.
"I liked feeling like someone noticed and wanted to make me happy," Schiller said. "He gave us all high fives and told us that we looked gorgeous and then walked away. I liked that there was someone out there doing that and that in itself made me feel happy."
Zhang's kind interactions with others have not only made him feel appreciated, but also made the people around him feel appreciated. His actions and interactions have allowed him to make new friendships and bonds.
"There was this one time when this guy said to me, 'Z-Man, you're not realizing it, but you're making everybody happy,'" Zhang said. "He told me that I was a blessing in this world."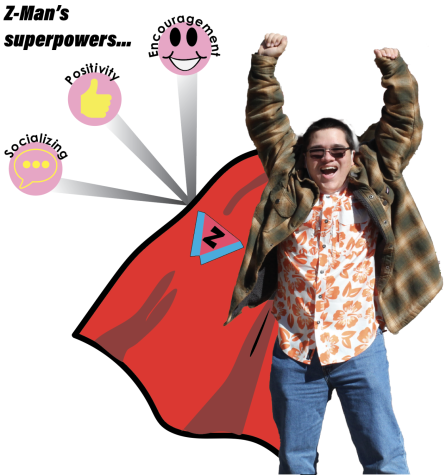 As a senior at Bowie this year, Zhang has seen a lot of changes in the school, and most of all the difficulties of being in school last year online. He tried to contradict these difficulties by talking to new people and lifting people's moods.
"We're living in pandemic times," Zhang said. "I mean, we're dealing with some rough stuff right now with COVID-19 and other things. And I just thought like you know, everybody needs their friend in their lifetime once in a while."
Zhang's generous nature has allowed him to get to know a lot of different people throughout his high school years. His appreciation for those around him is abundant and Zhang will continue to spread love and kindness here at Bowie.
"I mean some people can be rude, some people can be hateful and that makes me sad, but you can always be kind to someone," Zhang said.