Black History Month poetry reading
Students go quiet as senior Sadie McDonald walks up to the front of the library to share her own written poem. The Literary Society club hosted a poetry reading in Honor of Black History Month on February 23rd, 2022. 
"My creative writing teacher Ms. Rolfe encouraged me to share my poem I had recently written for a contest," McDonald said. " I have always been passionate about writing poetry and I wanted to share my work with my peers."
Students and teachers that weren't a part of the club were still able to read their poem of choice.
"I wanted to speak out about the Black Lives Matter movement," sophomore Carmine Elisarraraz said.
Being a person of color in 2022 has been recognized as a hardship that provokes different experiences than the average white American in the article The Perils of "People of Color".
"Throughout my life I have always advocated for equality and Justice for African Americans," McDonald said. "I have written songs, poetry, and attended events that empower and inspire African Americans to stand up for their rights and equality."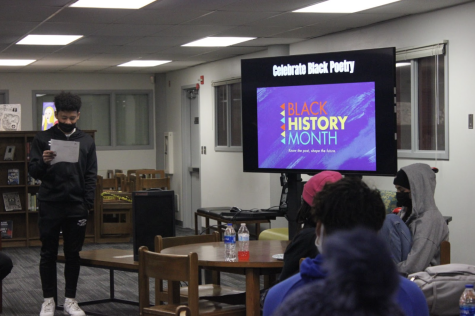 Students at Bowie continue to openly speak out about their lives through clubs and events like the Poetry for Black History Month.
"I feel like I get treated differently," Elisarraraz said. "and students should not be scared to speak out about who they are."
Bowie hosts a variety of different extra curricular activities that advocate for rights and empowerment such as the Multicultural Awareness club and the Asian American Ally club.
" People should speak out about their lives at Bowie because awareness is the first step to making a change," McDonald said. " If we can bring awareness to struggles at our school, we can eliminate ignorance and begin taking steps to find solutions to those issues."