Shelters filling as pandemic-related adoptions fall
At the beginning of the pandemic, many people rushed to the animal shelters to adopt pets to the point that they almost emptied. However, adoption rates have slowed and many animals are left in shelters waiting to be adopted, and there are less forever homes for these animals.
Austin Pets Alive says they're trying to get the animals adopted, transferred to rescue partners, or fostered but they just keep pouring in. This is partly because owners surrender the animals due to evictions, financial challenges, and hardships brought on by the pandemic.
Walking into the animal shelter surrounded by the soft meows of kittens, sophomore Charlotte Koellner knew she wanted to do something to help them find a home.
"My family started fostering in April 2020 kind of as a project during quarantine since we didn't really have anything to do, but we really liked fostering and have continued to do so since," Koellner said. "It's very common for the shelter to get a litter of kittens and say they have ringworm or something, which isn't a serious condition but it is contagious so they can't go into a shelter with it, so we'll go and get as many of the kittens that we have room for."
Austin Pets Alive had about 1,600 more adoptions in 2020 compared to 2019 and 2018, but continues to have the same amount of intakes. Fostering plays an important role in helping the overflow of shelters because many cats and dogs cannot go directly to a shelter, so the only way to save those animals is with the help of foster parents temporarily taking them in.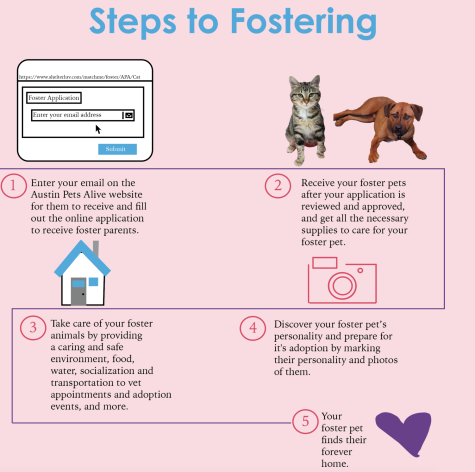 "Since we spend all of our time with these cats and we get a behavioral profile on them, we sometimes notice that some, especially the special needs cats or the older senior cats really need a quiet environment," Austin Pets Alive volunteer Victoria Gonzalez said. "So not only does it help us save more cats and move them in, it helps us save the cats that we have and put them in a more comfortable setting so that they aren't having a bad experience."
Shelters like Austin Pets Alive welcome many new foster parents and make the process simple with an online application.
"We encourage everyone, but definitely people that know that they can take on the responsibility," Gonzalez said. "We have people that come in and they are college students, they work full time and they know that they can help house a cat but maybe not a special needs cat. We still encourage them to foster."
Austin Pets Alive offers an online source which takes input from a foster or adoption applicant and matches them with animals that would best fit them based on what the applicant is looking for in a pet.
"We always love when someone comes in and they have a big enough heart and commitment to know that they can work with the special needs babies or the seniors that have a bunch of medication or shots," Gonzalez said. "But everyone that has the space and the free time and the willingness to know that they can care for another life form, we always encourage it as long as they are 18 or over, or they have a parent that is willing to come and vouch for them to sign and the parent is the one doing the foster paperwork."
By being part of the foster program, foster parents like Koellner and Adele Mattea play key roles in saving the lives of kittens and helping them find their future families.
"Fostering is such a learning experience," Mattea said. "You have to have lots of patience and remind yourself that they're just kittens, especially when they use your leg as a scratching post while waiting for food. Another thing that I've learned is that all animals are different and have unique personalities. It's so fun to see how crazy or calm they are in different situations and with different people"