Twelve students advance to state art competition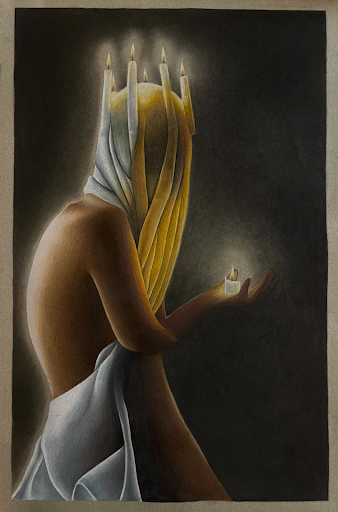 Twelve students will have their art compete at the UIL Visual Arts Scholastic Event (VASE) this April after advancing through a regional VASE competition on February 19. Art from 184 students were submitted to the regional competition, with just 12 students advancing to the state competition.
VASE, which started in 1994, aims to recognize admirable student artwork by holding various art com
petitions in Texas. 
Sophomore Audrey Hagan, who titled her piece "L'appel Du Vide" (The Call of the Void), said her artwork is about feeling lost.
"I wanted it to make a person feel confused and maybe even slightly unsettled while looking at it," Hagan said. "I feel like those feelings of being lonely and lost have kind of been highlighted during the pandemic and everything that has happened this year and I wanted to highlight that."
The student artists started working on their pieces in December and January, and were able to receive assistance from teachers.
"Students who participated in VASE can get advice from teachers, but it should be mostly student ideas," art teacher Mindy LeJeune said. "We do have one-on-one talks with students about the progress of their artwork and help them brainstorm ideas if they need help."
Senior Elissa Wechsler's piece that advanced was about being genderfluid, but Wechsler said they were unsure at first about how the judges would think about the topic.
"I was a little nervous at first that that might take away from me winning because although I'm extremely lucky to be in a super accepting place, you never really know for certain the viewpoints of other people," Wechsler said. "This piece really meant a lot to me because of how personal it was and because of that I feel like it's the one I've put the most time, energy, and thought into creating."
There was no prompt for the regional competition, rather the student artists submitted an intent form with their art that explained what they were going for with their piece.
"I'm really excited about moving up, as this is my second year advancing to state," Wechsler said. "But I'm kinda bummed since both of those years, VASE has been virtual and a big part of the fun of VASE for me has been the experience of being there with all your friends."
The VASE state event is scheduled for April 29-30, and will be held at San Marcos High School, according to the Texas Art Education Association website. Judges will rate the entries, with up to seven percent of entries receiving the Gold Seal award, the highest honor possible at the competition.
"Us art teachers at Bowie feel so proud of our students advancing to UIL State," LeJeune said. "We know how hard they work on their artwork and it's wonderful to see the hard work pay off."