Junior slams down a win
Olivia Moreno's journey to a national championship and future goals
Standing at the corner of the mat, breathing heavily. Looking her opponent in the eyes. Her coach and teammates hyping her up in the background. This is the moment she's waited for all year. The High School Wrestling Nationals.
Two years ago junior Olivia Moreno began her wrestling journey, following in the footsteps of her older brother, and an entire family legacy.
"I started wrestling mostly just to try it out because my mom wanted me to," Moreno said. "My whole family had been interested in wrestling for a while so they wanted me to try it out too and to be honest I didn't really think I was interested in it at first but after a few weeks I started to love it"
Moreno's family expressed their support and excitement for her to carry on the legacy, leaving her own mark on their wrestling history.
"She initially didn't want to wrestle," Moreno's mom Lynn Moreno said. "We wanted her to get some conditioning training to supplement her softball career. Once she started to learn, she realized how much she enjoyed it and has never looked back. She took it to the next level on her own and we are very proud of all that she has accomplished so far. It feels pretty darn good. Especially since she has raised the bar for our family. We are so proud of her and her accomplishments. We get so much support from family, friends and the large wrestling community that we have been a part of for so many years."
Lynn also emphasized that Olivia's brother, Joshua Moreno, who is also a wrestler, played a large part in Olivia's interest in wrestling.
"I would also say it was more like stubbornness and competitiveness," Lynn said. "Since she was little she was always competing with her older brother. They were so close in age and she was always really upset when she couldn't do something her older brother was doing. When he started school, she couldn't wait to start school. When he got homework, we had to make pretend homework for her. She always came in with the mindset, whatever he can do, so can she. He's a blessing for us all as Joshua loves her very much and looks out for her all the time; Joshua has always been one of her biggest fans. And, vice versa, as she roots for him all the time."
Back in April of 2021, Moreno won the UIL State Championships, bringing her undefeated sophomore season to a close.
"Winning my state title was great, it made me really relieved but I don't think I should've gotten anything less," Moreno said. "Months before state I was planning for my victory, I was planning what celebration I would do after I won, backflip, and with anything less I would've been really disappointed. I was happy with the result but I wasn't satisfied with myself because I know there's more I can do."
Moreno believes that this win was so meaningful due to the motivation it provides for future competitions.
"What inspires me to train hard is setting higher goals," Moreno said.  "Every time I achieve a goal I make it a point to make another one exponentially higher. I not only set higher goals but I make myself believe I can do it."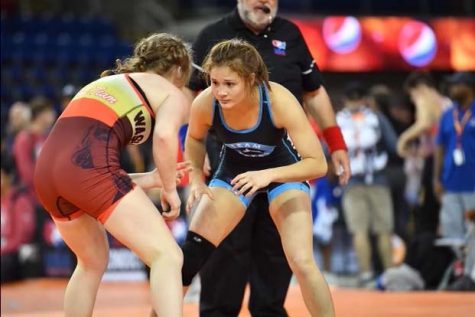 Moreno admires that numerous people in her life helped lead her to these championships, expressing her gratitude for their support.
"All of my coaches or anyone who has ever worked with me to help me get better throughout this sport is who I would say helped me get the win in Iowa," Moreno said. "My parents and family being able to provide me with the travel and support me at every tournament. I would never be able to go there without my practice partners at Bowie and 3F Wrestling because they push me to work harder. And another big shoutout to my coach at 3F wrestling, Martin Strmiska, I would say I owe my whole wrestling career to him because he has helped me develop as a wrestler and a person, he believes in me so much and he's always straight up with me. They are all the reasons I was able to win that tournament."
Recently, Moreno was named the 2021-2022 pre-season national champion for high school girls wrestling, after competing against other state champions.
"Many people probably know who I am in this sport so it makes me a target for competition," Moreno said. "Everyone is going to want to beat me. I just have to wrestle like I know how to and I should be okay."
Moreno explained that this newly acquired title impacts her upcoming season in motivating ways.
"This win, just like my win at state, was a big one, except a step greater," Moreno said. "It helped me see where I am as a national wrestler taking on people from all over the U.S. It gives me confidence that I can win bigger tournaments like Fargo if I have the right mindset."
Moreno stressed that her winning reputation affects her in a stressful manner and is setting an intimidating, yet motivating tone for her upcoming season.
"Yes I feel tons of pressure," Moreno said. However, I won't let that bother me when I'm on the mat. I was telling my friend the other day that one thing that keeps me going is knowing how much I hate losing. And now that I know people are going to give me their best wrestling everytime I go up against them, it makes me want to wrestle the best I can. That's all I can do."
Moving into the 2021 season Moreno is setting goals with coach Strmiska to make plans to achieve them.
"Our one-year goals include Fargo Champions, and making a UWW Cadet World Team," Strmiska said. "The sky's the limit for Olivia, and will depend on her continued hard work and commitment to her craft. I can see her competing in D1, making national teams, and Olympic aspirations if it is the lifestyle she chooses."
As she keeps improving, her passion for the sport continues to grow throughout each accomplishment, and she doesn't plan on deviating from her discipline anytime soon.
"I am very tunnel visioned as a person so when I see something I want, I put all of my work and effort until I am satisfied," Moreno said. "Thankfully I haven't been satisfied with myself in this sport so all I want to do is work harder and get better so I can be the best."
Though all the effort Moreno puts into her wrestling pays off on the mat, there are certain adversities that prevent her from placing all her energy into wrestling.
"The greatest challenge I have faced this season is the stress of school," Moreno said. "I'm exhausted by the time I get to after school practice and sometimes I have to take a step back and take a break from wrestling so I can keep up with grades."
Aside from the stresses school places on Moreno, wrestling also has its difficulties and Moreno continues to battle against them.
"The hardest part about wrestling is the work ethic." Moreno said. "To be good at this sport, just like any sport, you have to work just as hard as you want to succeed. A lot of people who have been doing this sport for their whole lives say wrestling is mostly a mental sport, meaning in order to become successful it's not about how athletic you are because any person with the right training can become as technical and as athletic as they need to be, but it's how hard you push yourself without giving up, it's about the extra time you put in when you don't feel like it. That's the hardest part."
Moreno conveyed that she enjoys being a part of the school wrestling program, and working with her peers.
"I love being on the Bowie wrestling team because of the people and watching the potential everyone has," Moreno said. "My first love for the sport started with Bowie and I think if someone on this team wanted to succeed they could."
Other people who've worked closely with Moreno attest to her positivity at practice and her love for her teammates.
"Olivia likes to dance, literally and figuratively," Strmiska said. "She brings energy and a smile to workouts, adding that to her competitiveness and its fire. It's not uncommon for her and her girl teammates to break out in dance mode during practice. That energy is contagious, and I know while we are going hard, they are having fun with the process. I would say she wants her workout partners to succeed as much as she wants to succeed, and that's a rare quality."
Moreno's teammate Elayna McKinney also enjoys having Moreno as a teammate and vouches for her alacrity at practice.
"She makes practice so fun and interesting, she likes to be goofy but also works hard," McKinney said. I love having her as a teammate because she also helps teach you different techniques and ways to do a move. She is so good at pushing herself and her teammates to do better. She sets goals for people to try to achieve what she did and encourages people to push themselves to try and beat her when we wrestle her in practice. She brings out the fun side in wrestling as well and makes everybody laugh."
Moreno encourages other young women to give the sport a shot, encouraging its benefits athletically and personally.
"To all women, you're making a change as soon as you commit to this sport," Moreno said. "Step on the mat and fight as hard as you can every single time and you'll be surprised with how much you develop as a person because the challenge is only going to make you stronger physically and mentally."
So despite all the adversity she's faced, and things she's accomplished. Moreno's self-discipline continues to persevere.
"And it can be stressful but I've never regretted the work I put in because it shows when I wrestle," Moreno said. "It's a lot of time and effort and I think that's what has separated me the most from people."