Small business takes South Congress
Opened earlier this year, Tiny Grocer sells local products and fresh produce
When I first stepped foot in Tiny Grocer located at 1718 South Congress Ave, my immediate thought was that it reminded me of New York. From it's small area and its healthy, yet expensive produce, to its outside standing-eating arrangement, it definitely looked like a store to be found in New York.
One of my favorite things about Tiny Grocer was that many of the products said where they were made on the price tag. I also think it's really awesome how much of the inventory was local.
From lemonade to chips and chocolate bars and bug repellent, so much of Tiny Grocer's product was made right here in Austin and I appreciate that Tiny Grocer supports local businesses. I think the prices were a bit on the expensive side, but the quality of the products are worth it and I think if you are willing to pay a little more for locally produced products, as I am, then this store is for you.
Tiny Grocer is open every day of the week from 8 a.m. to 8 p.m., which I think are great hours especially for a new, small business for sure.
One of the main things I noticed when I walked in is that this is much more than a grocery store, there's a soft-serve ice cream machine, a deli/cafe area, and a huge table filled with unique products and gifts such as apothecary, perfumes, and locally made jewelry.
If you ever need a nice gift for someone, you should look at Tiny Grocer.
I also must point out the chocolate bar section. Tiny Grocer had many unique types of chocolate bars. I found a lavender chocolate bar and a spicy one too, and even a rainbow unicorn one and so many of them were locally made.
I also checked out the produce aisle which was really plentiful, there were berries and all kinds of greens and fruit. I found locally made dressing, herbs, carrots, and much more.
I also spent a lot of time admiring the cafe/deli area, filled with  all kinds of foods like salmon fillets with lemon, soup, and pasta. I really could not pick what to order, everything looked so delicious and honestly I don't think you could go wrong ordering anything from here.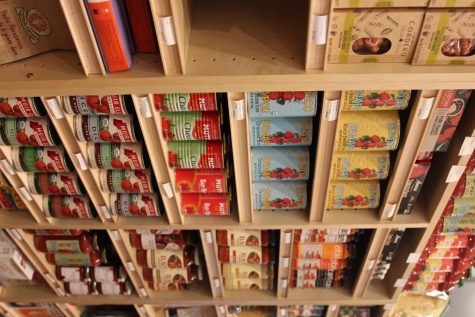 I wish I had ordered a coffee or a drink from the cafe menu, but next time I visit I'm definitely going to be  trying the matcha latte and one of the pastries.
After shopping around and looking around at all the great products, I ordered a Ham and Swiss cheese croissant sandwich, and I bought a locally made lemonade. I also tried a Veggie Frittata and a personal size berry pie.
The Ham and Cheese Croissant sandwich was probably my favorite thing I tried at Tiny Grocer. The employee taking my order heated it in the oven beforehand, so it was warm and perfectly toasted. I loved the Swiss cheese and I thought it tasted really good in combination with the buttery and flaky croissant. This is a must have if you visit Tiny Grocer and it's a ten out of ten from me.
The locally made lemonade I tried was called Me and the Bees lemonade. It was perfectly sweet and sour and I would definitely recommend this as well. Not to mention, it felt really good to purchase from a local business and knowing that my product was made in Austin.
The Vegan Frittata was also really delicious, it had a soft texture and was warm. I usually wouldn't order this, but I did not regret it one bit. All of the vegetables brought so much flavor and I would certainly order it again. I'm giving this an eight out of ten.
The Berry pie was also amazing, it was a little too sweet for my liking, and I think I would have liked it better if it was served warm, but it was the perfect personal mini sized pie. The filling tasted really authentic and fresh and not artificially made. I'd rate this a seven out of ten.
The vegan vanilla soft serve ice cream was really delicious as well. The texture was super smooth and really refreshing. I loved how strong the vanilla flavor was and I'm interested in trying Tiny Grocer's other flavors considering how great the classic vanilla was. I was surprised that there was no dairy products in it because it tasted like authentic ice cream.
After I had gotten my food, I walked outside expecting to find somewhere to sit, but there was just a little area out front where I just stood to eat my food. I loved my experience at Tiny Grocer, but I think it would have been really nice to have a place to sit like an outside patio.
Overall, I loved this store and I will definitely back and I recommend you visit it too. I could see myself stopping here for a casual dinner or delicious ice cream.