Injured student-athletes seek help from the new trainer
Helmets clash, and bodies slam against one another, leaving a student-athlete laying awkwardly on the turf. The spectators fall silent, but Bowie's newest addition in the training room, trainer Lauren Maldonado, has prepared for this moment, understanding she'll be a vital part of the athlete's recovery.
At the end of the 2020-21 school year, Maldonado became the second trainer within the Bowie family. The students accepted her immediately, for they could relate to her desire to constantly improve.
"[Maldonado's] young and hungry still. She was at a smaller school [before coming to Bowie], and she sounded eager to get started at a bigger school and a new opportunity," Bowie trainer Pablo Riera said. "This is an ever-evolving training room, as we've got a new training room twice in the eight years I've been here, so we want someone who always strives for better."
Prior to coming to Bowie, Maldonado was a trainer at Bastrop High school, which is classified by UIL as a 5A school. Maldonado was attracted by the competitiveness and community surrounding sports at a bigger school like Bowie(6A).
"I see a strong community here," Maldonado said. "I love everything that is involved in this school, for everyone is solely invested in it, and [the students] are so happy to be here, and it's very refreshing, and it's very motivating to want to come and work for a school like Bowie."
Despite only being a Bowie trainer for less than two months, Maldonado has made an instant impact on the students that interact with her. The added presence in the training room has been appreciated by injured student-athletes, as well as Bowie staff.
"[Maldonado] comes in and is very engaged with the students," Riera said.  "[She is] very excited to come in everyday, and the students have really seemed to take her. They can relate to her and she's been very pleasant to work with."
High school injuries can lead athletes down a long and hard road. Throughout the recovery process, Maldonado aims to highlight that an injury is a small blip in an individual's development, not only as an athlete but as a person as well.
"You get to know them, not just from an athlete's perspective, but you get to know them as a person," Maldonado said. "And that's really important because that's something they need to be reminded of: they're more than just an athlete, they're a person, a kid, a growing teenager, and that's some of the hardest times."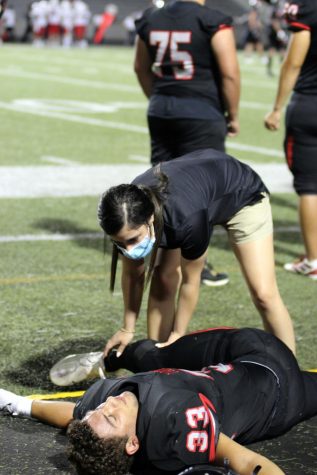 Maldonado and Riera make it possible to bring athletes back in action by emphasizing the importance of good vibes in a melancholy environment.
"We put the child's care first, but we're very approachable, we're very knowledgeable, and we like to make the atmosphere fun," Maldonado said. "We want them to be uplifted, we want them to be encouraged. We want [the students] to know that they're working their way towards heading back out the door, and back onto the field or court."
Junior soccer player Weston Bescheinen touched on the idea that injuries can lead to a subconscious lack of confidence and anxiety for student-athletes. Maldonado works to eliminate these feelings.
"Because I broke my foot and I was out of soccer, I had a lot of anxiety," Bescheinen said. "So, knowing that I was in a good spot and I was getting the right kind of treatment was definitely [helpful]. I could see the light at the end of the tunnel."
Just weeks after breaking his third metatarsal, Bescheinen was able to return to the field following Maldonado's treatment. The junior soccer player was able to mentally break free from his injury, allowing him to return to his sport very quickly.
"I'm not sure if there's anything better I could have done [to recover]," Bescheinen said. "Everything she did was very helpful and definitely sped up my recover for sure."
Progress can be minimal at times and athlete's become discouraged, hindering their ability to efficiently recover. Maldonado creates an environment in which the athlete is constantly reminded of their ability to fully recover.
"You want to make sure that you're constantly progressive, and you're showing them that they are progressing," Maldonado said. "I like to set goals for my athletes, and then compare and remind them [where they started]. Don't give up."
Studying psychology as an undergraduate, Maldonado understands the importance of mental health. Maldonado aims to help student-athletes improve their physical and mental health.
"We have our conversations, we talk, and we make sure that [the athletes] get the job done," Maldonado said. "It's just as much my responsibility to make sure that [every athlete is] physically intact as much as mentally intact."
Leave a Comment
Your donation will support the student journalists of James Bowie High School. Your contribution will help cover our annual website hosting costs. Any contributions made through this service are NOT tax deductible. If you would like to make a tax deductible donation OR to subscribe to our print edition, please contact us at [email protected].