Under water pressure
This morning, Bowie encountered a water leak leading to a series of power and water-related issues from decreased water pressure to P.A. systems being down in a majority of academic-hall classrooms. AISD's Facebook and Twitter accounts recently posted that Bowie is currently losing 26,000 gallons of water an hour and it will take hours to repair. 
To account for this the district has sent Bowie two large pallets of water bottles and a pallet of gallon jugs, which have been delivered to the cafeteria and the front office.
"Students should try to minimize water usage," academic dean Kaylin Brett said.
In order to keep the school open, students have been told to use the restrooms in the recently constructed athletic building, however, this influx of students has led to lines being built up causing frustration among students.
"I was in line for 10 minutes, 15 with the walk here," one student in line said. 
In order to account for the lack of available restrooms, 17 portable restrooms are being delivered to the end of E and F hall for student use the rest of the day.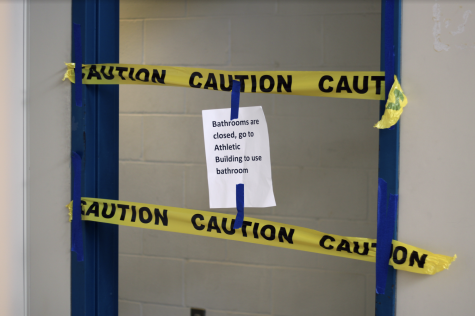 "They aren't handling the situation well," student Avery Fechter said on a Facebook response to the AISD announcement. "I was yelled at by a Bowie staff member for going to use the bathrooms in the Athletic building."
Social Studies teacher Patricia Maney sent her leadership students out around campus to deliver water bottles to each classroom so that students have fluids throughout the rest of the day.
"It's nice knowing [that] I'm helping out the school, and doing my part to solve the problem," junior Mathew McGowan said. 
Gas and electricity are functioning at full capacity so lunch can still be served, with water being provided for staff to wash hands. 
The Bowie Parents Facebook group was active with multiple comments once word of the problem got out to the general public.