Disney star Olivia Rodrigo releases debut album, "SOUR"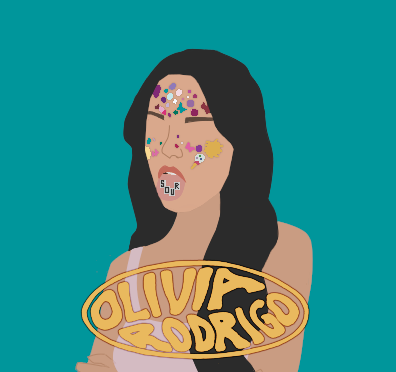 After releasing three hit songs, Olivia Rodrigo released her first album called "SOUR," which includes a lot of different styles of music and songs that listeners can easily relate to. Each song also has their own meaning which can reel listeners in to discover the meaning each song holds. In preparation for the album, Olivia released three songs prior to it: "drivers license," "deja vu," and "good 4 u," which all quickly became popular. 
The first song of the album, "brutal," sounds very different from the songs she released prior to the album. It's sort of a punk-rock song that is basically Olivia ranting and screaming about how she feels about herself, and how low her self confidence is. I think a certain amount of people could really enjoy the song. Personally, it isn't my favorite on the album, but I'd still listen to it if it randomly came on. 
A song about watching someone you love find somebody new almost instantaneously after a break up is the next song on the album, and it's titled "traitor." This is a softer song compared to the previous one. It's definitely slower and has a deep meaning that listeners could easily relate to. The lyrics really capture what it's like to be betrayed by an old significant other, especially when that significant other moved on to the person they referred to as "just a friend." 
The third song on the album is definitely something almost everyone has heard: "drivers license," the first song Olivia released. Once this song was released, fans started speculating that the song was about Joshua Bassett, as well as Sabrina Carpenter and the drama behind all of that. The song itself is extremely catchy and it's also a song about heartbreak, which again, listeners can relate to. The hit song was also released with a music video, which basically just shows Olivia driving around in a car and singing, but still has pretty visuals. This song can be constantly heard on TikTok, which I think is why I ended up getting tired of listening to it over and over again.
The fourth song, "1 step forward, 3 steps back," samples "New Year's Day," by Taylor Swift, who is also Oliva's biggest inspiration. This song is about being in a relationship and making progress, but then ending up in a completely different stage in the end. This song is pretty catchy as well, and is probably one of my favorites from the album. The best part of the song is when it says, "I'm the love of your life until I make you mad," because that is something that a lot of people have to deal with when it comes to unhealthy relationships. 
The second song that Olivia released before the album, along with a music video, is "deja vu." This song is about a past significant other reusing things from their relationship with their new significant other. The music video is pretty much two girls doing the exact same thing, which symbolizes the theme of reusing things from past relationships. I personally think this song is better than "drivers license" because it was more upbeat and had an interesting story behind it.
The next and last song Olivia released prior to the album, "good 4 u," is definitely my favorite of the three. The song has so much energy and I really like the meaning behind it. This song has a similar meaning to "traitor," which is watching a significant other move on quickly. Overall, the song is just really fun to listen to. 
The seventh song, "enough for you," is about just wanting to be good enough for someone. This song is also a slow song, which I really enjoy because it sounds good and the lyrics can easily be related to. 
The eighth song of the album, "happier," is about wanting an ex-lover to be happy with someone else, but not as happy as they were with you. The song is about heartbreak and relationships, and it's also a slow song. I think this song is definitely one of my favorites mainly because of the way it sounds.
The ninth song, "jealousy, jealousy," is more upbeat, and it's not slow like the past couple of songs. It's nice how it's more upbeat rather than sad since the last couple of songs were pretty slow. This song is about being jealous of someone and just constantly comparing yourself to them, which is something people do often on social media. 
The tenth song, "favorite crime," is yet again another slow song, but it still sounds good and different at the same time. The song is about major issues in a relationship, and   it relates this to a crime. I enjoyed this song too because it mentions getting out of an unhealthy relationship and thinking about how you could let a person treat you like that.
Lastly, "hope ur ok" finishes off the album. This song is my favorite song out of the whole album. It's about Olivia hoping her childhood friends are doing good, and it's definitely a really emotional song that sounds very uplifting and peaceful. 
Overall, "SOUR" did not let me down. The songs all impressed me and were super relatable. While some of them weren't my favorite, I wouldn't skip them if they came on. This album definitely makes me excited to see what Olivia has in store for the future