Mental health: COVID-19
One year of quarantine has proved to be detrimental to teen mental health, but the widespread release of the vaccines gives students some hope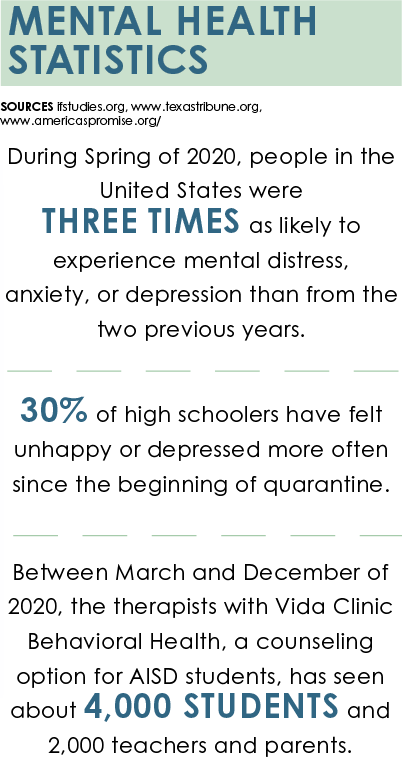 Isolation. Separation from friends. Interrupted routines. Canceled extracurriculars. Prolonged time indoors. Endless hours spent staring at a computer screen doing busy-work. Little things like hugs and parties, no longer considered safe. Missing out on a year's worth of activities.
March of 2021 marked one full year since Austin Independent School District (AISD) closed its campuses due to COVID-19 precautions, and the Texas Department of State Health Services (DSHS) implemented health policies in order to keep the population safe, such as social distancing and mask policies. While the initial campus closure was only supposed to be active for a limited time, senior Laurel Shultz has yet to step foot on campus in her final year of high school.
"I was not expecting the pandemic to last this long at first, I was uneducated about the virus and didn't think a virus could disrupt everyday life so drastically," Shultz said. "I thought it would last three months tops. Honestly, now that it has been a year I feel annoyed at former President Trump for not heeding the warnings he got from other countries about the virus the way I feel he should have. He put hundreds of thousands of lives on the line because he chose to ignore the warnings, and as someone who knows multiple people who died in the early days of the pandemic lock down, that makes me angry."
Staff members, like Assistant Principal Susan Leos, have tried keeping a positive outlook throughout the pandemic, focusing on how quarantine has bonded students and staff with a shared experience.
"What I will retain from this year of quarantine is a newfound sense that people can find ways they never even thought of to make a community, even without the physical place if they are willing to find ways to connect with each other," Leos wrote in a one-year-of-quarantine reflection letter. "The resiliency of our staff and students to create a community of learners through the power of human connection is what keeps me going."
Jessi Gold, a psychiatrist at Washington University in St. Louis, commented in a New York Times article that teenagers begin to learn how to navigate relationships and develop nuanced communication skills while in high school. Therefore, attending classes that are Online or that have limited in-person experience could possibly cause teens to lose some of those social skills.
"Everything is stagnant now," New York City Ayden Hufford said in the same New York Times article. "There's nothing to look forward to. I sit on the computer for three hours, eat lunch, walk around a bit, sit for three hours, then end my day. It's all just a cycle. [Sometimes,] I'll lay down with my camera off and wait for it to be over; It's sad and somewhat lonely."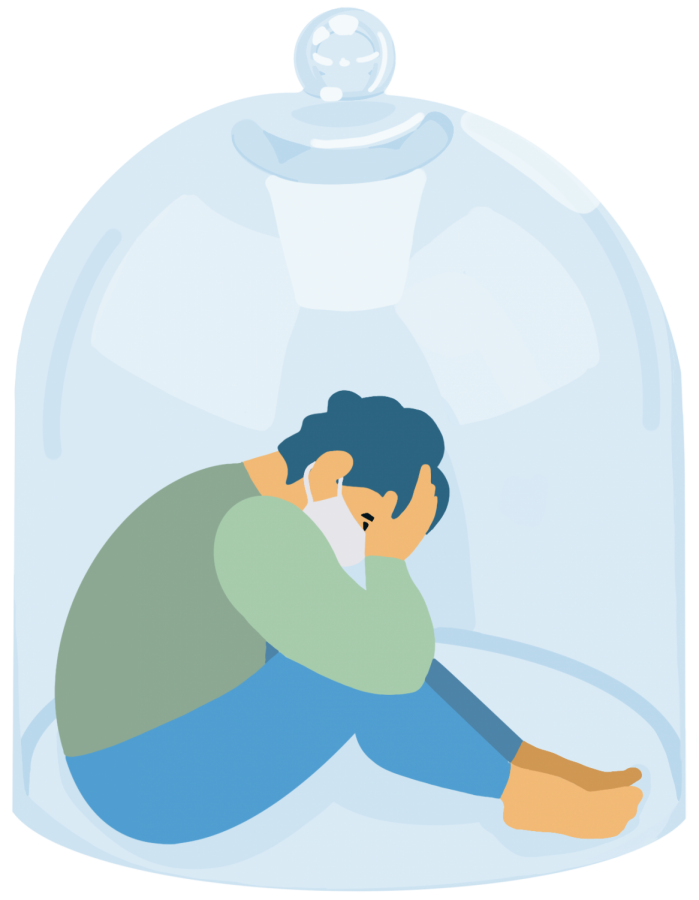 QUARANTINE'S EFFECT ON MENTAL HEALTH
In the Psychiatry and Behavioral Health Learning Network's "Coping During COVID-19" video series, psychiatric-mental health professional Julie Carbray said that the social isolation adolescents are facing during quarantine has been looked at as being most problematic for long-term outcomes for children. After a full year of quarantine, students still report having feelings of depression and anxiety that surfaced when the pandemic first began.
"I experienced a lot of changes in my mental health after quarantine began; my anxiety went through the roof and tasks I used to be able to do are now a lot more difficult," Shultz said. "I was shocked at how fast my entire lifestyle was flipped upside down and it caused a lot of stress and fear-inspired anxiety. Especially at the beginning of quarantine, it was hard to cope with because I was never alone, felt overwhelmed by the expectations in school, at home, and never felt I had time to myself which I desperately need because I am an introvert. Although I was able to 'keep it together' on the outside, on the inside I felt trapped, overwhelmed, and anxious over every small detail most people probably wouldn't even notice."
The Institute for Family Studies at the Wheatley Institution found that the percentage of teenagers who reported being unhappy or even dissatisfied with their life increased during the quarantined summer of 2020. Additionally, depression, loneliness, and general unhappiness are at an "unacceptable" high level among teens in the United States.
"Mental health needs have sharply increased across the board from kids to adults," Licensed Mental Health Specialist and school social worker Amanda Toohey said. "Many people struggle with isolation as well as an overall loss of their normal routines, paired with fewer opportunities to do things for self-care and things that bring joy to our lives. The pandemic has been referred to as a collective trauma- something we are all experiencing together and coping with at different levels."
Medical News Today reported that, towards the beginning of the pandemic, 38 percent of those surveyed felt tired and lacked energy, 36 percent were having sleep disturbances, and 25 percent were feeling down or depressed. Over a quarter of populations around the globe were facing an increase of pandemic-induced anxiety or depression.
"Know that you are not alone and that help is available in many forms," Toohey said. "Talking to a trusted adult is a must. We tend to turn to our friends or peers for support which is great, but when it comes to depression and mental health, involving an adult is especially important. You can also try out various coping skills to find what works best- connect with others, journal, exercise, art, music, mindful meditations; there are many options to try out."
Counselor Heather Gallier suggested that students dealing with feelings of depression or anxiety use the acronym "MEDS" to help with their physical and mental health. "M" stands for mindfulness, focusing on the present, "E" for exercise, "D" for diet, and "S" for sleep.
"I always emphasize the link between your physical health and your mental health," Gallier said. "Thinking about those physical factors and paying attention to them is always my biggest recommendation. Then, I recommend thinking about balance and scheduling activities you enjoy in your week and your day, even when you feel overwhelmed."
"My advice for students dealing with difficult mental health changes is to seek help," graduate Sidney Tishgart said. "There's no shame in having a therapist. Another thing that's been hugely helpful for me is finding something to look forward to. It can be as simple as 'I'm gonna go get coffee in the morning' or even something like, 'I'll be at a concert soon, just push through.'"
Writers at the National Center for Biotechnology Information (NCBI) wrote that it is likely that the COVID-19 pandemic will result in psychiatric disorders such as Post-Traumatic Stress, Depressive, and Anxiety Disorders, as well as grief-related symptoms. Additionally, NCBI published an article written by several doctors, which described that the pandemic has created a global context likely to increase eating disorder (ED) risk and symptoms because of disrupted routines, decreased social interactions, increased exposure to ED-specific or anxiety-provoking media, and health concerns.
"Developing an eating disorder during this time is more common than you'd think," Tishgart said. "If you're suffering, you are not alone. For students suffering from eating disorders, I think it's important to stray away from the toxicity of social media. A quick fix is unfollowing influencers or others who make you feel lesser than. Of course, there's more to it than just a social media detox, but it's all about baby steps. Diet culture is another thing. Sure, 'hot girl summer' is coming up, but you're a badass as-is, and worrying about food or appearances should be the least of your concerns."
The National Eating Disorders Association found up to a 78 percent increase in the number of calls and Online chats they received compared to about a year ago. Anyone struggling with an eating disorder can contact a helpline when in a crisis situation at nationaleatingdisorders.org or by texting "NEDA" to 741741.
"What can be important is having compassion for yourself," Gallier said. "Keep in mind that you're going to have good and bad days, and not every day will be perfect. What's important too is thinking about the people in your life, and surrounding yourself with people who are very supportive. I don't think we realize how much diet culture is in our world, so being careful of the things you say is essential if there is someone in your life struggling with an eating disorder."
Since quarantine and remote learning has forced most students to attend classes from home, associate professor at the Rutgers School of Health Professions Ann Murphy and senior training and consultation specialist PJ Wenger recommend that parents and teachers should watch out for signs that students are having trouble with their mental health: struggling to complete work, pay attention, sleep, eat, or interact with family or friends.
"Validate their feelings," Murphy said in an interview for Newswise. "Teachers have shared that when their students talk about things that are difficult, they try to refocus them on the positives. This can invalidate the student's feelings and make them think the adult doesn't understand. It's important that we continue to recognize and verbalize back to students how challenging things are right now and how big the losses and changes feel to them."
A LOOK AT THE FUTURE
Even though students have felt an increase in feelings of depression and anxiety since quarantine began, teens have had the opportunity to get more sleep since then. The Institute for Family Studies reported that the percentage of high school students who slept seven or more hours a night increased by 29 percent since 2018. Additionally, a total of 53 percent of teens claimed they have become stronger and more resilient during the pandemic.
"Teens during the pandemic appear to have managed the challenges of 2020 with resilience, taking comfort in their families and the slower pace of life," an article published by The Institute read. "Although teens were worried about health, economic stressors, and the protests, these challenges were seemingly offset by increases in sleep time and family time. These results suggest that once the pandemic has lifted, later school start times and more family time may be helpful in mitigating teen depression."
The Texas Department of State Health Services (DSHS) announced that the COVID-19 vaccines became available to all Texans ages 16 or older starting Monday, March 29. Additionally, the DSHS administered over 11.8 million doses of the vaccine to Texans as of Friday, April 2.
"I think returning to our more normal routines will help a large number of students," Toohey said. "It seems like current medical experts feel hopeful that widespread vaccinations will greatly reduce the spread and allow for many of the current restrictions to be lifted."
The Centers for Disease Control and Prevention reported that 11 percent of adults in the U.S. felt symptoms of anxiety or depression before the COVID-19 pandemic began and 42 percent had symptoms in December of 2020. Gallier thinks that as life becomes "more normal," due to the vaccines, the percentage will likely decrease.
"The widespread administration of the vaccine gives me so much hope, and I think that getting back to normal life as quickly and safely as possible is really important in getting my anxiety back to the low level it was at before the pandemic began," Shultz said. "The vaccine will give me the reassurance I need to go back to my daily routine as well as feel comfortable again in social settings. My anxiety about the pandemic alone is sky-high, so having the vaccine and having my friends and family have it will be such a relief."