Photo business captures senior smiles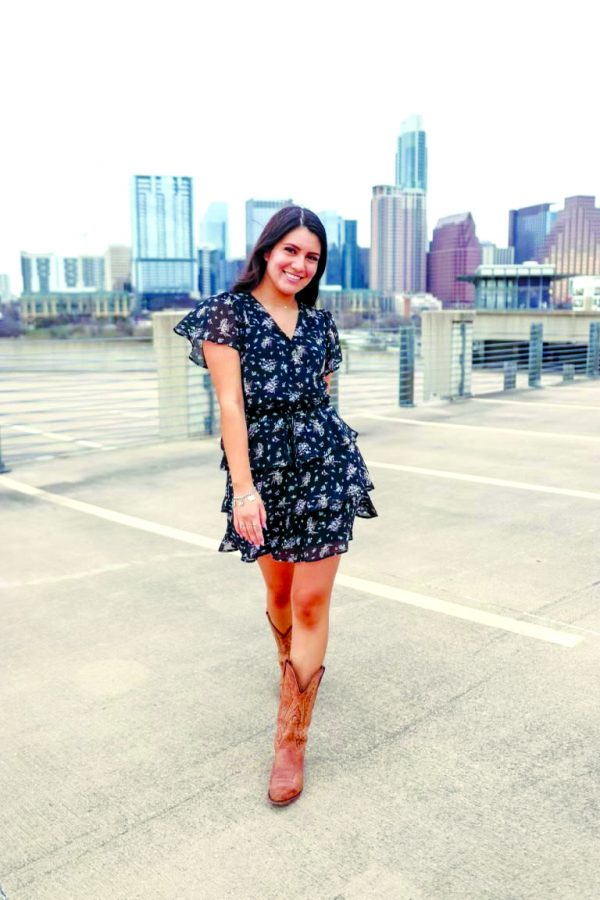 As senior year goes on, one of the milestones that comes with the year is getting senior portraits taken for either yearbook ads, graduation announcements, or even just some nice pictures to commemorate graduating.
Senior Skylar Linscomb has started her own photography business this year in order to help capture these special moments for seniors and to keep practicing her photography skills.
"I'd wanted to start my own photography business for a couple years now but I didn't have time because of school," Linscomb said. "But when the pandemic lock-down started last year I finally had time during quarantine to set up the foundation for it and start a website and really get it going."
While Linscomb didn't have the time to officially start up business for her photography until recently, she has been getting comfortable behind a camera taking pictures for a long period of time now.
"I first got into photography when I was really young, about eight years old, and it stuck with me when I took my mom's red point and shoot camera to The Wildflower Center and we had the photos from that printed," Linscomb said. "Once I saw them printed I was hooked."
Since COVID-19 has made it difficult to find ways to still creatively market business ventures, Linscomb has had to take time to develop her photography business mostly Online.
"I market myself mostly on my Instagram, and people recommend me to their friends or family or my pictures come up on other people's Instagrams," Linscomb said. "Thankfully my business hasn't really been affected by COVID-19 because it's safe enough to do while following all the guidelines."
Senior Amy Bejarano decided to go with Linscomb after seeing her pictures on social media and seeing that Linscomb was offering great deals.
"She does them at a reasonable price and I did three outfit changes and three locations for a great rate," Bejarano said. "During the shoot, she helped me get out of my comfort zone and had a really natural poses that still looked good. I also liked how she edited them, because the edits were very natural and it didn't look over edited."
Bejarano looked for a photographer like Linscomb for her senior portraits because she wanted someone who could have fun but also give good direction at the same time.
"She helped a lot by giving advice about poses and lighting. I had never done a professional shoot like this before so it was new to me but it was a really fun experience," Bejarano said.
"In a photographer I look for kindness and fun. Photography is all about capturing special moments so a photographer should always be fun and spontaneous in my opinion."
For Bejarano, these senior portraits are a way to help commemorate her final year of high school and her accomplishments thus far.
"I chose to have senior portraits done to portray an accomplishment which is graduating high school," Bejarano said. "These pictures are just a fun and exciting way to end the last year of high school, right before you head off to college."
Senior Morgan Mayet also did her senior portraits with Linscomb in order to celebrate her senior year.
"I do think it's important to get senior photos because we have had to deal with so much since the pandemic started that doing normal senior portraits made it feel like we had a little bit of normalcy and tradition back in our senior year," Mayet said.
Mayet knew she wanted Linscomb to take her senior portraits due to the fact that she had seen Linscomb's work progress over a number of years.
"I went with Skylar for my senior photos because I was looking for someone who can have fun while also being serious about getting the right shots. I've known her since 6th grade and I have seen her photography skills develop into beautiful art," Mayet said. "So, when I was looking for a photographer I knew I could trust her."
Another factor in Mayet's senior portraits that made the experience more memorable was that she was able to also do it with her best friend.
"I loved having my best friend there and taking our portraits together," Mayet said. "We decided to take our senior portraits at the same time together because we thought it would make the experience a lot more memorable and Skylar was really good at scouting locations and backgrounds and she really knew what she was doing."
While Linscomb has done many senior photo shoots this year, she also works with many different types of clients with different types of situations and circumstances.
"I don't just do seniors, I can do any student of any age," Linscomb said. "I've also done family shoots, couple shoots, college announcements, and basically anything someone reaches out to me asking for. I like to switch things up and stay creative like that."
Linscomb reflects on advice she would give to people interested in photography or starting a business with their photography.
"The only way to get better is to do it more often so you can't start off charging a bunch of money. You have to get good shots to get good business," Linscomb said. "Photography is definitely one of those things you have to do to really learn about each time you shoot because each shoot is different but you learn more as you keep going and practicing."