Frog Town leaps into original melodies
Senior musicians form band to preform original and cover songs for their supporters
As the instruments and equipment pile into the garage, he moves quickly to set everything and everyone in the correct place. As the music begin to echo through the small space, he makes sure to strum every note right. In just a few hours, cover songs and original songs are perfected and are ready to be played in front of a crowd.
Senior Jack Lance has been playing in a band Frog Town with his friends since October of 2020.
"Our first performance was for Lucas' mom," Lance said. "She was running for an AISD board seat at the time and we were congratulating her on her efforts by putting on a concert. From there we decided it would be a good idea to get together and try to write some music."
The alternative rock band consists of four musicians, made up of rhythm and lead guitar, bass, drums, and one lead singer. According to Lance, each member has their role to make the band practices successful.
"All of us learn our individual parts on our own, and we meet up and put it all together," Lance said. "After we're done working on cover songs, we spend some time showing each other certain chords or licks that we like and we work on making songs out of what we agree on."
Frog Town was formed in the midst of the pandemic so the band so far hasn't struggled to make many adjustments to their schedule according to senior band member Lucas Caballero.
"COVID-19  hasn't really affected the band as much as we thought it would," Caballero said. " Of course the only limitation we have is not having as many opportunities to perform and really broadcast our music to other people."
According to Caballero, Frog Town is currently working on producing some sort of mini-album, which will consist of a small collection of songs they have been working on.
"The band has been focusing a lot of time writing music and seeing if we can get the ball rolling with the songs that we have ideas for," Caballero said. "We are working towards creating an extended play, so we could eventually record and release for fun."
The band's commitment is not the only thing that makes the band successful. Lance believes that the variety of natural musical talent makes them noteworthy as well.   
"Our band is unique because most of us can play multiple instruments," Lance said. "Sometimes for certain songs we'll switch it up and fill in different rolls."
Similar to Lance, his mother Mary Lance is impressed by the band members' abilities and believes that their drive to continue improving makes them an even better band.
"It's cool that a bunch of kids, who are basically self-taught, got together to play music," Mary said. "They are amateurs, but they work really hard to get it right."
Caballero believes that the bonds within the band makes the work of producing music easier and more enjoyable for everyone.
"I like how relaxed it feels to play with the band," Caballero said. "It feels more like hanging out with the guys because we were already friends beforehand. The music comes naturally that way because it's not super strict, it's more focused on having a good time and doing something that we all enjoy."
The experience of playing music holds more value for the band members than just time to socialize, according to Mary.
"The band has been a fantastic outlet during this pandemic," Mary said. "Writing original lyrics and melodies and learning how to collaborate is challenging in a good way, keeps the brain sharp."
Although the social connections within the band are well-built, Caballero believes they are  still working on including everyone's ideas into what they produce.
"I'd say the biggest challenge we have in the band is working with everyone's creative differences," Caballero said. "We all have very similar taste in music, but you notice where we all differ on what we want to create. We all have a sense of creative direction we want to go, so we all have to work to make that compromise for everyone."
Even though the band keeps busy working toward improving their music, Caballero expressed that the overall experience of the band has been quite gratifying.
"Music has always been a feel-good experience for me," Caballero said. "Playing puts you into a different zone so you're not focused on anything else. The music you create really makes you enjoy playing your instrument regardless of the song."
With graduation approaching for the senior members of the band Jack explained that the musicians are trying to enjoy their remaining time together.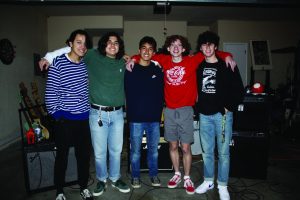 "Sadly we're all planning on going to separate colleges so we don't have plans for the band outside of high school," Jack said. "However we plan on having another concert for our senior graduation because wanted to play again before we all go off and do our own thing."
Although the band will not last forever, Caballero believes  the decision to create the band was a great way for the band members to continue playing music outside of any music related classes.
"When you're in your own band you're not limited to what you want to make," Caballero said. "We play out of sheer boredom, not because we have to or because there is any obligation to do it. We play because we want to, which makes the focus not so much on doing it for a better letter grade, or to be held to any crazy expectation. This experience was purely for us to enjoy."
Mary believes similarly to Caballero and hopes that their love for music will stay with them after the band is gone.
"Watching the band play live and seeing how they carried themselves really shows the pure fun and excitement they are having," Mary said. "I hope they always continue to turn to music for a positive outlet in life."