Exchange student weighs in on recent political climate
Arriving in the United States as an exchange student from Germany in August of 2020, in the midst of a global pandemic with the known far from sight. The reality unfolds for sophomore Sophia Rockitt as she sees the increased political climate of America first hand from an outside perspective.
Rockitt's new perspective when it comes to American politics brings fresh ideals. The previous events leading up to Biden's inauguration like the Impeachment charge against Trump, the riots at the Capitol, and the 15,000 troops stationed at the Inauguration prove many unrests within American society.
"There are people who definitely have different opinions," Rockitt said. "But having a president who knows how politics works and has experience in actual politics is a good thing."
American politics and German politics are very different. Germany is governed by the federal Parliament while the United States operates under a Constitutional Republic. With the differences, each has pros and cons.
"I think Germans are divided on how to best address immigration," Rockitt said. "Strife in the Middle East has resulted in an uptick in immigrant and refugee populations across Europe, and countries like Germany are grappling with how to manage or serve these people in need, not unlike what we have dealt with the last few years in the U.S."
Rockitt describes more differences between the policies in Germany and the United States in governance.
"One big difference is that we have more than two parties in the Bundestag (similar to Congress), Rockitt said. "Whichever party gets more than five percent of the votes will go into the Bundestag and their percentage determines how many seats they will get."
According to NPR news, over 156 million Americans voted in this year's election. This is estimated to be 66.5 percent of eligible voters in the United States.  Many younger voters did not participate in the 2016 election, but this year there were many other ways people got involved.
"I think that in each country the politicians could listen more to the young people because they know what will be important in the future, and they will become the future," Rockitt said.
More people voted this election year than in the past 120 years, even in the current pandemic. With this, even the younger voter demographic, which is historically known to not vote as much as the older generations, was high.
"Voting is our greatest privilege in the United States and I don't miss an opportunity to participate in an election, be it for seats on our local school board or our nation's highest office," Spanish teacher Kelly Tagle said.
In June of 2020 BLM came together for the death of George Floyd, and to point out the injustice against the black community.
"I think the most important thing which should be fixed is acceptance," Rockitt said. "Because some people which we have seen last year with George Floyd and all the other victims are still very racist and every country has some of them."
Bipartisanship between the Democrats and the Republicans makes it difficult to pass bills like the stimulus bill. Because of the political divide in this country, it makes it harder for the Senate to come together to make a decision.
"The U.S. is a big country and it's difficult to fix this problem because it is the people who need to be taught," Rockitt said. "It's good that so many people who live here are spreading awareness and I hope we won't experience the past ever again and continue to move forward."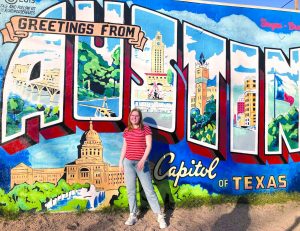 Higher educational institutions and more specifically the cost of higher education has been an area of controversy, due to how much students are expected to pay and how much debt a student can accumulate.
"Data shows that a Bachelor's degree significantly increases a persons earning potential, yet the price tag associated with a four year degree makes it nearly unattainable for so many," Tagle said. "It's been said, 'we all do better when we all do better."
In Germany, all unnecessary businesses are closed, but in Texas shops and restaurants are still open. Due to this it was harder for Rockitt to arrange her arrival.
"We have been talking to Sophia and her family via Whatsapp weekly since late May," host parent Laura Williams said. "We were so excited for her to arrive. I'm so grateful to her family for supporting her."
Being able to teach younger generations on how to address the political climates of the future is a staple for Williams.
"We encourage her and our own kids to depend on a variety of news sources, and not just opinions shared via social media," Williams said.
The face of education through exchange students has changed a lot in the past months. Finding a family who is willing to take a student in during a pandemic can be a challenge.
"It's the best match I could've got," Rockitt said. "I actually talk often with my host mom about politics and I learn so much from my host family about politics, and culture."