Students fund raise for cancer research
The Leukemia and Lymphoma Society is a global leader in the fight against blood cancer dedicated to funding research, finding cures, and making treatments available to as many patients as possible. Every year the LLS chooses students across the country to compete for the title of "Student of the Year" by seeing who can raise the most money for this cause.
This year, junior Lizzie Jensen was nominated by her college advisor to be a candidate for this opportunity and has been finding ways to fundraise and advocate for LLS.
"I chose to take on this opportunity because I think it is so important to find ways to serve your community and I thought it would be a great learning experience," Jensen said.
All money donated and raised goes straight to LLS, and Jensen has set goals in order to motivate her to donate as much as possible.
"My personal goal is to reach $5,000 in donations but my goal for my team is $20,000 which seems big but I'm really confident we're going to reach our goals because we're really putting ourselves out there," Jensen said.
Working alongside Jensen is a team of fellow juniors who have been helping to plan these fundraising events for months now.
"We also have a team full of many juniors that are also helping us raise money, but my co-candidates are Yuri Lee and Samantha Thompson who I chose because I know they're really dedicated students," Jensen said.
Co-candidate Lee was searching for an opportunity to get involved in something that could help the community and took this opportunity to help blood cancer patients.
"I wanted to get involved because this fundraising campaign would be an amazing opportunity where I would be able to not only support blood cancer patients but also advocate for this cause and spread awareness wherever I could," Lee said.
Team member, junior Leela McKenna was also looking for a way to get involved and help an organization during quarantine.
"Over quarantine, I thought that maybe I should be doing something more for the community and just for other people in general, I wanted to find a good use of my time," McKenna said. "This is such an important cause because we're helping individuals and families in need and no one chooses to have cancer, so you should always want to help people in need as best you can whenever you can."
Local businesses and restaurants have also pitched in to help the group raise money by donating or also spreading awareness to customers.
"My favorite part so far has been reaching out to local businesses for donations because I've discovered that many local businesses in the community are very supportive of this cause and were more than happy to donate and help in any way they could," Lee said.
Reaching out to local businesses has also been another learning experience because the team has had to learn networking skills in order to form sponsorships.
"This campaign has taught me a lot about etiquette and how to act in a professional setting as I have set up meetings with possible sponsors and written many emails," Jensen said. "We not only get to raise money for a good cause, but we're also learning really valuable leadership skills like how to work in a team.
The Leukemia and Lymphoma Society not only helps people affected directly by these blood cancers, but also helps these students who are trying to make a difference.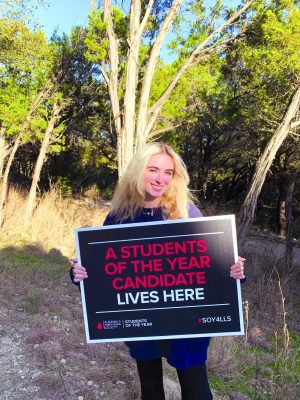 "These organizations actively help patients and their leaders set examples for people like me that are interested in taking on leadership roles," Jensen said. "LLS has incentives for candidates and team members, one of which being a college recommendation letter and that is also a big motivator for all of us."
Like many other things, COVID-19 has affected how the team has been able to raise money and safely reach out to people while keeping in accordance with safety guidelines and precautions.
"There are a lot of challenges going on in the world right now especially the pandemic, so trying to get people to donate to the cause has been a little more difficult than it seems," McKenna said. "We've sent emails to friends and family members asking for donations, planned fundraising events, and been hugely relying on our social media to spread the word to our peers of our upcoming events."
Keeping in agreement with CDC guidelines has still allowed the team many ways to raise money but has also shut down a lot of ideas.
"COVID-19 has also impacted our process because it's prevented us from organizing certain events we wanted to plan, that would've allowed us to raise even more money and drawn in more people," Lee said.
By not having the ideal ways to fundraise, the team has relied on family help to spread the word of their efforts.
"What has worked best so far has been our families helping advocate for this cause and telling extended family members," McKenna said.
Jensen reflects on how important this cause is and how helping organizations like LLS is also helping a much bigger picture.
"I feel like a more productive member of society when I participate in a big project such as Student of the Year," Jensen said. "Everyone is affected by cancer in some way including myself, so finding the cure to one type of cancer is a step further to curing all forms of cancer and eventually making the world a better place."