Texas Capitol tightens security amid the January 6 riots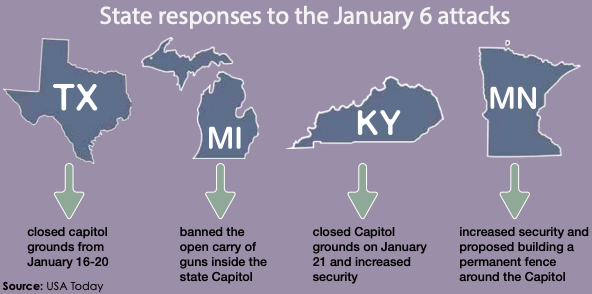 State capitol buildings across the nation have been on high alert following the violent attacks at the United States Capitol on January 6. Following the insurrection at the D.C Capitol, the FBI warned of plans for armed protests at state capitol buildings from far-right groups, according to the Associated Press.
Some armed protests occurred outside the Texas Capitol on January 12, which marked the first date of the Texas legislative session.  The January 12 protests at the Texas Capitol were not violent, but the Texas Capitol grounds were closed to the public from January 16 to January 20 due to a risk of violent protests.
In his proposed budget for the 2022-2023 biennium, Governor Greg Abbott indicated his support for enhancing security at the Texas Capitol.
"Recent events across the nation, and in Washington, D.C. in particular, have highlighted the need to ensure public buildings are safe for visitors in those who work in them," Abbott wrote in his proposed budget. "I recommend the 87th Legislature fund Capitol security capabilities and the associated personnel requirements of DPS."
Since Republicans control the Texas State House, State Senate, and the Governorship, some people feel that Texas won't be affected by the threat of right-wing violence.
"Perhaps I am naive, but I feel that those who want to oust our government through force and violence don't have a huge problem with the majority of Texas leadership," math teacher Edward Day said. "Their coup would have to be at the federal level, so I think any protests staged here will not be any more dangerous than a typical Saturday night on 6th Street."
Speaker of the Texas House Dade Phelan addressed the concerns regarding security at the Texas Capitol during a Texas Tribune interview.
"I can see the concern but I also see the presence on the ground right now and we're getting security briefings on a daily basis," Phelan said to the Tribune. "I feel confident that we will not be caught off guard like what occurred in Washington DC. I don't see that happening at the Texas Capitol."
The concerns over Capitol security have been apparent statewide and nationwide. Ahead of Biden's inauguration, he chose not to ride the Amtrak train for security reasons, according to CNN. In the view of some, President Biden has a unique opportunity to ease tensions in the wake of the January 6 riots.
"We are so divided that it is no joke anymore," junior Jake Giangrande said. "We are so much better than this. [Biden] seems presidential and recognizes the crisis that America is currently in."