The GOAT Timeline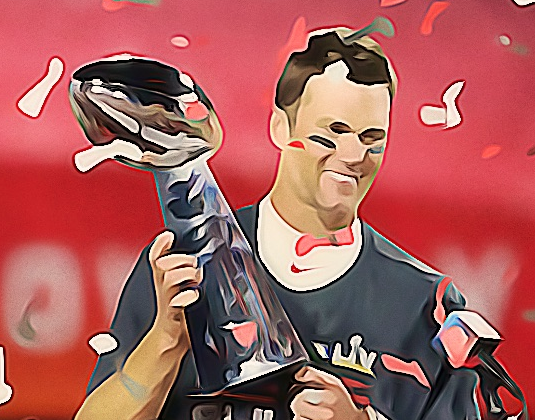 After defeating the Kansas City Chiefs in this year's Super Bowl 31-9, the Tampa Bay Buccaneers won the Super Bowl for the first time since 2002. With this win, Tom Brady won his seventh Super Bowl and fifth Super Bowl MVP. There's little to no dispute that Brady is the greatest football player of all time, earning him the nickname GOAT. Drafted in the sixth round in the 2000 NFL draft out of Michigan, Brady has now made ten Super Bowl appearances out of his 21 seasons in the NFL. Winning six Super Bowls with the New England Patriots and one with the Buccaneers, Brady has more Super Bowl wins than any NFL franchise. Let's take a more in-depth look of Brady's legendary Super Bowl timeline.
Super Bowl XXXVI (36): Patriots 20, Rams 17
In his first Super Bowl appearance, Tom Brady led a drive that set up kicker Adam Vinatieri to kick the game-winning field goal. Brady won Super Bowl MVP with 145 passing yards and one touchdown. 
Super Bowl XXXVIII (38): Patriots 32, Panthers 29
Besides it being a higher scoring game, this was almost a copy of Brady's first Super Bowl. Brady set up Vinatieri to kick another game-winning field goal. Passing for 354 yards, three touchdowns, and one interception, Brady won his second Super Bowl MVP.
Super Bowl XXXIX (39): Patriots 24, Rams 21
Brady is now 3-0 in the Super Bowl. Star Eagles quarterback Donovan McNabb threw an interception that sealed the win for the Patriots. Wide receiver Deion Branch won Super Bowl MVP after catching 11 passes for 133 yards. 
Super Bowl XLII (42): Patriots 14, Giants 17
Going into this game, the Patriots were looking to complete a perfect, undefeated season. The Giants' defense stifled Brady and the Patriots. In this Super Bowl, legendary Giants quarterback Eli Manning threw the iconic "helmet catch" to David Tyree that set up the game-winning touchdown. 
Super Bowl XLVI (46): Patriots 17, Giants 21
Manning led the Giants to a come-from-behind victory after being down 17-9 in the second half and scored twelve unanswered points to take the lead. The game came down to a final hail mary for the Patriots, which was unsuccessful. Brady has now lost his past two Super Bowls, with a 3-2 overall Super Bowl record. 
Super Bowl XLIX (49): Patriots 28, Seahawks 24
Bouncing back after two consecutive Super Bowl losses, Brady passed for 328 yards, four touchdowns, and two interceptions, winning his fourth Super Bowl and third Super Bowl MVP. This is one of the most iconic Super Bowls of the modern era. In the final seconds of the game, the Seahawks had the ball on the New England 1 yard line. In one of the most controversial play calls, the Seahawks passed the ball instead of handing it off to superstar running back Marshawn Lynch. The pass was intercepted by star cornerback Malcolm Butler, which sealed the win for the Patriots and left many confused about Seattle's final play. 
Super Bowl LI (51): Patriots 34, Falcons 28 (OT)
This is one of the most well-known Super Bowls of all-time. After jumping out to a 25 point, 28-3 lead midway through the third quarter, Brady and the Patriots scored 31 unanswered points and won in overtime off a touchdown run by James White. Brady passed for 466 yards, two touchdowns, and an interception to win his fifth Super Bowl and fourth Super Bowl MVP.
Super Bowl LII (52): Patriots 33, Eagles 41
While Brady had a good game, the Patriots' defense couldn't contain the Eagles offense, led by underdog quarterback Nick Foles. The backup Eagles quarterback threw for 373 yards along with four total touchdowns to win Super Bowl MVP. Foles and the Eagles executed the iconic "Philly Special" play, in which Foles caught a touchdown pass as a quarterback.
Super Bowl LIII (53): Patriots 13, Rams 3
This was definitely one of the most boring Super Bowls as of recent, as it was the lowest-scoring Super Bowl in NFL history. Brady didn't record a single touchdown, but the Patriots defense held the Rams to three points to seal the victory. Star wide receiver Julian Edelman won MVP with 10 catches for 141 yards. At this point, Brady all but solidified his status as the greatest quarterback/player of all time with his sixth Super Bowl win, tying the Pittsburgh Steelers for the most all-time Super Bowl wins at six each.
Super Bowl LV (55): Buccaneers 31, Chiefs 9
Before this season, Brady left New England and signed with the Buccaneers on a two year, $50 million contract. In just one season, the Buccaneers went from a team known for losing to Super Bowl champions. People had their doubts throughout this season, but Brady proved his timelessness by passing for 201 yards and three touchdowns to win his seventh Super Bowl and fifth Super Bowl MVP. The Buccaneers defense also stifled superstar quarterback Patrick Mahomes and the red hot Chiefs offense, holding them to three field goals for the whole game. With nothing left to prove in terms of his GOAT status and no sign of retiring, it will be interesting (and scary for other NFL teams) to see what Brady can still do at 43 years old. Brady owns 14 Super Bowl records, most notably wins/appearances, MVP awards, and passing yards/touchdowns. (Fun fact: The game was played at the Buccaneers stadium and this was the first ever Super Bowl in which one of the teams had home-field advantage.)