Blockbuster movies delayed due to COVID-19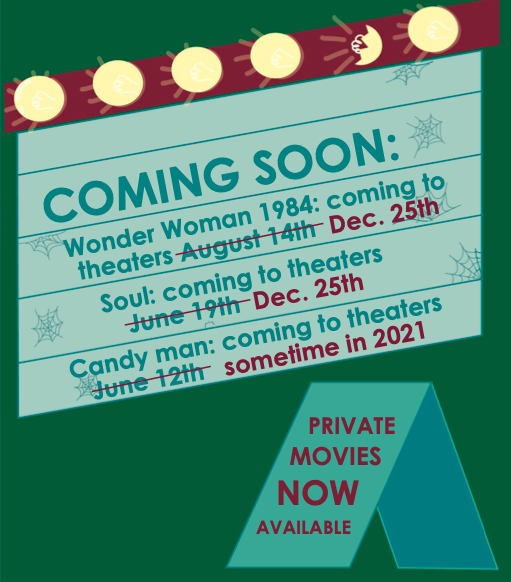 The airplane style seats remain relatively empty, the floors no longer covered in popcorn, not a single crying baby insight. A group of people sit quietly all enjoying their private showing, this is the reality that some movie theaters are now facing.
A vast number of movies have been pushed back, and delayed into the future because of the pandemic, multiple blockbusters such as the new James Bond movie, and "Black Widow" have been pushed back along with many others.
"I was looking forward to checking out the new Bond film "No Time to Die" and the A24 thriller "Saint Maud" this year before they got delayed," senior Sam Forrest said. "I was also excited to see Wes Anderson's new film "The French Dispatch" as he is one of my favorite directors. I was also a little disappointed when I saw "The King's Man" got delayed."
With theaters being closed for a long time this year companies have tried many different things such as putting movies solely online, or on streaming services.
"Streaming is such a convenient way to watch movies and TV shows that I wasn't surprised when they took advantage of it once this pandemic started," Forrest said. "Though I really like streaming and its convenience, theaters will always be my home for movies. Movies are a huge part of my life, so obviously it's very disappointing but I'm optimistic it'll get better pretty soon."
Even though movie theaters have lost business due to COVID-19, some are still up and running but with stricter policies.
"It was kind of weird, we had to rent out the entire theatre, even though there were only six of us, there were a bunch of empty seats," senior George Magaña said. "I guess people didn't want to get the virus so we were the only ones there. Overall, even though it was very different from what I am used to, I think it is a good idea because the movie theatre is still able to make money plus they are keeping a lot of people safe."
According to a Leichtem Research Group study 74 percent of households have access to at least one or more streaming services in 2020, and that percent has gradually increased in recent years.
"Around October I saw Tenet in an empty theater as I intended it to be. The experience was very different without an audience," Forrest said. "Whenever there is a joke, you're the only one laughing. If something is exciting, you're the only one experiencing it. It's very strange but also sort of fun to have a theater by yourself."
Movies that did release in theaters were not received the best. "Tenet" one of the only real blockbusters to come out severely underperformed for its $400 million dollar budget.
"It wouldn't be fair to all the producers, directors, actors, artists, creators, animators, etc who worked on it all and invested for them to release it now and not earn what they deserve, fame and money," Animation teacher Andrew Nouse said.
Many people are under the impression that the new way to watch movies will continue to be via streaming and that one day movie theaters will no longer exist, however some completely disagree.
"I think it's a good idea for now, but I really want to see movie theaters reopen," senior Will Garcia said. "An actual movie theatre is just a different experience to have, so when everything is safe and when everything is back to normal I really want theaters to reopen, but putting stuff on streaming services is obviously the safe and better move for right now ."
Movies like Disney's live action remake of "Mulan" and "The King of Staten Island" were not exactly commercial successes by normal box office terms, but they did show great promise for movies going to streaming in the future as "Mulan" made a total of $35 million off of rentals alone for Disney without them having to pay for any distribution cost.
"I have not been to a movie  theatre since last December," Garcia said. "At the end of the day I think it's a good thing that most movies are being delayed this year because it keeps people out of the theaters.  It also gives companies more flexibility on when to release their movies which is a cool benefit."