Behind the Scenes: virtual tech theatre
Remote learning causes theatre productions to make technical changes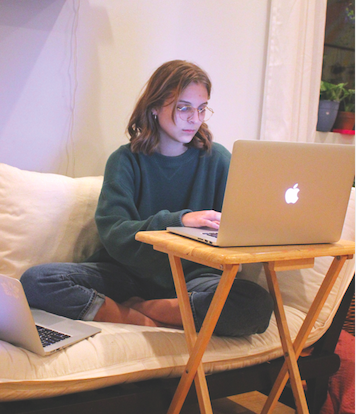 The Starlight Theatre Company puts on a variety of shows throughout the year. Recently students have been working on Children's Shows and this has caused technicians to figure out resourceful ways to edit and put together the shows.
Since students are not allowed to get together to put on shows in person, directors and technicians have created new ways to put on shows remotely.
"The technicians have figured out how to create virtual backgrounds or portable sets that can be moved from house to house for social distanced recording," tech theatre teacher Cortney Hall said. "Technicians have also jumped into editing and have begun learning how to edit the recordings together."
According to Hall, the hardest part of virtual editing is communication.
"Now that we are virtual, it's really hard to foster an open line of communication," Hall said. "Zoom calls crash during rehearsals, wifi can go out during meetings, [and] AISD wifi blocks are running rampant."
Despite the challenges of remote editing, students have had the chance to learn new techniques which could help them in the future.
"I learned more problem solving skills," senior Audrey Smith said. "Like we have to take in account if people pass the same prop [in the scene] we would have to have two props so it'll flow."
Technicians use programs such as iMovie, Final Cut Pro, and Adobe Premier to help them edit and put together the shows.
"Children's shows were based on how each director thought it was best, but most filmed on Zoom and stitched each recording together," Smith said.
In the past, children's shows were performed at elementary schools but this year students had to think of other ways to perform their shows.
"I believe we will be sending out videos to elementary schools and we'll have a day when parents can view them too," Smith said.
Each director and technician got to choose how their shows would be filmed and edited.
"With [being a] technical director I basically overlooked their show and helped design some backgrounds, and gave the tech two students instructions," Smith said. "The tech two class is in charge of producing children and senior one acts."
Although there are advantages to doing remote editing, there can be many challenges that can make the process difficult according to junior Colette Waid.
"The biggest challenge for me personally is definitely time management so usually I have a checklist with tasks to do and daily deadlines so I make sure I'm on track," Waid said.
Producing shows remotely causes students to think outside-the-box and be creative.
"I had to find new programs that worked best and figure out how to communicate with my peers over Zoom calls," junior Ava York said.
With all of the changes made to theatre this year, students have been able to learn new skills.
"My least favorite part is how confusing and tedious it can be," Waid said. "But my favorite part is definitely getting to learn new things that I would otherwise never get the chance to learn."
Figuring out an easy way to film, edit, and perform shows has been challenging according to Hall.
"Fall Shows were hard because we had to go into it blind," Hall said. "We had no idea if what we were doing would actually work, so when something went wrong we had to scramble to find a viable solution."
With trial and error, the directors have been able to figure out what does and doesn't work when it comes to editing.
"Now going into children's shows, we at least know what doesn't work so that we can get closer to nailing down what does," Hall said.
Some students have spent over 24 hours total editing the shows.
"I guess in a perfect world my wish would be that editing doesn't take as long as it does," Waid said.
According to Smith, the children's shows experience will not be the same this year and that some students are missing out.
"One thing I'm bummed out about is that freshmen don't really have the chance to know what children's shows are truly like, because before we tour, we'd have a cast bonding sleepover together," Smith said.