CyberPatriots pursue interests through virtual competitions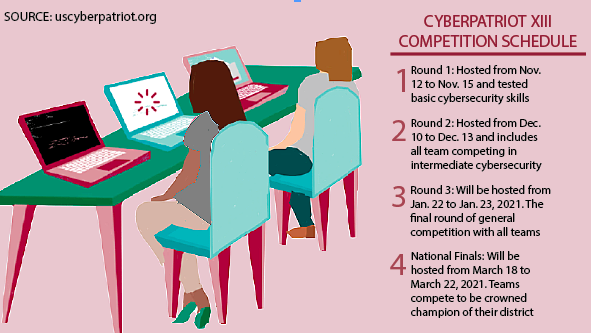 The cybersecurity industry is constantly in high demand, and the significant increase of technology reliance due to COVID-19 is causing even some lower qualified applicants to be hired. With how foundational it is, spreading awareness to a younger audience becomes a major priority.
The CyberPatriot program teaches students about teamwork and problem solving, the STEM values of science, technology, engineering, and mathematics, and the required mental attitude of a professional.
"It's fun from a competitive standpoint because it is a global competition that includes middle and high schools and also ROTC teams," JROTC Instructor Chief Master Sergeant Lauren Owens said.
The JROTC CyberPatriot club consists of two teams each with four students, the Saber Dawgs, and the Raptor Dawgs, that participate in Cyber Patriots nationwide cybersecurity competition. During a round of competition, each team is given a set of virtual scenarios with security flaws and vulnerabilities that must be identified and fixed to gain points.
"For the individual analyst, it's about having a security mindset for computers," Cybersecurity specialist and mentor Johnathan Espinosa said. "An analyst needs to have a security mindset when dealing with issues in [various] administrations."
Since the club explores computer security and navigation, CyberPatriot rookie sophomore Luke Ferrara found it attractive since he enjoys programming.
"I really wanted to find out what the whole cybersecurity deal is due to my interest in coding," Ferrara said. "I want to be able to navigate around in my own computer should a few things go haywire."
CyberPatriot veteran junior Lianna Tidwell was influenced by her familiarity with cybersecurity through family.
"My dad is involved in cyber[security], and it just sounded interesting to do something like my dad for a job," Tidwell said.
Last year was the first time in a few years that the JROTC Cyber club actually competed in CyberPatriot. The team members used that year to accustom themselves to the competition dynamics.
"[Last year] we were really good at keeping at it and persevering, even though we had no clue what we were doing," Tidwell said. "I think we could have gotten farther if we had actually practiced more."
CyberPatriot is already a virtual program, so COVID-19 hasn't impacted the club that harshly. The team members simply have to download the virtual scenarios on personal computers rather than the cyber-dedicated ones at school.
"Honestly, I'm not really worried about anything in terms of CyberPatriot being conducted on my home computer," Ferrara said. "It runs Warframe fairly smoothly, so I'm not worried about it crashing."
However, virtual learning eliminated the club's regular after-school meetings. Tidwell and Espinosa both expressed concerns about how this will affect the teams' preparation for the competition.
"I'm worried about how everything is going to work out with everybody's schedules online," Tidwell said. "It makes it a little bit difficult to get the training in."
More cadets joined the JROTC cyber club this year, so Owens mixed veterans and rookies into each of the two smaller teams to help bridge the experience gap between them.
"It's a good idea to have two teams to see how each team thinks in a different way," Tidwell said. "It makes it easier to get close to teammates and do a competition with smaller groups rather than a larger group."
Tidwell hopes that in the future, the skilled cadets can compete together on their own specialized team.
"We would have that elite team compete, but instead of practicing, they would be teaching their skills to the people who don't have as much experience," Tidwell said. "It'll be like a kind of mentorship."
CyberPatriot exists to give students like the JROTC cyber club cadets the introduction and information they need to pursue an interest in cybersecurity.
"Growing up, I loved computers, and something like [CyberPatriot] would have definitely guided me earlier to this field, "Espinosa said. "That's why I think it's important. It guides and helps mentor the future leaders of cybersecurity."
Ultimately, the program's goal is to use these competitions to inspire future generations to pursue the cybersecurity industry that is especially prevalent in today's society dominated by COVID-19.
"Someone may not know what [CyberPatriot] is, and they get in and decide they really love it," Owens said. "That becomes a passion that leads to a degree that leads to a job in cybersecurity."