Captain's story of strength unites the team
Evan Mallett was elected varsity football captain as he continues recovery from a serious car accident
As each player rushes to the field for warm-ups, he studies the opponent and reviews the general plan for the first quarter. Knowing the game so well, he understands the expectations of his team and has strong faith they will meet them.
Play by play, he is focused on the sideline, helping and supporting his teammates to the last point. Although senior Evan Malletts' actions are not physically on the field, his presence creates a positive and motivational atmosphere for each player.
Mallett has been selected as a captain for this 2020 varsity football season.
"Coach Ables called me to let me know my teammates had voted me as a captain," Mallett said. "Hearing this news I was excited and honored to be chosen."
Mallett is a  four-year member of the team and played in the role of the quarterback up to his junior year season. Evan receiving the captain position elicited very similar feelings in his mother, Stefanie Derickson.
"The moment was bittersweet," Derickson said. "I was so proud and happy for him to become a captain, yet sad that he would not be able to play this season."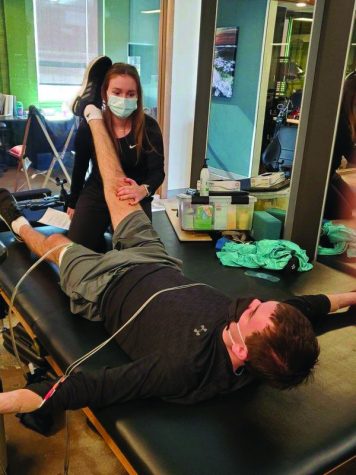 On April 25, Mallett was involved in a near-fatal car accident which damaged his spine and has caused him to spend a substantial amount of time and effort into his recovery. The opportunity to reconnect with the football program that the captain position offered brought a positive light to his senior year.
"Being the captain was a position I had worked for during the past three years of football," Mallett said. "Becoming the captain really brought the unique role of leading a team to reality for me."
Mallett's passion for football started at the young age of five years old, and it has only grown as he continued to stay involved.
"I have always loved the game and miss playing more than anything," Mallett said. "The game is special because it easily brings everyone together."
As captain, Mallett has many responsibilities to help and improve the football team, according to Head Football Coach and Athletic Coordinator Jeff Ables.
"All the players interact and can communicate through the captains," Ables said. "Evan is a leader on our team and earned the respect of his teammates."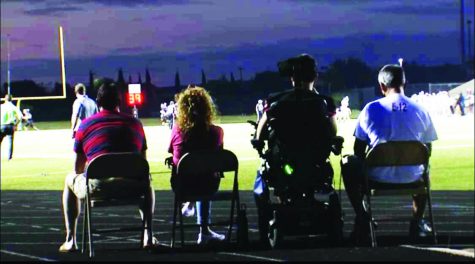 Besides leading the varsity team through his example, Mallett believes as a captain he also has a role to bring affirmation for his teammates.
"One of my main responsibilities is to provide a positive and encouraging influence to my teammates," Mallett said. "As captain, you contribute leadership and example for the team to follow, so it is important that you lead with a productive attitude."
The role as a leader was a perfect fit for Mallett's character according to Derickson.
"He's been playing football since he was really young so a majority of his leadership skills were learned while participating in the game of football," Derickson said. "He has some natural leadership ability and his passion for football elevated those abilities."
Additionally, Derickson believes that Mallett's natural traits are not only used in the football program, but for his daily recovery as well.
"It was amazing to see how hard [my son] works for such minor results," Derickson said. "Seeing the small recoveries and knowing that they will all add up over time made his efforts worthwhile."
According to Mallett, he has also achieved success in recovery due to the innovative technology incorporated into his physical therapy.
"The technology I got to use in physical therapy was amazing," Mallett said. "Using it so frequently was extremely encouraging when working toward recovery."
Along with the technology, Derickson believes the staff that worked with Mallett have had a huge impact on his recovery.
"All of the therapists he has worked with have been great," Derickson said. "They are so dedicated to their patients and helping them achieve their recovery goals."
Mallett's hard work does not go unnoticed in the football program either, according to Ables.
"Evan has a great attitude and is a true competitor. He is a fighter," Ables said. "He is fun to coach, fun to be around, and loves his teammates and coaches."
As the football season and senior year continues, Mallett has some personal goals he would like to accomplish as well.
"With senior year there is so much going on, so I am just doing my best to get everything all done," Mallett said. "Going to physical therapy five days a week, I am working hard to gain more independence so I can attend college in the fall, but the end goal will always be to eventually walk."
As expressed by Ables, as Mallett works towards his goals in recovery, his story has had a major impact on all athletes at Bowie.
"Everyone has seen how Evan has worked hard to rehab from his injury, and what a great attitude he has had," Ables said. "I think Evan's experience has inspired all athletes to approach life with a great attitude and live every day to the fullest."