'Silver Year' cultivates innovative instruction
Faculty and students reflect on Fall semester and discuss current plans for Spring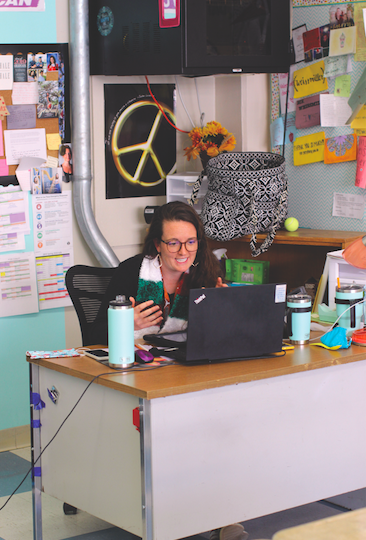 In spite of the frustrations and fatigue of the 2020-2021 school year's non-traditional instructional style, Dean of Instruction Susan Leos has designated it as the 'Silver Year' in honor of Bowie's third official color. As Leos expressed, the past semester has been defined by resiliency, innovation, and above all, a constant search for the silver lining.
Since the Fall semester began on Tuesday, Sept. 8, three instructional models, remote learning, on-campus instruction, and the hybrid model have been activated in three respective phases of campus reopening.
"[Since the semester began] we have been very conscious of balancing the needs of students whose parents want them to attend on-campus with the needs of students who are remaining as remote learners," Leos said. "Our teachers and our students are working together to find new ways to engage with curriculum, but it is still really hard for teachers and students."
After an initial four weeks of universal remote learning, Phase 2 of reopening began on Monday, Oct. 5, allowing a limited capacity of students and staff to return to on-campus instruction in Stationary Homeroom Instructional Pods (SHIPs).
"I wanted to return to school because I would be able to focus much better and work more efficiently," sophomore Antonio Ramirez said. "It felt very distracting at home sometimes."
As of Monday, Nov. 2, students and teachers have operated under Reopening Phase 3. The phase expanded student's instructional choices with the hybrid model, allowing students to report to campus two times a week and rotating Fridays in a designated group.
"There are benefits to both being on campus and staying home," freshman Anika Ball said. "If you are on campus, you are held more accountable and generally get homework done faster, but if you stay home, you will have more free time and will be a lot more comfortable."
Since the initiation of Phase 3, approximately 10 percent of the student body, or 350 students, participated in on-campus instruction, divided almost equally into full time on-campus instruction and the hybrid model.
"One of the biggest challenges [of remote learning] is not being able to see all of the student faces because black Zoom screens make it really hard for teachers to check for understanding or to provide the exact type of feedback that students need," Leos said. "Additionally, students often learn from each other, and black Zoom screens inhibit students from really knowing their peers, which decreases the kind of invigorating discussions that promotes learning."
The vitality of student-teacher visibility was emphasized by math teacher Natasha Weissmiller who has created the class motto 'Masks on, Screens on.'
"Personally, my greatest success this year in teaching has been the relationships that I have been able to still create through online learning," Weissmiller said. "Even though I have never seen some of these kids, some of them and I are closer than the students that I had last year who were in my class every day, and that success is huge to me."
SPRING SEMESTER
When classes resume on Wednesday, Jan. 6 after Winter Break, the administration plans to maintain the Phase 3 model.
"As far as I know, I will be returning to campus next semester," Ball said. "Being on campus helps me get good grades, and I like to see my teachers and peers in person."
In an effort to ensure student and faculty health in the Spring semester, the PTSA's 2020-2021 Build Up Bowie campaign will collect funds, with a goal of $28,000, to purchase 186 HEPA air purifiers for campus classrooms.
"I love what I do, and having anxiety when I come to work is very strange, and that is a real big, daily battle for me," Weissmiller said. "A lot of the time, students believe we are invincible, or we do not have feelings, but that is a big misconception, and some teachers are having an anxiety that has never been there before."
Since students and staff returned to campus, eight on-campus participants have been diagnosed with COVID-19, according to the AISD COVID-19 Dashboard as of Friday, Dec. 11, which has led to 90 cumulative exposures.
"I wear my mask and wash my hands regularly, and I use healthier hand sanitizer that does not kill all of the bacteria that keeps you healthy and fights off harmful bacteria," Ball said. "I do my best to keep myself healthy, and I am glad others are doing the same."
As Phase 3 continues in the Spring semester, students will be expected to continue participating in their current instructional model unless their parent or guardian contacts the front office with at least five days notice of a student instructional preference change.
Although a week of remote learning was implemented post November break, according to AISD Superintendent Dr. Stephanie Elizalde, there will not be a period of complete remote learning following winter break.
"I have seen so many marvelous adaptations for learning coming from our teachers, our students, and our parents this school year," Leos said. "As we continue, let us look for that more subtle "silver" color this year, and perhaps in doing so, we may find some treasure we did not even know existed."