Grand Army Review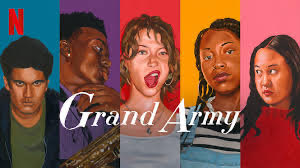 Netflix is notorious for having high school TV shows that many find unrealistic, cringy, and just bad in general. This may not be the case for their newest show, Grand Army, a show about the reality of high school and the trauma that the main characters face. 
It took me less than two days to finish Grand Army, and I think it was an amazing show. The characters, their stories, and the plot was amazing. Grand Army follows the story of five teenagers as each goes through their own struggles and trauma of living in America while attending the largest public high school in Brooklyn. 
Something I liked about this show was the diversity. I feel like in a lot of high school shows, the diversity is always forced. There's always the token character that is a person of color who is used for comedy relief, or who is just put in to add diversity. Forced diversity is something I hate a lot, as it just seems like a show does that to get praised for the casting. In Grand Army, the diversity is somewhat natural and not forced. 
Another thing I liked about this show was that each character had their own flaws and prejudices. In a lot of high school TV shows, I think the main characters always have many flaws, but are never criticized on their actions, and never experience any drastic change in their character development. In Grand Army, all the characters portrayed are very realistic and make many mistakes in the show. Joey, one of the main characters, is portrayed to be a very performative activist, and Dom, one of the other main characters, is shown to be a feminist who does not tolerate any mysogyny. The two characters contrast each other very much, and we see how different their lives are.
Overall, Grand Army is an amazing show without any stereotypes or cliches, and is such a binge worthy show. It is so eye opening, especially with everything going on at this time.