COVID-19 policy disparities between state and Austin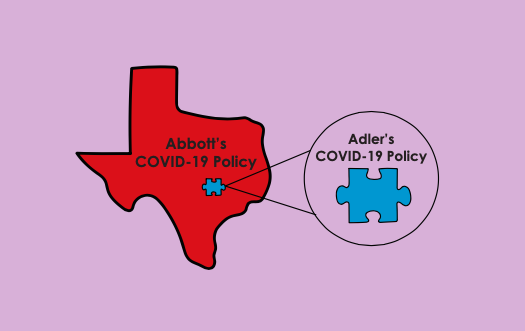 Across the country, state, and city, governments are responding to COVID-19 outbreaks. However, the difference in response between these three entities causes harm to those they govern, particularly in Texas.
Texas Governor Greg Abbott's singular response plan for the whole state is unreasonable, and there is no way a state or national government can create a plan that can satisfy everyone's needs.
Austin Mayor Steve Adler took more action in the first two months than Abbott did in six months, including canceling South by Southwest. Therefore, the city government should be held responsible for creating and administering a plan for COVID-19.
In April, when Coronavirus cases were beginning to rise, Mayor Adler issued an order requiring face coverings in public spaces. However, this order was overturned by Abbott, even though Adler had the city going in the right direction.
If Abbott had issued a similar order for the state, Texas would most likely not be one of the national leaders in Coronavirus cases. The governor did not require face coverings in public spaces until July 2, several months after Coronavirus risks prevented people from going to work.
Only a few more months after this mask mandate was announced, Governor Abbott announced that restaurants and offices across the state would be allowed to open at 75 percent capacity.
With a lack of a vaccine, it makes no sense to remove one of the few restrictions that was keeping the virus at bay. Not only does it risk the lives of people careless enough to go out, but it also risks the lives of those who work minimum wage jobs serving the people who think it's appropriate to go out for dinner during a pandemic.
It's clear that Governor Abbott isn't taking this global health crisis as seriously as he should and is acting irresponsibly.
While some may argue that the governor is acting in the best interest of the economy by reopening businesses so soon, it's downright immoral to value profit over human lives. What's more is that Abbott is hardly concerning himself with the lives of those he's endangered by delaying mask mandates and opening restaurants.
When you go to Abbott's website, one of the first things you can see is a pledge to "Back the Blue," or to promise to support police officers. Instead of concerning himself with lives that are actively being endangered, he elects to promote an entity that already has both the support and government funding to support itself.
It is perfectly possible to keep the economy afloat in a dire situation like the one we're in now. If people continue to support their favorite local businesses from home in the form of online shopping or ordering takeout, it's possible to keep those businesses open. The best part of using this method is that it endangers no one and both the business owner and the consumer are satisfied.
However, even Texas has a more concrete plan to deal with COVID-19 than the national government does. The new mask mandate is a step in the right direction, even though it's a direction that should have been taken when cases first spiked. The federal government has yet to require masks in all public places and only 33 states require face coverings in public.
The lack of decisive action from the federal government has allowed people to debate the necessity of face coverings and the legitimacy of the virus itself, ultimately putting more people at risk.
The fact that Texas is among the national leaders in Coronavirus cases is a testament to the consequences of Abbott failing to follow the standard Adler set months ago when COVID-19 cases were only beginning to spike in Texas. Even if he tried to protect the economy, Abbott continues to fail to protect those being forced to work in a pandemic.
However, the Texas state government has taken more action against Coronavirus than the federal government has, even though there is more that can be done to protect residents.