Boys' soccer team improves practices and skills with tracers
Recording top speed, calculating passes, and demonstrating running time are all characteristics of the new tracers that the boys soccer team recently purchased to wear during practice.
These tracers are able to record how many minutes a team member played and how much they ran in a given time, and they also create a map of where players are on the field in an aerial view and when they passed the ball.
The tracers were first used on Oct. 1 and the plan is for them to be used in practices and in scrimmages and games from now on.
"It will help me get players in the correct locations on the field and measure their output," boys soccer coach Ryan Logan said. "It will make training easier by showing them when they are out of position and when they have good spacing."
The boys soccer team has their first game on December 19, which allows them two months of time to get used to wearing the tracers.
"So far, I am pleased but we will get more use out of it when the season starts," Logan said.
The tracers are worn during practice, a small strap is placed around the leg and then a chip is put into the sleeve and it tracks where the players move, how fast they run, and importantly, how far they run.
"There is a Velcro sleeve that wraps around your calf," Peterson said. "Then, you place a tracer in a little pocket inside the sleeve."
Since the tracer is placed on the bodies of the team, the dynamic of practice for the boys has changed from before.
"I wouldn't say the tracers make practice more difficult; it is non-existent really," senior Brandon Peterson said. "It is a very high quality operating system that has really helped us step up to our level of play on the field."
The teams are anticipating their first game mid-December, and many players are looking forward to it.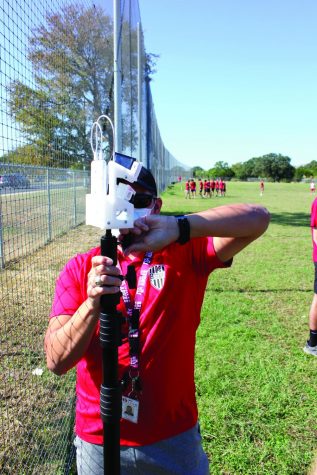 "Judging off how the pre-season is going I think we could have the best team since the four years I've been on varsity," senior Lucas Pedrozo said.
Before this upcoming season, Bowie has statistically struggled with winning games and collaborating as a team.
"I believe some of our players have lacked the discipline and respect for each other that we need to be successful, but I think this has changed this year," Bourgeois said. "We had some great additions to our squad in Edward Alonzi and Luke Hanna, both juniors who have helped step up our level of play tremendously."
After games or scrimmages, the tracers can act as film for practicing in the upcoming weeks.
"The tracers began to be used so we can look at our stats as well as having more accurate filming instead of having a parent film the games," Bourgeois said.
From a coach's perspective, the tracers are a way to better the team's techniques, running, and position to help win more games.
"The tracers will tell me how many minutes a player played and how much they ran during the game," Logan said. "It will help me get players in the correct locations on the field and show me when they have good spacing."
The boys' soccer team structures their leadership with three team captains that work tirelessly  to lead the team to hard fought victories.
"We have our leaders from previous years like myself, Keegan Hardy, and Austin Rimer, all of which can step up and be depended on when we need a spark for the squad," Peterson said.
Overall, the tracers have made practice run more smoothly for the soccer team and allowed them to improve in technique and for the purpose of watching film from previous games.
"We would like to see our top speed and how far we traveled and our position during the game to compare where we should be," junior Zack Kos said. "I like how it can track the distance and the speed that you go and how the camera automatically follows the ball so nobody has to work it."
Through the newfound use of these tracers, the soccer team is now able to track their speed, positions, and other characteristics that will allow them to perform better this season as a team.
"Overall, I would say that we have a really exciting group of boys on the soccer team this year, and I think that Bowie might just be a team to look out for in the playoffs this season,"Peterson said.  ADDITIONAL REPORTING BY Rachel Maddox and Reagan Zuniga