Theatre takes on virtual fall shows
In past years, bright lights would hit the stage, illuminating the actors as they walked around the stage. This year, theatre has had to make major adjustments by attempting to do their fall shows virtually.
Right now, the directors will be putting on two different shows, both by William Shakespeare. Theatre director Betsy Cornwell will be producing "The Tempest" while theatre director Marco Bazan will be producing "A Midsummers Night's Dream". Regardless of all the challenges of trying to produce a show on Zoom, there is still a bright side to doing virtual theatre, according to senior Audrey Smith.
"Virtual shows are a good way of getting people involved in theatre, especially freshmen," Smith said. "Although it's very different from in-person shows, they can still get to know how the company operates."
Instead of being able to instantly meet together and start rehearsing for shows, theatre has had to work through a number of logistical challenges to produce shows remotely because of the pandemic.
"This is a big challenge. I'm just now going through the script and figuring out what kind of shots I want for each unit in the script," Cornwell said. "It's definitely a new type of production for me, and it will be for the students too when we're filming."
Being virtual means that the show will not be able to be performed live. However, the directors have worked to figure out a safe way to perform for an audience.
"Mrs. Cornwell, our director, is planning on filming [the show] with different shots and angles as well as a green screen to project members of the ensemble on to," sophomore Javier Lozano said.
With the show being clipped together and posted online for viewers to see, the students involved in the tech side have to work more efficiently due to the increasing duties.
"I think we do have a bigger job this year because there's a lot more responsibilities than just showing up," Smith said. "With the editing we have to be precise and understand what's going on in the show, so it's a lot more on our plate."
Dealing with extracurriculars, such as theatre, as well as virtual school can be difficult for some students, according to senior Rachel McBurnett.
"It's nice to try and do something [for shows], and I appreciate how hard the directors are working, but honestly, it's a bit of a strain on top of dealing with virtual learning," McBurnett said.
While some students are staying home and using Zoom for rehearsal, others have chosen to go back to school for in person rehearsals.
"I really like seeing all my castmates; after not seeing them for over six months it is good to be with everyone," Lozano said.
In-person rehearsals are scheduled for Mondays, Tuesdays, Thursdays, and Fridays and students are required to follow all COVID-19 safety guidelines.
"Regarding safety measures we are now using the outdoor stage between the E and F hall. We are required to wear masks, gloves and social distance when we are not on stage," Lozano said.
As well as fall shows, theatre also puts on a bunch of other shows throughout the school year.
"Not being able to stage things [for fall shows] is incredibly weird, and I'm especially worried about how to do my children's show in a few months," McBurnett said.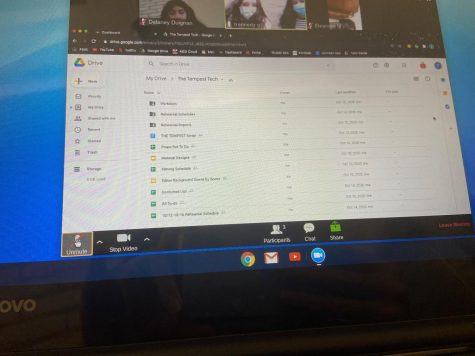 Being apart while trying to create a show can be quite challenging and it becomes tougher with added technological difficulties.
"At the moment I wish that we could be together but it's good that we're keeping distance from each other," Smith said. "It's tricky trying to have everyone's zoom to work with different WiFi and computers, so it's difficult when people are lagging and freezing."
Even though students are able to come somewhat together to create a show, it is still not the same experience they would have gotten previously.
"I really miss just being with other people, working together, goofing off. I really miss being at Bowie especially," McBurnett said. "Theatre is like a home to me and being away from it hurts a lot, as cheesy as that sounds."
According to Cornwell, there are many challenges about trying to create virtual fall shows, however the students and directors are staying hopeful and looking on the bright side.
"I miss being able to get up close with the actors and I miss not being able to create visual pictures on a wide stage," Cornwell said. "It will certainly give everyone a new experience, but I know [the actors] will miss the reactions of a live audience."