The desensitization of the pandemic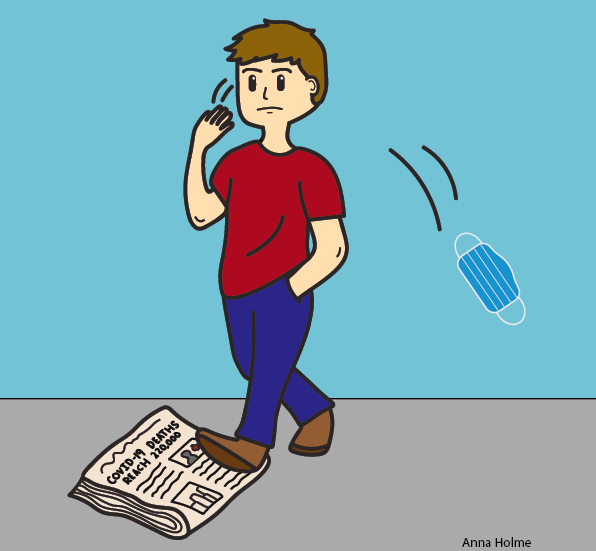 Monday, Jan. 20, 2020. The date of the first confirmed COVID-19 case in the United States. In the many months since then, there has been a plethora of mandates, restrictions, and precautions implemented in an effort to slow the advancements of COVID-19.
Businesses were forced to shut down, unemployment rates have shot through the roof, and many people have been confined to their homes.
However, ever since the number of new cases has seemed to pass its initial apex, although with the approaching winter, there are projections for cases to increase, there has been a shift in how Americans view this pandemic. People have become more careless, and have allowed boredom to overtake safety. This is irresponsible, as the pandemic is not over, we have to maintain precautions to keep ourselves safe.
The United States has become especially desensitized to how dangerous COVID-19 is, Texas even more so. According to the CDC (Center for Disease Control and Prevention) tens of thousands of new cases are reported in the state of Texas each week. Travis County alone accounts for around 4% of Texas's total cases.
Considering these numbers, one would imagine that people would take things more seriously. Over 220,000 people have died due to COVID-19 in the United States alone. This is an appalling number. Just to visualize, 220,000 people is the equivalent of filling the entirety of the Darrell K Royal Texas Memorial Stadium twice over.
With such a large portion of people having passed away, it is our responsibility to not further these numbers or allow them to become normalized. Part of this normalization, though, lies in how social media influences our attitudes towards COVID-19.
Celebrities have especially taken to ignoring proper social distancing. Nikita Dragun, a popular YouTuber, was seen throwing a party in Los Angeles in late July of this year, in which many other social media influencers like the D'Amelio sisters, James Charles, and Tana Mongeau were in attendance, all without masks on. This is only one instance of the many examples of the pandemic's normalization in mainstream culture, which is extremely damaging and honestly hypocritical, considering that many influencers present at the party also preach social distancing.
As COVID-19 becomes more and more desensitized, many people have found themselves getting bored of the pandemic, which is understandable. Yet, it also creates a culture of forcing the return to "normality."
In my own limited experience of being in public spaces in recent months, there are so many people eating out without masks on and people posting on social media about their outings with large groups of friends.
As schools begin reopening, I have also seen large gatherings of students completely ignoring any attempts at precautionary measures. Wanting things to go back to normal is fine, but how one acts upon those feelings is very telling of the privilege one holds.
There are major disparities regarding who is being most affected by this pandemic. Largely lower-income communities are struggling the most, and more often than not there is a noticeable difference between the people who are and aren't taking precautions. It speaks to one's privilege to be able to even try to act like things are normal, as so many people have been experiencing so many struggles due to the United State's economic state.
And things aren't just going to get better over time. There is a growing likelihood of COVID-19 becoming endemic, which means of a disease that is regularly found on earth, like the flu or measles. It is purely our own incompetence if this does come to be, as World Health Organization (WHO) emergencies director Dr. Mike Ryan says it will be a "massive effort" to control COVID-19.
While this may seem like an uncontrollable situation, there are always things we can do to help stop the spread of this virus. It may have been said thousands of times over, but please wear a mask and social distance, it is such a simple act of human decency and kindness.
Take the precautions necessary to keep yourself and your loved ones safe. And you're not only protecting your own interests, but you will be externalizing an attitude of empathy to the communities that are most vulnerable to COVID-19. This is the only way that we can overcome this pandemic and return to a true state of normality as quickly and safely as possible.