TikTok trends take over the Halloween season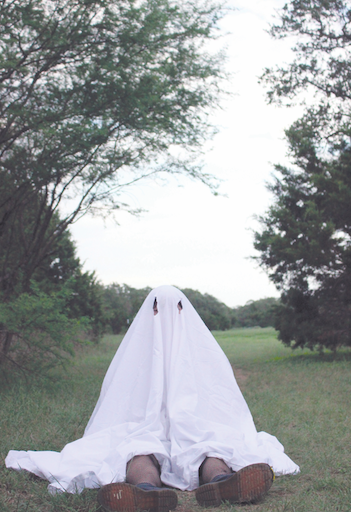 TikTok, conceivably the most popular app in modern teenage culture, rapidly overflows with new trend's that consume teen's time and attention. What are the current raging trends students embrace?
In anticipation of the spooky Autumn season, popular TikTok creators have promoted the trendy ghost photo shoot. The photo shoot allows groups of friends to get together and take the notorious, ghost pictures. Essentially it involves wearing sheets with sunglasses on top of the sheet.
"I was inspired by a video I saw on TikTok, the one with the sunglasses," sophomore Cara Gonzales said.
The festive videos inspire students to get together for a group activity.
"It was really fun because the pictures turned out cute, but it was difficult to take them at night because we had no idea where we were stepping," sophomore Gwen Price said.
In addition to the ghost photo shoot, a trend brought up by the upcoming fall season, is curtain bangs. A popular hairstyle many girls were inspired to try because of influencers on TikTok.
"Something that's holding me back is that I'm scared they won't look good on me and that I'll be too lazy to style them," sophomore Katie Simons said.
Students either go to a hair salon to get this specific hairstyle or they decide to do it themselves. Many hair stylists have been posting their client's curtain bangs on their TikToks as well.
"I straighten my hair every day which used to look really good and gives the bangs volume, however they're difficult to style," sophomore Sophie Chasen said. "I would recommend getting them as long as you're okay with them being in your face a lot."
Similar to curtain bangs, in the early 2000's the popular hairstyle was side parting your hair, resulting in side-parted bangs. This look was popular in the teenage years of the millennial generation, which many teachers grew up in.
"I definitely would have had curtain bangs if they were the trend when I was in high school," CTE teacher Bridgette Reyes said. "Personally, I have always had bangs until the last five years when I grew them out because I didn't like the regular maintenance of keeping them trimmed."
Popular alternative artist, Conan Gray released his album "Kid Krow" in late March. His song "Heather" has since become the most popular song on the album after blowing up on TikTok.
"Okay, I think calling someone heather is like a backhanded compliment," sophomore Abbey Henderson said. "It's like, yeah, you're amazing and beautiful but I want to kill you."
As well as being a compliment, there are multiple types of videos people make to the song on TikTok. One being, smoothly panning the focus of your eyes as if you're watching "Heather" walk by. Overall, the sweeping trend has been controversial because of its enhancement of beauty standards.
"I think it went viral because it's something everyone relates to. Everyone wants to be Heather," Henderson said.
Gen Z has recently drawn an interest to the idea that it could be possible to shift to a reality of choice when they are sleeping. The most popular reality being, J.K. Rowlings, Hogwarts, the school within both the series of books and movies, Harry Potter.
"I heard about shifting on TikTok and didn't believe it until I watched a video that explained it and now I believe and it makes more sense,"  Chasen said. "I have not successfully shifted yet but I think the trend is so cool."