AISD Board votes to delay the start of school and extend period of remote learning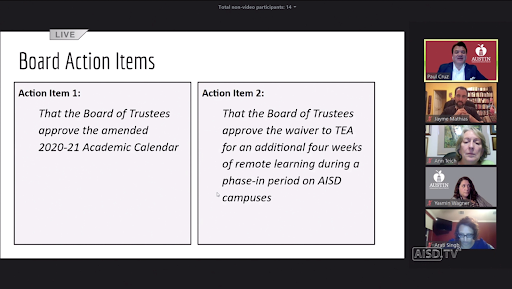 The Austin Independent School District (AISD) Board of Trustees unanimously voted early Friday, August 7 to delay the start of virtual learning until Tuesday, Sept. 8 and to petition the Texas Education Agency (TEA) to give the district a waiver for an additional four weeks of virtual learning. 
"I believe that having school pushed back until Sept. 8 is a smart decision," junior Kate Oelkers said. "As much as I miss all of my friends and classes, I believe that this change would greatly aid Austin in controlling the virus. Additionally, it would give students more time to work on their summer work that they may need to get caught up on."
AISD Superintendent Paul Cruz said during the board meeting that making the change to begin virtual learning on Tuesday, Sept. 8 was based on a recommendation from Austin Public Health to postpone the opening of schools until after Sept. 7.
"Teachers will have 14 days dedicated to professional learning, planning and prep, at the beginning of this school year which far exceeds the five that they usually have," Principal Mark Robinson said. "This will allow teachers time to reconnect with their colleagues and re-engage with the curriculum, time for new and more in depth learning of the tools and programs necessary for quality online learning, as well as making sense of new guidelines for reporting things like student attendance."
 In order to meet Texas Education Agency's requirement of 75,600 minutes of instruction each school year, an additional 10 minutes will be added to the school day, and school will end on Thursday, June 3.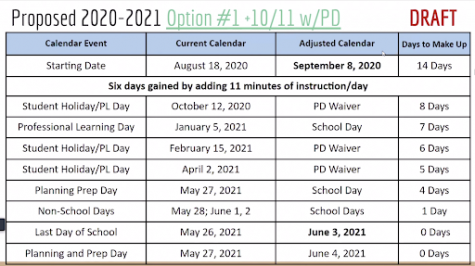 "I am going to use the time to convert my curriculum to make it more remote friendly," English teacher Bree Rolfe said. "I have a fairly solid curriculum that I have worked hard with my team to develop over the years, but it needs to be adapted to be as interactive as possible for online. I want it to be engaging even if I am not there with my students." 
The AISD Board meeting started at 9 p.m. on Thursday, August 6 and the voting began around 3:15 a.m. on Friday with nearly six hours of public testimony and discussion among the AISD trustees.   
"[The board's decision to delay the start of school] gives me more time to work on college applications as well as transition back to a school-like sleep schedule," senior Conner Petru said. "Most importantly though, I think it is good that it gives Bowie and its faculty more time to prepare for virtual learning."
The board's action will allow for the district to apply for a TEA waiver which would grant AISD the ability to host remote learning until November, or a total of eight weeks, with the option for students to return to school if needed in controlled environments after the initial four weeks. 
"As we start this year we are going to be more intentional about trying to bring back some more of our traditions," Robinson said. "I am planning on starting video morning announcements posted in BLEND and doing whatever we can to make it feel like Bowie until we can meet at the tree."