Senior Send-Off Salute allows the Class of 2020 to take one last lap around campus
No senior of the Class of 2020 could have predicted that the end of their senior year would consist of self-isolation and social distancing. Although there is yet to be an official graduation ceremony, loud cheers of 'congratulations!' still rang across the Bowie campus during the Senior Send-Off Salute. 
The event, held on Friday, May 29, was planned by senior class leaders, sponsors, and administration who were eager to give students a makeshift final day at school.
"We wanted our seniors to have the chance to say goodbye, and the campus staff the opportunity to say goodbye to our seniors," Principal Mark Robinson said. "Even though I was wearing a mask, as we are advised to do, being able to make eye contact and see my students smile made my heart happy."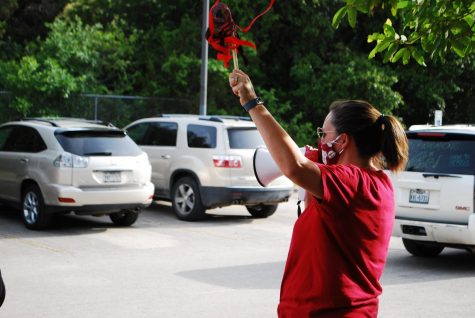 In order to drive by a line of cheering school administrators, who stood six feet apart, students and their families took a loop around the facility which started at the end of B-Hall and ended near the sports field.
"It actually felt amazing to see my teachers at the Senior Salute," senior Elizabeth Cluchey said. "Seeing them over Zoom just is not the same, and for a lot of us we might not be seeing them for a while so getting a proper goodbye and send-off left me with a better sense of closure."
As senior Eric Larson reflected on the Send-Off Salute, he expressed his appreciation for the opportunity to see his teachers one more time.
"I absolutely loved how I saw all my favorite teachers from all my four years [of high school]," Larson said. "It was hopefully not the last time I will see them."
At the beginning of the parade route was an arch of red, white, and black balloons which every student drove under during the two hour celebration.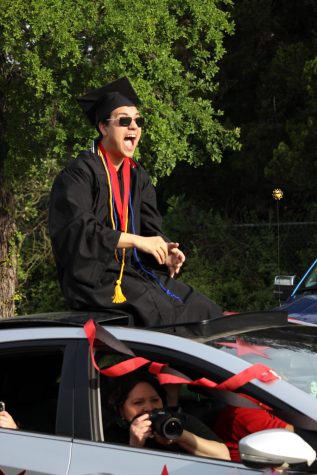 "This event demonstrates the communal and familial bonds that keep Bowie together even during unprecedented times like a worldwide pandemic," English teacher Amanda Pfeiffer said. "We come out for each other and celebrate each other, no matter what. We truly are a Bowie family."
Although a traditional graduation ceremony has been postponed, a virtual graduation event for Bowie is scheduled to be broadcasted on Monday, June 15 at 3 p.m. via Channel 22, AISD.TV, and the district Facebook page. The event will consist of speeches from the principal, superintendent, valedictorian, and salutatorian.
"[In my time at Bowie] I learned that you always need to try your hardest to go far, and if you think that you have done enough, you can always do more," Larson said. "You can always be bigger and bolder and never let someone rain on your parade."
As of now, an in-person graduation ceremony is expected to occur at 7 p.m. on Wednesday, August 12 at the Frank Erwin Center. 
"I want to tell my teachers thank you," Cluchey said. "It is because of them that I am the person I am today, and I owe so much to them. Most importantly, if I could, I would give them the biggest hug ever."