The College Board offers online review sessions for AP tests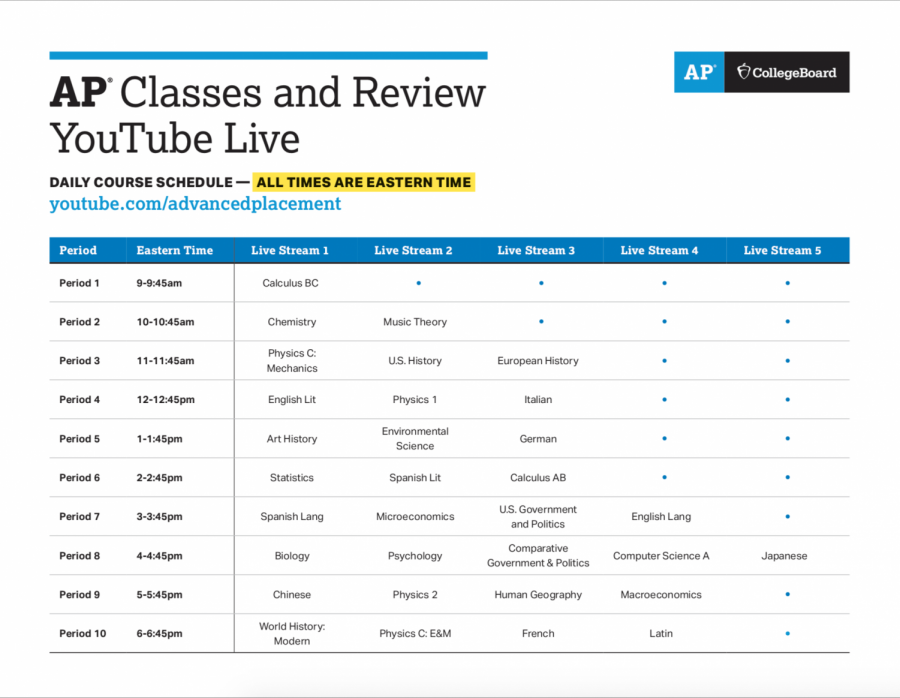 The College Board announced it will be offering free, live, 45-minute review sessions for Advanced Placement (AP) classes in preparation for AP tests. These sessions will be taught by AP teachers across the country beginning on Wednesday, March 25. 
These classes will be available for students to access at any time from any device and will focus on reviewing skills and concepts AP teachers should have taught students during the first 75 percent of school. The College Board will also offer courses that cover topics from the last 25 percent of school. 
"I think the primary advantage for students to view College Board offerings is that the reviews will be coming directly from those who create and administer the exams," history teacher Carlen Floyd said. "I think any review of information will be helpful. We know that the more students, including teachers, as life-long learners, are exposed to information in a variety of ways, the more likely we are to retain it." 
To access these courses, visit the AP YouTube channel. You can find the course schedule here, but more classes will be announced soon. 
"I think the review sessions are a good idea because reviewing outside of class with resources is very helpful," junior Trennedy Gugenheim said. "In AP Human Geography, we've only done a portion of the learning and I feel like it will be helpful to have a review based off of the test that is available rather than just a lesson plan." 
These courses are in response to the College Board changing their policies on AP tests due to COVID-19 precautions. The College Board decided to create 45 minute free response tests that can be completed from home on any device. Additionally, students can decide to cancel their registration form an AP test at any time for no charge. 
"Obviously, no educator would choose for this to be the format by which we evaluate student learning," Floyd said. "Students have put in lots of time and effort, as have their teachers, and with only a 45-minute test, students clearly cannot demonstrate the full breadth and depth of knowledge and skills they've acquired this school year."