Travis and Williamson Counties issue a shelter-in-place order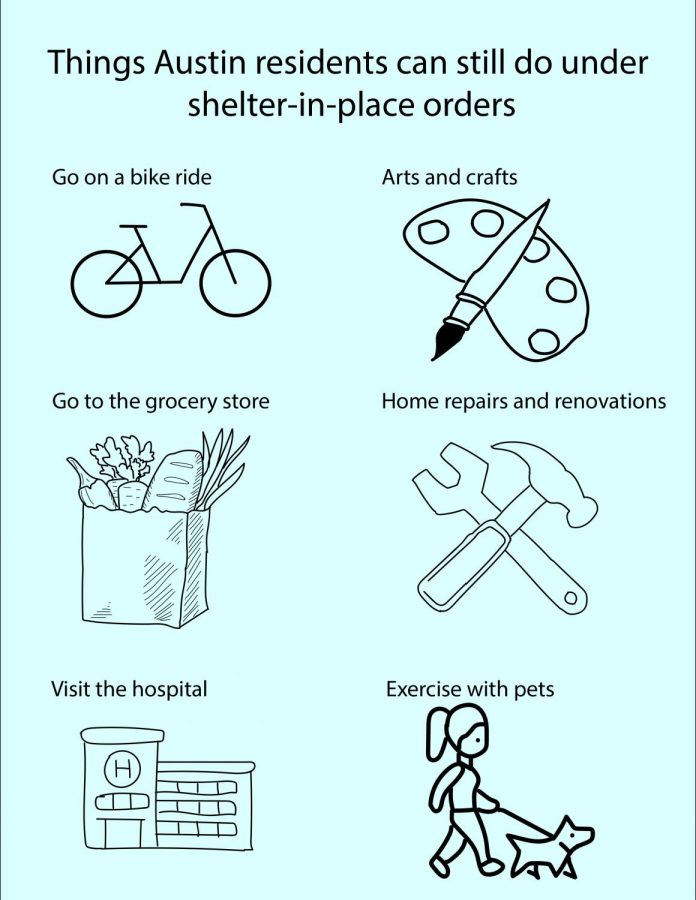 Austin Mayor Steve Adler issued a "stay home, work safe"order the morning of Tuesday, March 24 that will go into effect at midnight for the Travis and Williamson counties. This shelter-in-place order essentially means that residents of Austin and its surrounding cities must stay at home unless in an emergency and all businesses considered non-essential must close all in-person relations. 
The shelter-in-place orders were created to slow the spread of COVID-19, Coronavirus, in the area. Austin has 86 reported cases of coronavirus as of 7 p.m. on Monday, March 23 according to the City of Austin's website, but Interim Austin-Travis County health authority Dr. Mark Escott said there are up to seven times that many cases. 
"We are trying to strike the right balance between significantly reducing circulation in Travis County with our business community," Travis County Judge Sarah Eckhardt said. "I would strongly encourage people not to panic. This is not [a] seal up your doors, seal up your windows approach."
Businesses that can remain open include grocery stores, pharmacies, hardware stores, laundromats, gas stations, childcare centers, pet stores, doctor offices, hospitals, veterinary offices, banks, hotels, restaurants for take-out and delivery, and social services. 
"I do feel safer knowing that people aren't going out so much because my parents and brother have a smaller chance of getting infected when they have to go out," junior Aidan O'Brien said. "Because I have a weak immune system, I was staying home anyways, but there's still a chance I could get infected from [my parents or brother]."
Residents are able to leave their homes for maintaining their health, necessary supplies, work at essential businesses, caring for another person or pet and outdoor activities as long as they follow social distancing policies.  
"Students can still go outside and exercise: ride bikes, walk the dog, go for a run," junior Hope Bigbee said. "I personally am doing a lot of craft projects and things I didn't have time for when I was busy during school."
Adler told the Austin American-Statesman that the shelter-in-place order resembles an order released in Dallas County on Sunday, March 22 which banned non-essential travel and closed down non-essential businesses. Dallas' order allowed restaurants to continue serving take-out and delivery food. 
"The coronavirus knows no boundaries," Williamson County Judge Bill Gravell said in a news conference on Tuesday, March 24. "It knows not Williamson County or Travis County, it knows no boundaries of white are black or young or old, this virus knows no boundaries so we must as a community come together and work together collaboratively."
Texas Governor Greg Abbott stated in a press release Sunday, March 22 that he was not planning a shelter-in-place order but that local officials would have the authority to do what they deemed necessary. Additionally in this press release, Abbott issued a new order for hospitals to postpone all surgeries that are not considered life-saving. 
"I'm the governor of 254 counties, more than 200 counties still have zero cases," Abbott said. "The reality is, cases of COVID-19 are increasing in big cities. What might be right for a large urban area may not be right for everyone else."
The shelter-in-place orders also prohibit gatherings of people of any number outside of a single household as well as all non-essential travel. Violators of these orders could be fined up to $1,000 as enforced by police and fire marshals. 
"We have to decrease the number of physical interactions that we're having by 90 percent," Adler said in the news conference. "That's a really big number, it's gonna be pretty disruptive to people's lives. It's a real change in the way that we've been going until this very moment."
Escott suggested in the news conference that all schools in Travis and Williamson counties close for the rest of the year as a precaution to prevent the spread of coronavirus. 
"Right now we know that classes are canceled until Monday, April 6," Principal Mark Robinson said. "There is a high probability that we will not resume classes at Bowie that day. There are two things happening right now. The campus is being deep cleaned and prepared for classes to resume safely, whenever that is, after social distancing is no longer the priority. Teachers are preparing for online learning to start on April 6, so that students have reasonable expectations for learning to demonstrate mastery in the current courses as well as prepare for success at the next grade level or course in the pathway."
Additional reporting by Cade Spencer. 
*The story will be updated by Dispatch staff as more information is available.