AISD schools cancelled until April 3 due to Coronavirus protection policies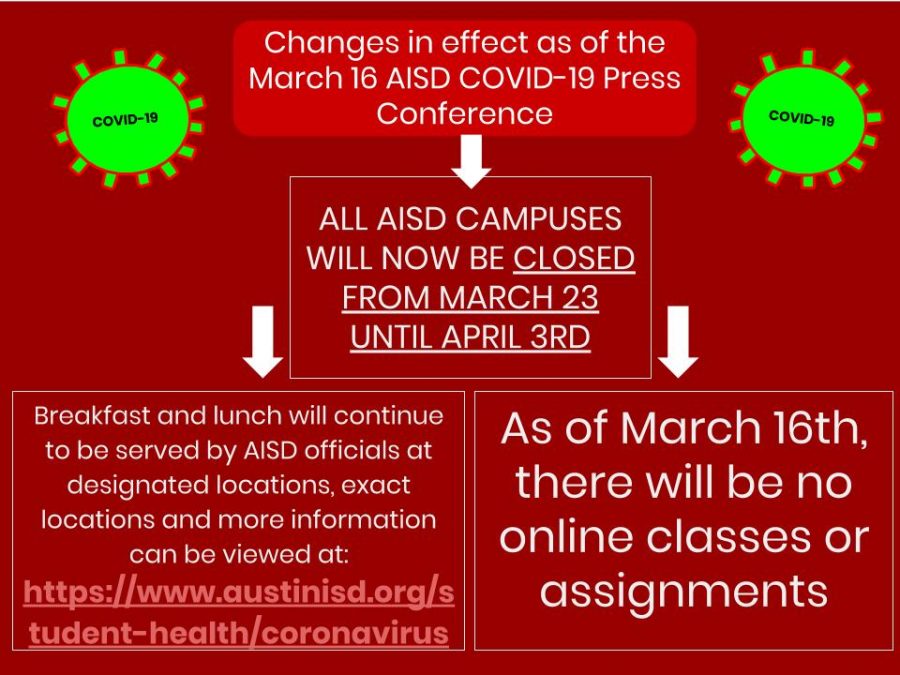 Austin Independent School District (AISD) Superintendent Paul Cruz announced at a press conference this morning that all AISD campuses will be closed until Friday, April 3, extending spring break by two weeks.
As students and staff spend the next three weeks away from school, principal Mark Robinson recommends that they continue to stay connected and aware of the latest news and actively prepare for their return to school by completing any necessary work.
"The good news is that we are all in this together and no one wants to see anyone penalized for circumstances that are beyond our control," Robinson said. "It is important that we continue to take things one step at a time, to act deliberately on reliable information so that we maintain some efficacy in what may otherwise feel like chaotic circumstances with things changing rapidly."
In addition to the closing of schools, Cruz announced that there are currently no plans for online classes during the extended break. He emphasized that the situation is fluid and that changes should be expected as necessary. 
"It's too hard to speculate what's going to happen, because what I don't know right now is how long this is going to last," Cruz said. "Although I don't know the long term impact at this point, we are working with the state governor and commissioner to best address the situation."
Students like sophomore Lizzie Jensen are afraid the prolonged school closures will affect their summer vacation trips and other activities due to the possible use of days over the summer as make-up days. 
"I don't like some of the decisions that have been made, but honestly, I think that they are the most reasonable," Jensen said. "The only change I would make is implementing online school in order to prevent school during the summer, but I understand that teachers need time to prepare their lessons and not all students have accessibility to the internet at home."
The AISD Board hosted an emergency meeting on Friday, March 13. In the meeting, they decided AISD staff will continue to get paid during school closures and gave Cruz authorization to make future decisions for all of AISD. 
"School being canceled until April 3 makes me thrilled yet bored," sophomore Zoya Faisal said.  "Having no school means students can have a chance to relax, stay safe with their families, and they can get caught up on school work. However, having no school can affect grades and it can get boring because we cannot see our friends as often."
While the school closures prohibit teachers from active classroom instruction, history teacher Kaylin Brett recommends students stay away from highly concentrated areas. According to Brett, teachers care more about their students' safety than their instruction time. 
"Having classes canceled definitely caused disruption for my lesson planning," Brett said. "While I know I can teach remotely, it is not ideal. My biggest concern is that my students all have testing at the end of the year, and it is my responsibility to prepare them for success. I want as many of my students as possible to receive college credit on the AP exam. That pressure is a concern simply because I don't have time to cover all of the content if we continue to cancel classes."
Although junior Connor Petru is concerned for how the prolonged class cancellations could affect his academic progress, he believes that the health measures are vital for his overall safety.
"I completely didn't expect the delay to be for so long, and I worry that this delay and shift to online school might negatively affect my high school experience and academic success," Petru said. "Most importantly though, this delay represents the growing fear towards and increasing strength of COVID-19, making me worry about the safety of myself and the people I care about."
H-E-B's Public Affair Manager Felicia Peña announced in the press conference that H-E-B would be donating $100,000 to help provide AISD families with food during school closures. Additionally, AISD schools will continue to provide breakfast and lunch meals to children under the age of 19 throughout spring break and school closures. To see a list of schools where meals are being provided, visit The Dispatch or austinisd.org/coronavirus. 
"I think it's great that H-E-B is helping feed students during this time because there are many students that rely on the breakfast and lunch that AISD provides," Jensen said.
Because Coronavirus is a global pandemic, social media, and the internet have been flooded with posts about COVID-19. According to Instagram, 3.7 million posts have been published under #Coronavirus. 
"[Social media] has created hysteria," Brett said. "When people start posting that our stores are running out of resources, it causes panic. It makes people go over purchase food and supplies and then people who need access do not have the availability to buy what they need. I think social media has its positives, but overall has been more negative in the case of Corona."
Centers for Disease Control and Prevention (CDC) recommends that people clean their hands often, avoid close contact with others, cover coughs and sneezes, clean and disinfect frequently touched surfaces, wear a facemask if they are sick, and stay home if they are sick to prevent the spread of COVID-19. 
"We're in constant communication with our health experts and city leadership to make sure we're making the best decisions for our students and for our families," Cruz said. "For the latest updates, please be sure to log on to the Austin ISD website where you will find information about health and safety information that I've shared."
Additional reporting by Cade Spencer, Arushi Sharma, Sammie Thompson, Anna Holme and Lauren Joy. 
*The story will be updated by Dispatch staff as more information is available.