Students get crafty in the MakerSpace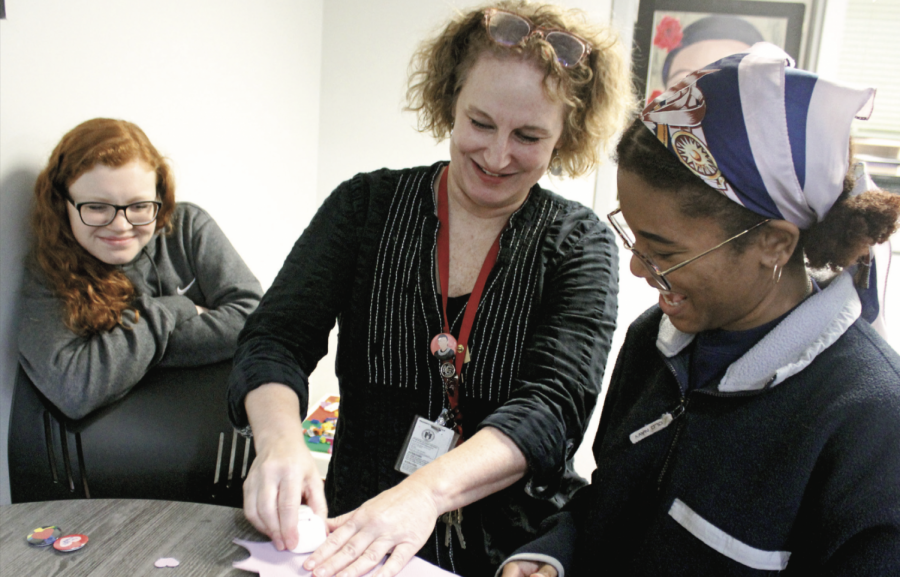 A new program hosted by Librarian Tara Walker-Leon grants students the opportunity to express their creativity and produce unique crafts. The designated craft time, called MakerSpace, is offered in the library during FIT sessions and student's off periods.
"This month we started the MakerSpace where students can make jewelry and earrings that are made out of felt," Walker-Leon said.
During the beginning of each month, the MakerSpace will have different sets of activities for students to learn, master, and design.
"We will also be able to make bracelets and we will be using resin, which is a clear gel," Walker-Leon said. "First, we are going to dry flowers, and once the flowers are dry, we will put them in the resin so it dries clear with flowers in it. This will allow students to make a necklace, a key-chain, or something like that."
Although the program has just begun, Walker-Leon has already made some plans for the supplies she will need for the activity happening during the month of February.
"Next month, throughout February, we are going to make buttons, and we have two different sizes," Walker-Leon said. "Then we are going to make stuff with Perler beads and you can make any design you want."
If a student wants to sign up to attend MakerSpace, they should register for the Walker-Leon FIT class through the AISD Learn FIT Portal.
"I was just looking for FIT sessions and I usually like to go to the library and I looked up Walker in FIT and on Monday it was jewelry making," junior Amara Robertson said. "So I went to that one, and I invited my friends, and we plan to keep going to MakerSpace."
Robertson has enjoyed the opportunity to express her creativity, and she has even felt challenged by some of the crafts they have designed so far.
"At first I was like this is going to be really fun and easy but I also kind of really like things to turn out well," Robertson said. "Making jewelry is a lot harder than I thought, so I am kind of struggling, but it's okay because it's just for fun."
The MakerSpace currently has supplies for cardboard creations, Perler beads, and button making.
As the program expands, Walker-Leon hopes to invest in Sphero robots, a green screen, Adobe Creative Cloud Suite, and large amounts of paint, markers, clay, and other items for her students to use and enjoy.
"I spent the last semester ordering supplies for the MakerSpace," Walker-Leon wrote in an email. "If anyone wants to design a lesson around any of the [MakerSpace supplies mentioned above] let me know, and I am happy to prepare any needed space or supplies."
Although Walker-Leon has encountered no problems so far, if a student were to break any MakerSpace equipment, they would be responsible to pay for the replacement.
"I am hoping that everyone will respect the space and that they will not break things on purpose," Walker-Leon said.
Junior Hope Bigbee has enjoyed MakerSpace as it provides a place for her friends and herself to relax and create art in the school day.
"I think it is a good opportunity to try making stuff even if you do not have the supplies at home," Bigbee said. "The supplies are accessible here and you have people to show you how to do it."
On Feb. 10, Bigbee enjoyed the Valentine's Day MakerSpace as she created classic heart shaped crafts.
"I do not think there has really been something like this at school that is during school hours," Bigbee said.  "Although I know there is art club, the club is after school and not as accessible as MakerSpace to all students."