Students embrace passion in surfing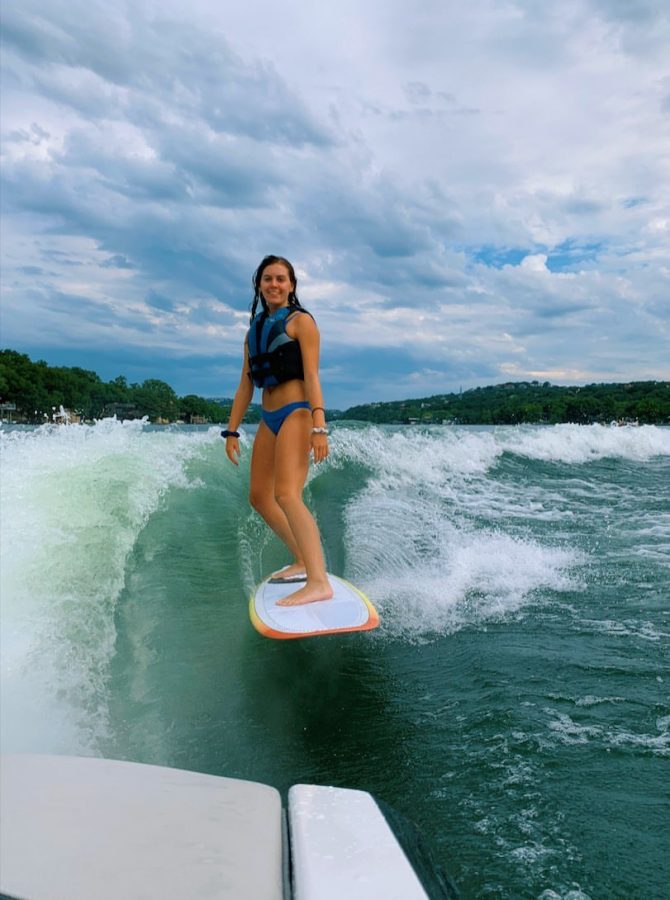 Flying across the water while getting to enjoy the beautiful view, sophomore Brooke Garner has a unique hobby for someone who lives in Texas: surfing.
"I started surfing when I was four years old," Garner said. "My family owned a boat back then, so my dad was able to coach me. Currently, I surf behind a boat that we rent out on Lake Travis or behind a cable at a cable park I go to called the Texas Ski Ranch."
Garner has competed in a few competitions, but she primarily surfs for fun with her friends and family.
"I have been in a few wakeboarding competitions [where] I have gotten fourth and third in the women's 14-20 division," Garner said. "I practice with my family and friends. I don't have a designated coach. I just look things up on the internet and practice."
Garner has also gotten some of her friends involved in surfing, including junior Zeta Jenkins.
"I haven't been surfing for too long," Jenkins said. "Brooke introduced me to it last summer in the Cayman Islands when we went on vacation together. We've wake surfed on Lake Austin together before and are trying to start going to Lake Travis too."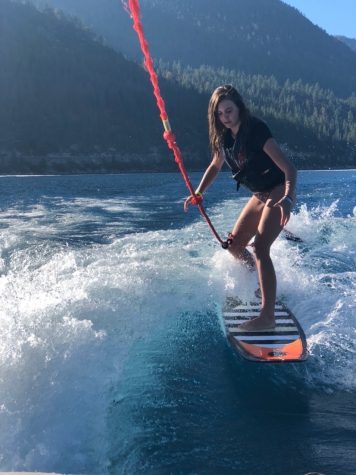 Jenkins has enjoyed surfing and thinks it's a fun activity that has brought her friends closer together and served as a bonding experience.
"Surfing with my friends has definitely helped me bond with them because when we're on the water, so many memories are made from wiping out on the board to wardrobe malfunctions," Jenkins said. "Surfing [is] so much fun and helps me disconnect from the stress of life."
Garner does warn that learning to surf can be difficult and requires patience.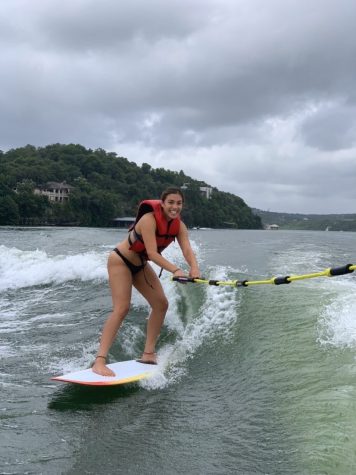 "The most challenging thing about surfing is that the first time you try to get up, it is really difficult and takes lots of practice," Garner said. "Skills that are necessary to become a good surfer are good balance [since] you have to be able to control your body weight on each foot and be able to fall hundreds of times and then get back up and try again."
Jenkins insists that the hard work is worth it in the end.
"My favorite thing about surfing would be the floating feeling you get, Jenkins said. "The waves hit the board so smoothly it feels like you're skating on ice."
There are different ways to surf in Austin since there is no beach nearby, so Garner shares her tips from the experiences she's had on the water.
"I would recommend surfing behind a boat rather than behind a cable because you have more opportunities to do tricks," Garner said. "I would tell [a new surfer] to make sure to keep the nose of the board out of the water once you stand up and then find a spot on the wake that is comfortable enough to where you can surf [without too much] effort."
Both Garner and Jenkins would recommend surfing to anybody who is interested.
"Surfing has definitely had a positive impact on my life," Garner said. "I have made lots of friends from surfing together, and it's [something] that my family and I will always be able to go out and do."