A look behind the Children's Shows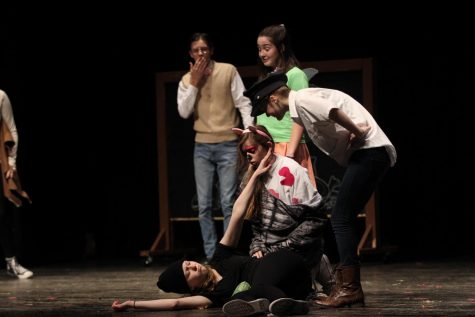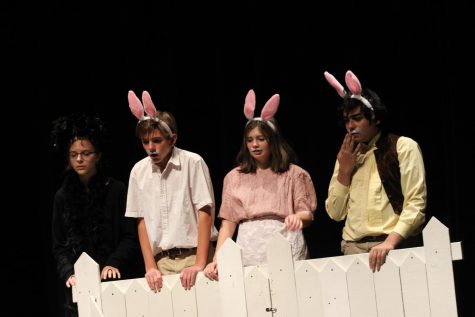 As the curtains closed on the fall shows, Children's Shows took the stage and stepped into the spotlight. The Children's Shows are a chance for senior directors to show off what they've learned over the years, and an opportunity for freshmen and sophomores to shine.
On the day of auditions, cuts of the shows are posted in the theater hall. Senior directors will choose who they're interested in and cast actors into the roles they choose for them after callbacks.
"I play[ed] McGregor in Peter Rabbit, and this role was interesting because it's a much older character," junior Connor Snow said. "I'm not typically used to playing older characters so it was a little bit of a challenge, but overall, it was a fun role because I really got to experiment with the characterization."
This year, the theater produced 12 different shows, which were performed for elementary schools while the students went on tour.
"Little kids sometimes don't understand subtle things that we portray so we have to portray a lot bigger motions and bigger emotions on stage," senior director Liz Cluchey said.
Children's Shows are also a chance for theater students of all grades to get to know each other and come together as a community.
"We have a wide variety of age levels, and I love getting to know the freshmen." senior director Gillian Griffis said. "I'm always trying to reach out and make sure that they feel at home. I feel like it's really fun and important to get to know people."
For senior directors, Children's Shows are very important because it's a student-directed show where they can teach younger students what they've learned over their time in theater class.
"It's almost like passing down a torch," Cluchey said. "Passing down what you've learned and putting what you've learned to good use on the generations that go on. It's so enlightening being able to help others in that way. It's the best feeling in the world."
In order to help their cast truly capture their characters, senior directors organize workshops that aid their actors in studying the behaviors of their own characters and the other characters.
"We had a little workshop with rabbits that we did," Snow said. "Where, basically, I had to chase around rabbits to get the feel of the farmer character that I was playing."
Students themselves also feel the need to do their own individual work on their characters aside from their workshops with the senior directors.
"When you're acting, the way to make it really good is to find some way that you personally connect to the character, like a shared experience, shared emotion," sophomore Chris Thompson said. "Just find a way that they are like you, and through that, you can fully embody them. It's like you're showing a little bit of yourself with each role."
Although theater can be time-consuming, students find the experiences they have on the stage worth how demanding rehearsals can be. One of these students is Arlo Craft, a sophomore playing the main lead of Treasure Island.
"I guess I would say [performing is] kind of a rush, but at the same time, it just makes me, like, very happy," said Craft. "It's just a thing that I enjoy doing and working on, and just an extracurricular that I have fun in, and it's good to be passionate about the things that you have fun doing."
Although they may be moving on from the James Bowie Starlight Theater as graduation approaches, senior directors hold fond memories of acting for the theater in the past.
"I remember looking out to the audience, and it's just a feeling I don't think you can ever put into words," Cluchey said. "But it feels like you're not even on stage anymore. It feels like you're in an entirely different world altogether. And I think that's what I love the most about it. When I'm on stage, everything else fades away."