Silver Stars start competition season with hard work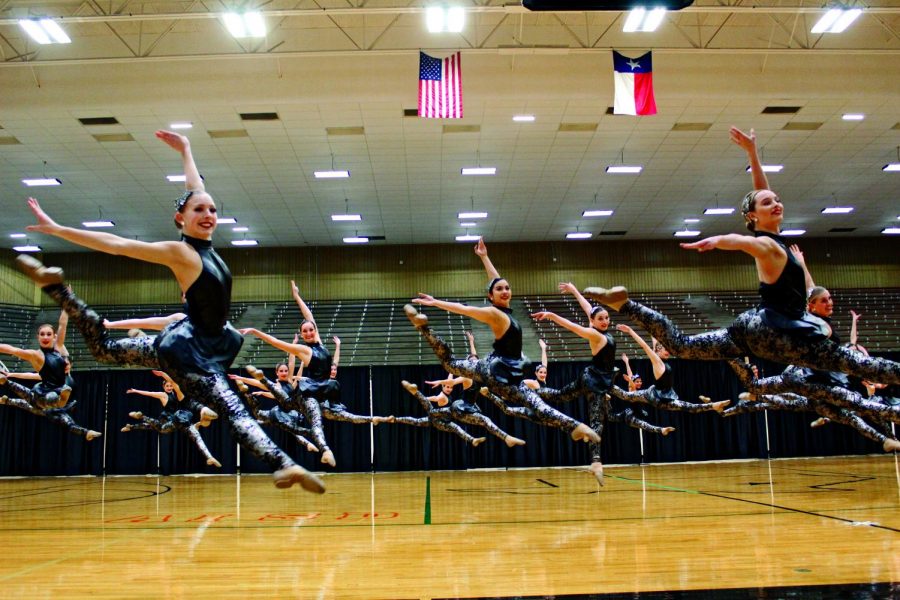 As the Silver Star dancers get ready for their rigorous competition season ahead, they rehearse hundreds of times before they are able to get their routines to be flawless.
After the football season is finished, the Silver Stars start practicing until their competition season, which starts in February.
"Competition season is always a hectic time of the year for the Silver Stars," senior captain Jade Fattouh said. "We are always on crunch time, as we are trying to get our dances perfected for competition season."
The Silver Stars have practices that are held at the Toney Burger stadium at 7 a.m. and three mornings a week and two practices at Bowie that start at 8 a.m.
"Morning practices require a lot of time commitment," junior Lauryn Armstrong said. "They are very efficient though, and when we practice at Burger we make the best of our time. They also aren't at Burger Stadium ever day, which makes it easier sometimes."
During the season, the entire team will travel to local high schools to display the hard work they've put in this season.
"These competitions are important for us because when we are participating we represent Bowie's dance team for other schools to see," Fattouh said. "It's also a great opportunity to watch all the other dance teams from different schools and meet new people. This season can require a lot of effort but in the end I have so much fun and miss it when it is over."
Fattouh is a captain on the Silver Stars, which requires organization and several skills as a leader.
"During this season, my role as a captain is to make sure we are on schedule with all of our dances," Fattouh said. "I have to make sure everyone is stage ready, which means their hair has to look clean, each dancer has enough makeup on, and everyone's hairpiece is in. I also count for each dance as we enter the floor before we are about to perform."
The Silver Star hip-hop and jazz companies, officers, seniors, and many individuals have solo performances, including Armstrong.
"Having a solo can be nerve wracking especially when you choreograph it yourself," Armstrong said. "I get nervous every time I do my solos but it's also really rewarding to finally do it and know you worked your hardest on it. Each time I do a solo, I get more and more confident."
The processes of these early morning practices are put in place to adjust flaws to assure improvement as the competitions approach.
"When we practice we run our dances and make changes if needed," Armstrong said. "We also clarify small details and counts to make the show look its best."
The Silver Stars have two competitions at Hendrickson and Vandegrift High Schools on February 22 and 29, which consists of their competitive season.
"A typical day at a competition starts very early in the morning," Fattouh said. "We arrive at the site, drop our belongings off in our dressing room, and immediately start running formations in the gym. After we have finished running our formations, we make sure our hair and makeup is done and our first costumes are on, so we can be prepared."
The Silver Star competition season can bring some disadvantages to some of the dancers.
"I think the toughest part is trying to balance your dance schedule with school work and getting sleep," Armstrong said. "I am always sore during the season but I have learned from last year that it's really important to get enough sleep, roll out your muscles, and stretch really good before dancing because we're doing so much of it."
Silver Star director Leanne Bilnoski puts together the routines as well as making sure the dancers are ready to perform.
"All of the dances that we performed at the Contest Showoff on February 4 will be performed at both of the competitions," Bilnoski said. "There will be other Austin area high schools as well as schools from out of town at the two competitions."
As soon as competition season is over, the Silver Stars begin to work on their routines for their Spring Show, which is held in April.
"I also love the Spring Show because it's the last show we put on as a team and it shows how far we have come all year," Armstrong said. "We do much hard work to make our dances for the show to look as clean and sharp as they can, so when we it's time to perform on stage with the lights down on us it feels totally worth it."
Even though the competition season can have some disadvantages, it also has many advantages as well.
"A fun part of this season is when we have secret buddies who get us snacks and candies who we get to find out at the end of the season," Armstrong said. "Even though during the season it can be difficult at times, I am so appreciative for the opportunity and being able to learn so much."