Ultimate frisbee team soars toward the season
The crowd watches anxiously as it flies through the air towards the end zone. It was a hail mary thrown by senior player Luke Broderick to win the match, and luckily his teammate catches it for the win. Football? It sounds a lot like it, but Broderick is actually one of the two captains of the ultimate frisbee team.
"I found out about ultimate through a camp called Tusc Elite," Broderick said. "I did not know about ultimate before playing for Bowie, so coming here was a very exciting and new experience."
Senior captain Caroline Myers joined the team as a freshman with some of her friends and has now been involved with ultimate frisbee for several years.
"I was introduced to the ultimate frisbee team by a couple of my teammates on the swim team who were recruiting girls to join the team," Myers said. "I had played ultimate frisbee for a little while in middle school and thought it would be cool to become a part of the ultimate community again."
Spanish teacher and ultimate frisbee sponsor Kelly Tagle became sponsor of the ultimate frisbee after her son played, but she doesn't play herself, so her favorite reason for coaching revolves around the students.
"The kids are awesome," Tagle said. "They're just very good, sweet kids. I love spending time with them and supporting their efforts."
Tagle explained how ultimate frisbee is similar to football in that there are two end zones where the team scores points. However, the only offense comes from passing because players can not run with the frisbee.
"Pass, pass, pass is what it's about," Tagle said. "It depends on the tournament, but we typically play the first person to get about 13 points wins."
Anyone can play ultimate frisbee, but it takes a lot of practice to consistently play well.
"Ultimate Frisbee requires a willingness to run a lot, patience, and the highest level of sportsmanship because of the Spirit of the Game," Myers said. "The best ultimate frisbee players know how to adjust their throws based on the strength and direction of the wind, which takes lots of practice and experience."
The Spirit of the Game is essentially the guiding principles and rules of ultimate frisbee.
"What's cool about ultimate is that they self affiliate," Tagle said. "There aren't referees. The students call fouls and have to work it out together as opponents. Spirit of the game means you play ethically, fairly, and respectfully. I enjoy seeing the kids put that into practice."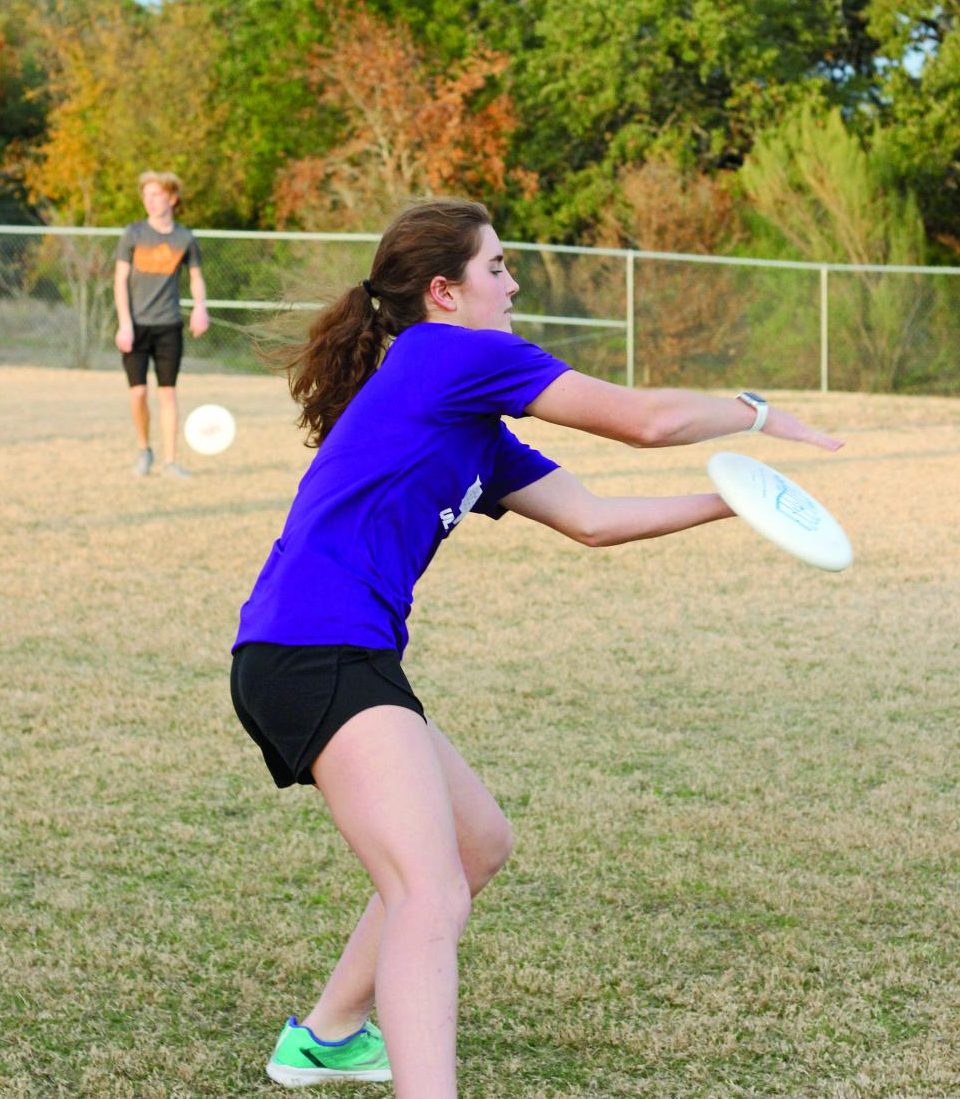 Tagle adds that ultimate frisbee is a coed sport, which teaches students to work well together and be mature.
"I think playing alongside each other as teammates with boys and girls playing together is really unique because I don't know of another sport that does that," Tagle said. "I think the kids get a lot out of that. I think they gain a lot of respect out of that, and it kind of forces them to put aside their differences."
The ultimate frisbee team typically practices once or twice a week.
"We practice every Wednesday and Sunday and usually just scrimmage if the coaches aren't there, but if they are, we do drills that are also very, very fun," Broderick said.
The team attended their first tournament in Waco on November 16. Although the team lost their three games, Myers believes the team grew from the experience.
"We [played] against teams from both the Austin and Dallas areas," Myers said. "This is the first competition with our 2019-2020 team, so our goal for the weekend is to get familiar with our competition and to find areas which we need to work on over the next couple of months."
Broderick appreciates the inclusive environment of the team.
"My favorite part of the team is being able to meet new people and playing with my friends," Broderick said. "Ms. Tagle is amazing. I would recommend that you at least come out to a practice before deciding if you want to play or not."
Myers has loved her time on the ultimate frisbee team, and she encourages anybody looking for something fun and active to join the team.
"Joining ultimate frisbee [is] one of the best decisions I have made," Myers said. "No matter what sports you have experience with, if any, or what other clubs you are part of, there is a place for you on the Bowie ultimate team."