Security improvements made in the past year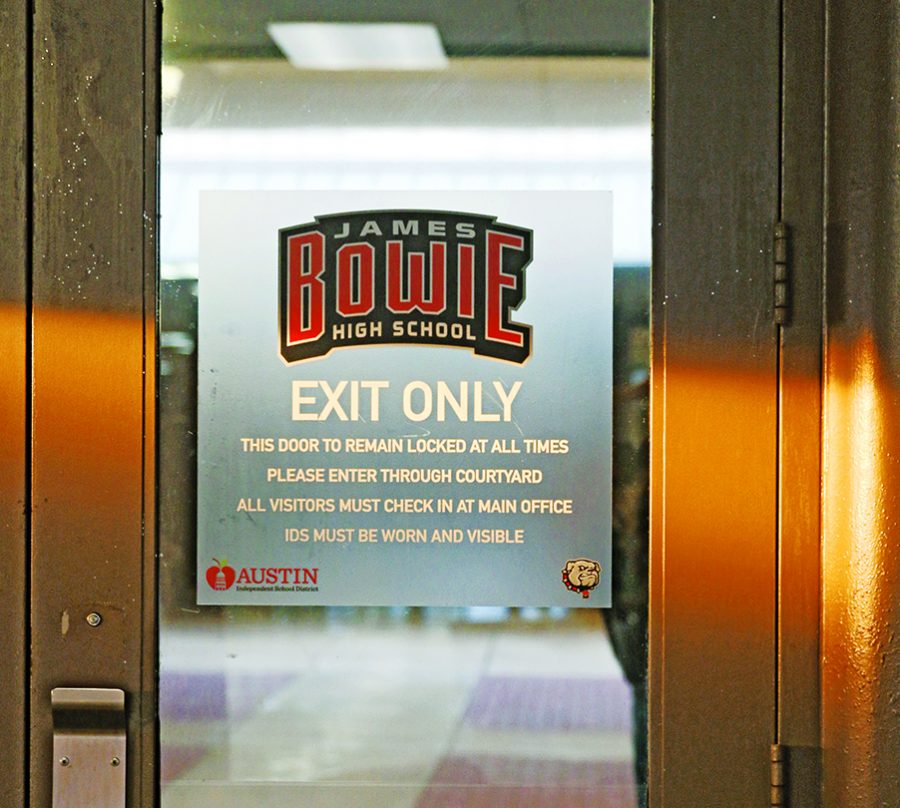 One year after the school was vandalized by a delinquent who threw rocks and other items at windows and doors, security improvements have been made to the campus. These changes were made in response to the vandalism. Other security changes were made in response to safety concerns like
"In terms of security enhancements, a lot of them have been in response to preventing school shootings and other tragic events like that," principal Mark Robinson said. "Not necessarily what happened last December, which was more like a random act of vandalism."
After the vandalism happened, the Bowie PTSA worked with the administration  to raise money for additional school security improvements beyond improvements allotted by the district. Money was raised through the yearly Build Up Bowie initiative.
"Build Up Bowie is an annual project where the PTSA raises money for something tangible, we work with the administration in deciding what the project will be," Bowie PTSA president Ashley Vavasour said. "In previous years we have raised money for water bottle refill stations and modernized the library."
Money raised from the project has mostly gone towards upgrading the video surveillance system around the school.
"There have been additional cameras that  were installed in some areas where there used to be blind spots," Robinson said. "Cameras were very helpful in catching the perpetrator of the vandalism because the community was able to identify that individual with released photos and videos."
Other security changes have included one-way window tinting that only allows people inside the school to view what is outside the school but people outside of the school can not see inside the school. The tint is applied at exterior exit doors around the school.
"The window tints and stickers also kind of give a uniform look to the campus in a way that I feel like is very appealing." Robinson said. "It's a reminder about the ID policy, and where the entrances and exits are."
The administration is also enforcing the school's ID policy which requires students to wear their student ID's on a lanyard around their necks more tightly this year.
"A lot of people think of the ID's as a hassle," senior Sami Nasreddine said. "But this may a step in increasing school security."
Following the vandalism incident, school was canceled for two days so that the asbestos contained in window caulking that got into the air could disperse so that air quality could improve. During that time, district maintenance workers installed temporary Plexiglas. After school was dismissed for the summer, the temporary glass was removed and permanent glass was installed.
"Over the summer, we had the environmental management team come in, they had to wear hazmat suits to protect themselves from the asbestos," Robinson said. "They replaced the broken windows with the permanent safety glass."
According to the PTSA website, the community raised $3,280 to support the campus after the vandalism incident in Dec. 2018. And in May 2019, the PTSA board voted to donate $11,000 which included all funds raised during Build Up Bowie 2019 and the $3,280 raised in December 2018.
"As a community, we reacted to the tragedy of the school being vandalized and raised money to support it," Vavasour said. "Hopefully we will not have to be reactive again in the future. We are very grateful for all the parents and businesses that support our community."