Counselor Kim Gilbert adjusts to new job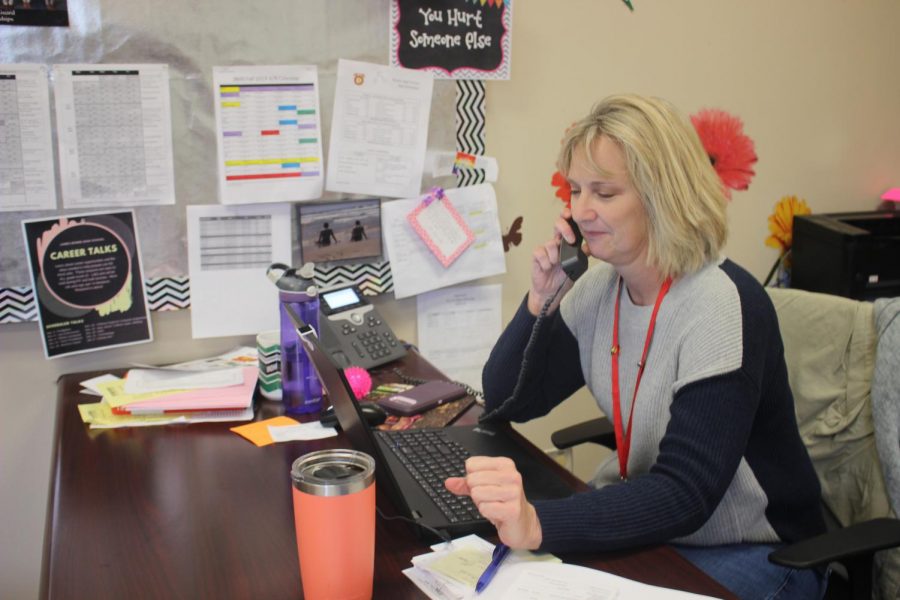 Marissa Morales, J1 Reporter
December 30, 2019
This year is Kim Gilbert's second year working at Bowie. She is one of the many counselors that helps students with the last names McE-P. Gilbert helps out students with any and every problem they have, from grades to personal problems.
"[I help students with] everything," Gilbert said. "I make sure students are on top of their academic classes, as well as their mental health [and] their social and emotional needs."
Gilbert's schedule is very busy, especially at the beginning of the school year as she is helping students with scheduling issues. Freshman Nicole Mixon described how Gilbert helped her.
"[At the beginning of the school year], they messed up my schedule because I was moving classes and I didn't have a class to go to," Mixon said. "I went to her and she fixed my whole schedule."
Bowie is a school where any student can find something that interests them. Students can be involved in clubs, sports, or other extracurricular activities. Gilbert explained her favorite part about working here.
"I love it here. I love my coworkers and the students are polite and positive thinkers," Gilbert said. "I also love to see them move on and plan for life after Bowie."
Gilbert works with the other counselors, as well as the assistant principals. Assistant Principal Susan Leos explained one of Gilbert's main focuses at the moment.
"She is working on initiatives to support all students, but is focusing on working with the teachers who serve freshmen in order to provide more support in particular in that age group," Leos said.
At first, Gilbert was a teacher, but then switched to what she does now. Gilbert explained when she decided that she wanted to be a counselor.
"I had already been teaching for a long time, but once my kids were in school, I decided that I wanted to pursue counseling," Gilbert said.
Gilbert helps out students in any way she can, which has a lot of pay-off in the long run. Gilbert described what her favorite part about her job is.
"At the moment, I am working with another teacher on study skills for freshman," Gilbert said. "I also love to see the seniors walk across the stage at graduation, which is very fulfilling."