October's biggest ink drawing challenge: Inktober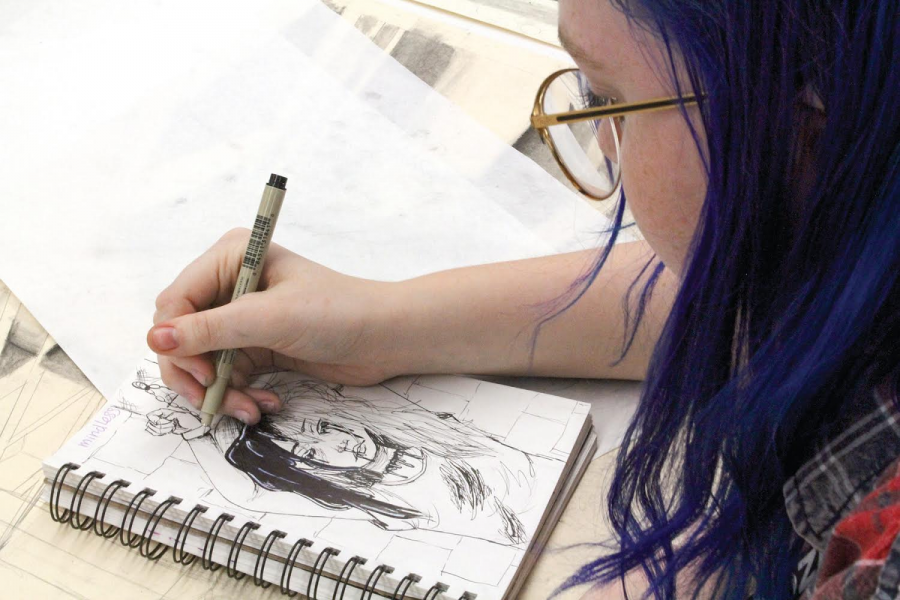 To improve the skills of aspiring artists throughout the country, a drawing challenge was created for the month of October. The challenge, known as Inktober, is an opportunity for interested artists to create pieces on a daily basis.
Inktober has thirty-one prompts for the thirty-one days in the month of October. The challenge was originally made in 2009 by Jake Parker, a short story creator and animator, to improve his drawing skills with ink, and the prompts were then officially made public in 2016 for people to view and participate. Since then, Inktober has been an annual challenge for artists.
"I'm doing Inktober because It's really fun for me, and it gets me out of my comfort zone," freshman Abby Carlson said.
Because the challenge is called "Inktober" this means participants are only allowed to draw with ink; the lone exception being the use of pencil to sketch out the drawings. This creates a challenge and sparks creativity when it comes to using ink only.
"There are many challenges that come with working in only ink," sophomore Jacob Thornton said. "One of them I struggle with the most is waiting for the ink to dry. It doesn't take long but I have smudged ink a few times, but when smudges happen, I just keep going and work with my mistake."
Students at Bowie, especially in art classes, participate in the challenge. For students, Inktober has many purposes.
"Inktober helps students practice drawing without saying it's an assignment," art teacher Mindy Le Jeune said.
Inktober also has the option for artists to post work on their social media, including Instagram. When artists use the hashtag #inktober and #inktober2019, they earn chances to be featured on the Inktober official social media pages. It is an opportunity for artists to be recognized and featured.
"I think it's really cool that you can get featured on their social media. Being able to put your art out there and being able to get criticism and compliments is really beneficial to the artist," Carlson said.
Many students throughout the school and in art classes participate in Inktober. Art teachers also encourage students to participate and use their creativity to produce something that they cannot erase.
"Most art students are interested in [Inktober] to see their art develop throughout the process and also other artist's work," Thornton said. "We also really like to congratulate each other and tell others how well they're doing."
Inktober offers many challenges to overcome other than not being able to erase and having to get used to the ink. If one is trying to participate in Inktober as a daily challenge, missing a day is a very common occurrence.
"The largest challenge of Inktober is making a piece every single day, it can be really difficult sometimes," Thornton said. "But Inktober isn't about rules so taking a break is totally acceptable. Though I've had a hard time, I've stuck through it and I will make something simple if I'm feeling very stressed."
While participating in Inktober, it's very likely to come across a prompt that will challenge an artist more than some of the previous topics.
"Sometimes you're brought up with a hard topic, instead of giving up you have to keep trying and bending it to your will and eventually you will subside," sophomore Ronny Hamze said.
Students participating in Inktober have a goal to finish all 31 days of the challenge, helping them improve their ink skills..
"I try very hard to do it every year for the last four years now but I usually give up because it's a long and difficult process," Thornton said. "But I think it still brings out my creativity and that's all I need."
As students post their work, there comes negativity and controversy because a lot of students' artwork is personal.
"I think it can impact people in a negative and a positive way," Thornton said. "People could criticize a person's work or try to make a competition out of it, but there are also many compliments."
Learning to make clean lines, drawing things you wouldn't normally draw, and learning new techniques, such as shading and using different textures to create variety in artwork, are some of the things students learn.
"I've been doing it for four years now and I've learned so much about how to use ink to my advantage," Thornton said. "I have learned to use ink like paint and watercolors. I have also learned how to get very nice looking lines with ink and I feel so accomplished when I finish one of the prompts."