Behind the scenes: athletic trainers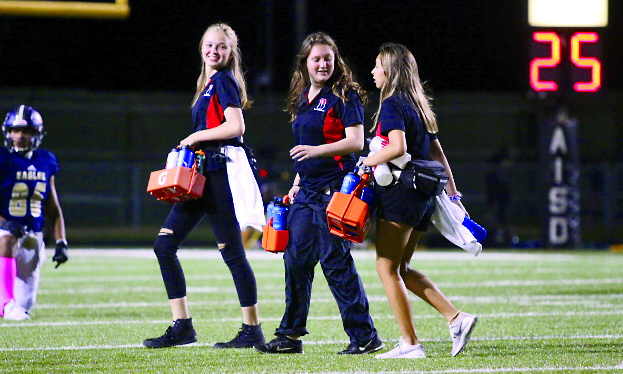 The responsibilities of student trainers that keep players healthy, on the field and ready to win
Running around finding all the medical kits and refilling all the water bottles they might need is a pretty common pre-game activity for the athletic trainers.
Athletic trainers Brittani Thibodeaux and Pablo Riera make sure that no injury goes untreated while also trying to prevent further injuries.
"Treatments could be making sure that a wound doesn't get infected, or if someone tore their ACL, we're going to appropriately diagnose and refer them to surgery and then they come back here for rehabilitative exercises," Thibodeaux said.
Along with the athletic trainers, the student trainers go along to help them out with fixing minor injuries.
"During the game, my job is to give electrolyte water to a few specific players and give water to the rest of the players along with cleaning wounds, covering cuts, and wrapping ankles, wrists, and more," sophomore trainer Amy Morse said.
Morse wanted to become a trainer so she could further her interest in sports medicine so she could become a trainer for the NFL in the future.
"My favorite part about being a trainer is the community and the friendships formed with the other trainers and the players," Morse said. "I love how close everyone gets and it begins to feel like family by the end of the season."
Thibodeaux says that she enjoys her job because of the happiness it brings her.
"When we get to rehab athletes and see them return to their sport and fully participate, brings such joy to the heart," Thibodeaux said.
According to Morse, being a trainer allows you to bond with the team more.
"There was a game in Lehman for JV and we went and sat on the bus for two hours before we went home," Morse said. "The players and trainers were all listening to music and I bonded with the players a lot and ended up becoming friends with most of them."
Trainers have to learn various different skills about how to deal with wounds and cuts on injured players.
"My favorite part about being a trainer is being able to learn different techniques to use when it comes to aiding our athletes," sophomore Kaitlin Zapata said.
Thibodeaux has worked on many injuries including displaced teeth, extreme breaks in the lower leg, and dislocated toes.
"I have been here for a while so I've seen quite a few things," Thibodeaux said. "People think that ACL tears are bad, but they'll get better."