Riding their way to the top of the podium
The Bulldog mountain biking team takes on the challenging trails of Texas together
The morning sun shines through the trees, parents and teammates wait anxiously beside the trails, while dirt and mud is thrown into the air as bikers speed over the rough terrain to reach the finish line.
Throughout the year, the Bowie and south Austin composite middle school mountain biking team competes in races throughout Texas on challenging trails. Senior Retta Johnson has been competing with the mountain biking team since the beginning of her freshman year and has participated in a number of races over the years.
"Many of the people on our team do not go to school here at Bowie," Johnson said. "Two of my closest friends and my favorite people to ride with on the team go to other schools."
There are a large number of students who are on the mountain biking team with varying ages and skill levels. The group is divided into five teams.
"The team is separated into a few different teams," Johnson said. "Boys and girls race separately and then we are split up into a middle school, freshmen, sophomore, and the JV and Varsity teams."
Unlike football or volleyball games, mountain bike races are a weekend-long event that involves campfires and movies as well as racing. These traditions separate the sport from others at Bowie and make it different.
"Everyone gets there Saturday morning and we set up camp for the night," Johnson said. "Parents camp in tents too, and we all watch a movie together that night and sit around a campfire which is always really fun."
Emily Doucette, a senior at the Ann Richards School for Young Women Leaders, is a mountain biker on the Bowie team with Johnson and despite the fact that she does not attend Bowie like many of her other teammates, she still feels apart of the community just as much as the other bikers.
"There is definitely a lot of camaraderie," Doucette said. "It's just this great group of people cheering each other on."
While the team does have fun during the time the are not racing, the training and work that goes into mountain biking is rigorous.
"We have training workouts on stationary bikes where we ride for an hour or more," Doucette said. "We also ride on the trails where we practice safety then work on conditioning and relays."
According to Johnson, safety is the number one priority in mountain biking. There are hours of practice and special gear to make every biker as safe as possible.
"There are special shoes which clip into the pedals," Johnson said. "We also have bike shorts with padding and of course helmets and glasses."
All of the safety gear has a specific purpose and role in the protection of the biker.
"We wear glasses because there are branches, debris, bugs can fly in your eye," Doucette said. "There are so many different factors so it is just an overall protective measure as well as just protecting our eyes from the sun."
The special shoes that are worn are both a protective measure and used for physical advantage.
"We have shoes that clip into our pedals and they are optional but are a huge advantage when going over rocky features," Doucette said. "The advantage of it is helping support the musculature in your feet when your pedaling."
Both Doucette and Johnson have experienced severe injuries while racing as well as smaller ones. In both cases they continued riding to finish their race displaying the hard work and determination the team has.
"My first race I ever did I was catching up to the girl in front of me and ended up going over a pretty rocky area and falling out in front of her, scraping up my knee and my arms pretty bad," Doucette said. "She ended up running over me too but after a while I got up and finished the race.
Once the riders have prepared with hours on conditioning and practiced their skills the racing begins. Everyone participating in the race is shown the trail the day before to ensure each participant is well aware of the terrain and path.
"We do a preview ride of the trail on Saturday afternoon after we set up camp," Johnson said. "The next morning the girls ride first so we have to get up and ride on our trainers before the race at nine."
Avoiding all the possible natural obstacles like rocks and branches as well as other bikers present their own challenges but the ride itself it long and tiring. Each race can be between 10 and 20 miles depending on the team you race with.
"Each lap of the race is about five miles," Johnson said. "Varsity boys race four laps, varsity girls race three, JV boys race three, and JV girls race two."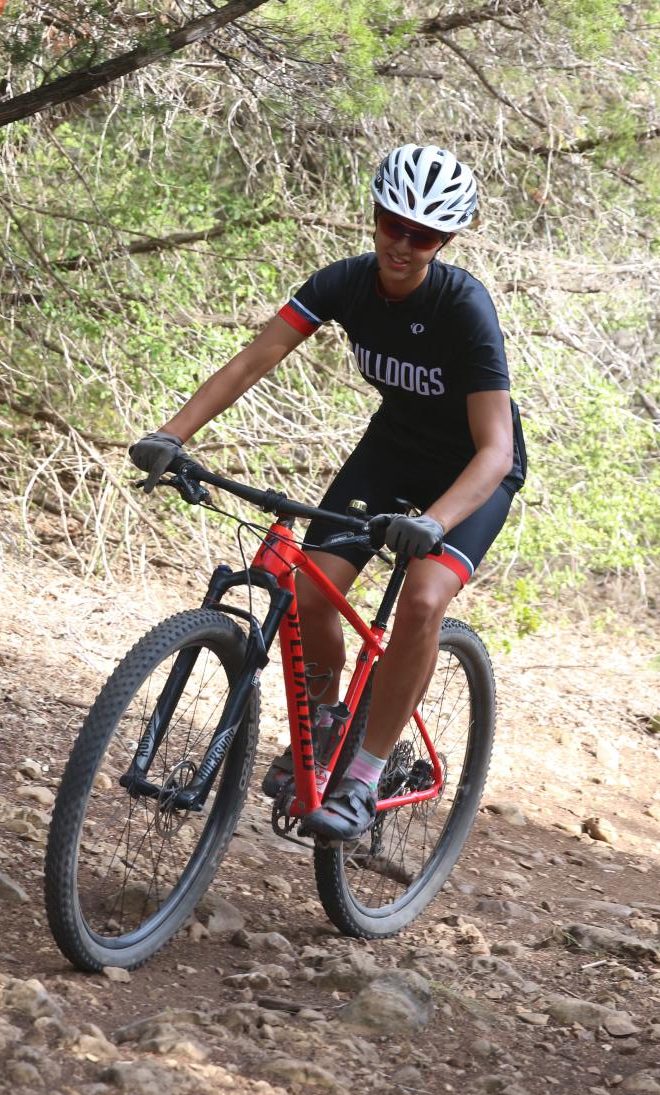 In past years the team has won a state championships and consistently does well throughout the season. This year, everyone has their own personal goals to help improve themselves and the team as a whole.
"This year I was to see everyone's hard work start to pay off," Doucette said. "My goal is to work hard and hopefully win."
Not only is the Bowie team a group of very skilled riders but they pride themselves on how they have created a family over the years. Between training and races they become very close.
"During those stationary training workouts we are all encouraging each other to keep going in a very small and hot room," Doucette said. "When we're camping everyone is sitting around together and talking about anything."
The people are what keep the team coming back together every year.
"I love my team, and the experiences I have had with them," Johnson said. "It is like a huge community and even though we have a lot of people from other schools they are my favorite people to ride with."
Suzanne Johnson, the parent of a biker on the team, recognizes how the sport naturally brings the students on the team together as well as the parents.
"We face adversities regularly with flat tires, bike crashes, learning to ride over big obstacles or down steep rocks," Suzanne  said. "Adventure out on the trail has everyone looking out for each other."