Boy's volleyball club recruiting new athletes
Last year, rumors of a boys volleyball team being created spread across campus and filled some athletes with excitement for the future. Girls volleyball coach Miguel Saenz took charge and created a boys team, but few athletes even know it exists.
"I've always wanted to do a boys club team," Saenz said. "We can't make an actual Bowie team that's represented by UIL [because of the Title-9 law], but we can make a club. What we did last year was have these open gyms and have each school just invite boys and see if we had enough interest to create a team."
Saenz explained how it's been hard to spread the word about the club and get new members, but Power Buff, the girls volleyball fundraiser in which a boys tournament is held, has helped in doing so.
"Power Buff has been a huge [factor]," Saenz said. "It's kind of inspired the boys to realize how much fun it is."
Two notable members of the team include junior Jaden Davis and sophomore Joey Underwood.
"Jaden is new to the sport, and he's picked it up pretty quickly," Saenz said. "Joey has been playing for awhile, so his volleyball IQ is really high; he understands how to play the game. They're both going to do well."
Davis joined the club last year, and he enjoyed playing so much that he tried out for the Austin Juniors Volleyball (AJV) boy's team this year.
"I heard about the club from the open gyms," Davis said. "Going into tryouts was extremely scary…I had very little faith that I would make it because of how much competition there was. Making 17 Mizuno (17 and Under National Team for AJV) was extremely validating."
Underwood has been playing on the 17 Mizuno team for several years.
"I fell in love with the game as I stepped on the court," Underwood said. "I've made major improvements from when I started playing and where I am now. I'm on a 17s team…so I made the team above my age group."
Both athletes appreciate the Bowie club for giving them more opportunities to play and meet other players.
"My favorite part about being in the boys team here at Bowie is that I got to meet a lot of new people who take an interest in a game that [is] not widely supported for guys in Texas," Underwood said.
Being able to play at school as opened doors for Davis that he wasn't anticipating.
"Being on the volleyball teams has made me realize how much I love to be active," Davis said. "After doing theatre and nothing else for two and a half years, it's a good change to get back to sports after so long."
Underwood has seen his opportunities stem from the AJV team.
"Being on a club volleyball team has greatly changed my life as I have to go out of state for a lot of tournaments and [practice a lot]," Underwood said. "[It] has gotten me involved in a huge community that is one of the best I've ever been in. AJV is one of the best boys volleyball teams in Texas as we took 5th in nationals last year; it is very competitive and fast paced, but it's so much fun."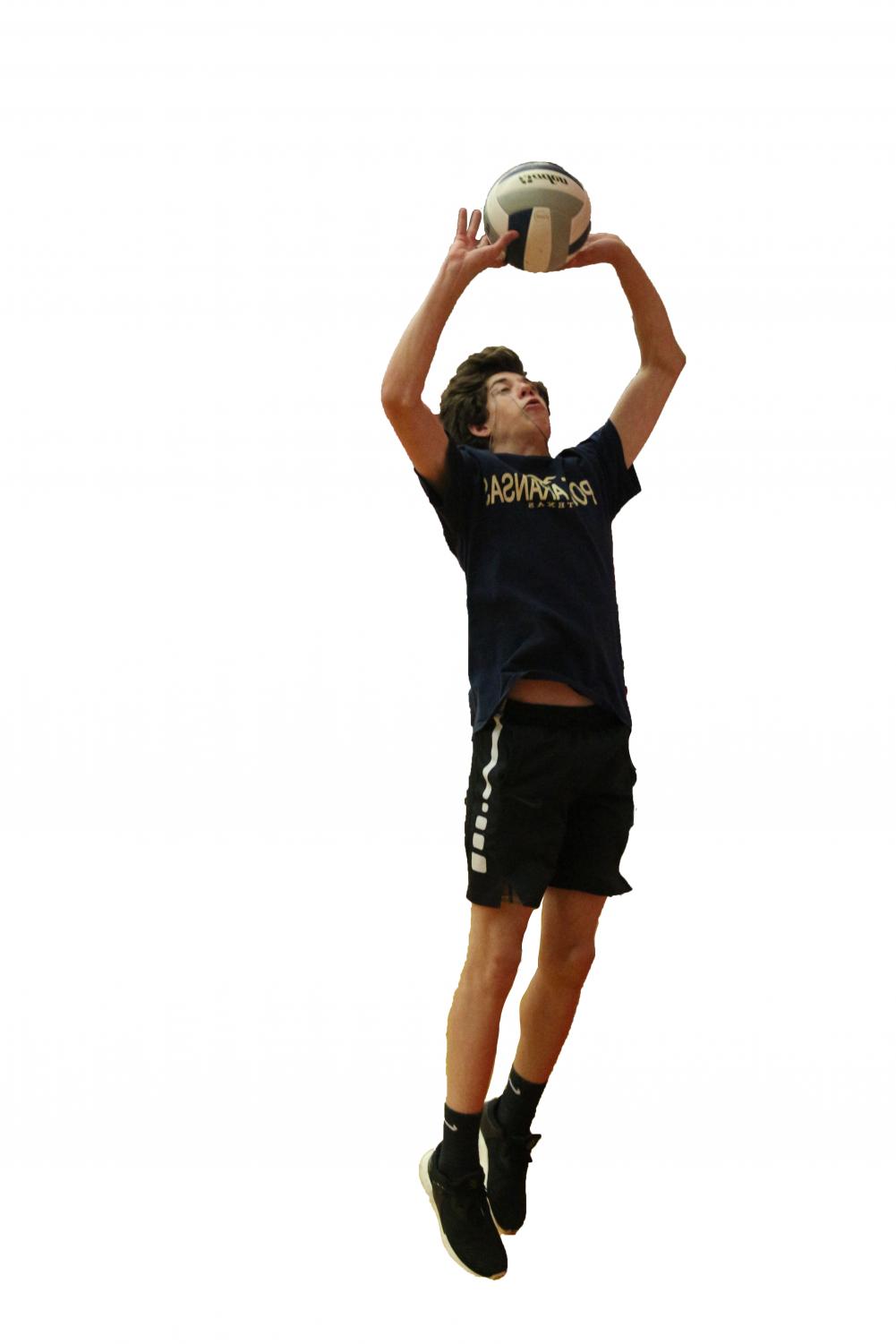 Saenz has seen both players develop over the last few years, and they both have strengths that allow them to succeed in and out of school.
"Jaden is quick and very fast and explosive," Saenz said. "He plays in the back row and can react well to different game situations. Joey jumps well and has really good hands. He's going to be a setter for his club team outside of school. You have to be smart to be the setter, it's kind of like the quarterback in football."
Last year, Saenz held consistent practices and organized a tournament between several other schools who expressed interest.
"At least once a week we'd meet at different locations, and it was open for boys from all the schools," Saenz said. "Westlake, Dripping Springs, Bowie, and St. Andrews had enough to actually form a team, and we played in a little boys tournament."
Although the team had enough players last year, many of them graduated, so more players are needed.
"Last year we had about 14 guys that came to the tournament and 10 of them were seniors," Saenz said.
Current members hope they can spread the word about the club and recruit new people, so anyone interested should not be hesitant to join.
"Going into the team this year I'm hoping that we're able to get a good amount of boys in the spring in order to get a stronger league," Davis said. "Acceptance is pretty lenient for the Bowie team because of the current lack of boy's volleyball players."
Other challenges the club has faced include finding a full-time coach and fighting the reputation of boy's volleyball.
"I coach club volleyball, so I'm not available to coach them a lot, so it's hard finding somebody that can coach them," Saenz said. "[Another] drawback is the stigma, you know, boys playing what's perceived as a girls sport. Getting the good athletes that actually play football, basketball, and soccer out to play has been hard to do."
Despite challenges, Saenz has loved running the boys program and hopes it will keep growing.
"It's a different game for the boys: it's explosive, they jump so high, and it's really fun to watch," Saenz said. "I've always wanted to coach boys and never have, so for me personally, it's a fun process."